Twitter

Instagram

Facebook | QLD | NSW | VIC | TAS | SA | WA | NT | NZ
---
Thunderstorms bringing much needed rain to bushfire hit VIC and TAS
6th February 2019
Severe thunderstorms are sweeping across western Victoria this afternoon and evening and are expected to develop over Tasmania from this evening, bringing much needed heavy falls to the bushfire ravaged states, which have also come off their hottest (and one of their driest) January on record.
A high over the Tasman Sea has been directing a humid onshore flow across southeastern Australia, allowing moisture to build over the region. A low pressure trough crossing the region has fed off this moisture, helping cause a line of thunderstorms to fire along the trough, which have been warned for the risk of flash flooding, large hail and damaging winds.
Thunderstorms have already brought heavy falls to western parts of Victoria this afternoon, with Longeranong picking up 27mm to 4pm (including 20mm in just 20 minutes), the town's best fall since November 2017. Stawell has recorded 12mm to 4pm, including 9mm in 9 minutes.
Thunderstorms and rain are also expected to develop over Tasmania this evening and into tomorrow, which will help immensely as fire fighters continue to battle blazes across the state that have been ongoing for weeks and have burnt almost 200,000 hectares. Many parts of the state are expected to see at least 20-to-30mm by tomorrow morning, however some parts of the north may see in excess of 100mm.
The Bureau of Meteorology has issued a severe weather watch for the state's north for heavy rainfall that may lead to flash flooding. Some locations may include, Burnie, Devonport, Sheffield, Deloraine.
Thunderstorms will be more isolated tomorrow and contract mainly to eastern Victoria, although a few thunderstorms remain a risk in Tasmania. A cold front will hit Tasamnia and southern Victoria later on Friday and into Saturday, bringing further showers and much cooler conditions, with falls of 10-to-30mm in western Tasmania.
Image 1: Thunderstorm Probability - VIC/TAS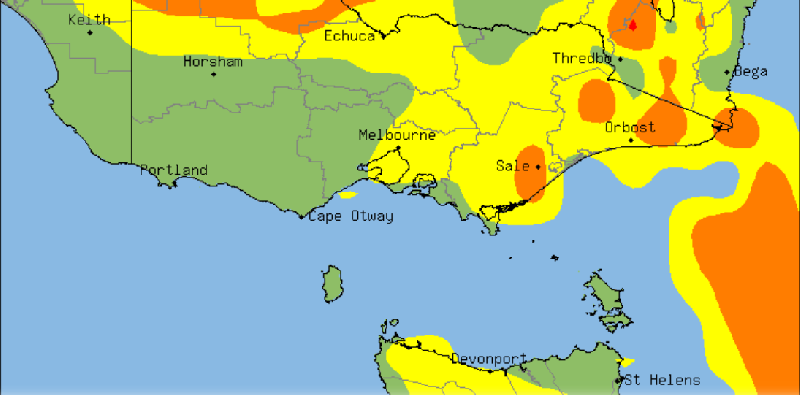 ---