Twitter

Instagram

Facebook | QLD | NSW | VIC | TAS | SA | WA | NT | NZ
---
Warm autumn likely for Australia
20th February 2019
Autumn 2019 in Australia is likely to see a continuation of warmer than average conditions across most of the country, while rainfall is expected to be lower across the nation's north.
While the Bureau of Meteorology still has Australia on an El Nino Watch, the National Oceanic and Atmospheric Administration (NOAA) has declared an El Nino, and these conditions are expected to have some influence over autumn in Australia, although its impact is historically reduced during autumn.
Apart from the northern Queensland floods, the Australian wet season was firstly delayed, and has largely failed for the remainder of Australia. Darwin and Broome have received only half of their entire December to February average so far, with only a week left of the month.
A similar pattern is likely to persist during autumn, with the El Nino influence expected to help contribute to lower than average rainfall across parts of northern Australia.
The lack of cloudiness and rain over the tropical north has manifested in well above average temperatures across the Australian continent throughout summer, and with this pattern continuing into autumn, the country can expect to see temperatures remaining above average.
TThe rainfall outlook for the rest of the country is less certain, with no strong indications towards wetter or drier conditions.
Image 1: Chance of temperatures exceeding median min. temperatures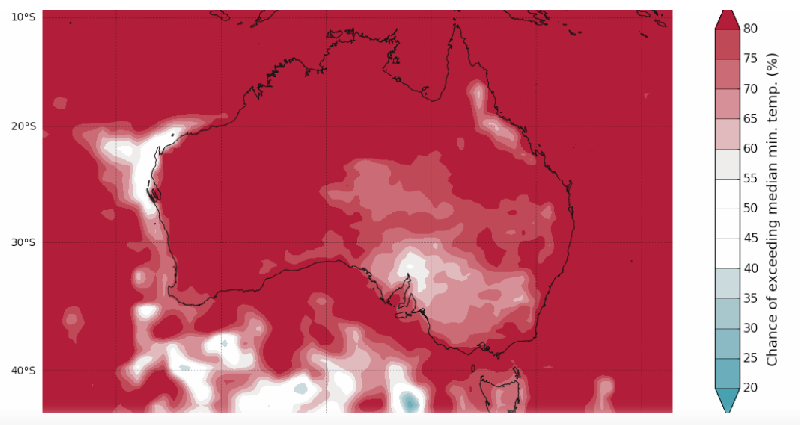 ---