Twitter

Instagram

Facebook | QLD | NSW | VIC | TAS | SA | WA | NT | NZ
---
Heatwave conditions for southern Australia
26th February 2019
The hottest conditions since at least early February will affect southern australia over the next several days, as a slow moving wave of heat pools across the region.
A blocking high over the Tasman Sea and a lack of cold fronts will allow a low pressure trough to stretch from Western Australia through to Tasmania, causing a low-to-severe intensity heatwave to impact the region over late February and early March.
This area heat has been impacting the nation's west for a while now, with Kalgoorlie seeing its seventh straight day of 35 degree heat or above, with temperatures expected to soar into the mid 40s on Wednesday and Thursday. Catastrophic fire dangers are predicted in some areas of WA over the next two days due to associated strong winds.
Adelaide just sweltered through its third day in a row above 36 degrees and is set for at least four more, with Friday and Saturday set to reach around 40 degrees, the city's hottest days since the record heat in late January.
The heat will push into southern Victoria by tomorrow, with Melbourne forecast to reach at least 30 degrees on five consecutive days, including days in the mid-to-high thirties between Thursday and Saturday.
By early March, the hot airmass will dip into Tasmania, with Hobart pushing into the mid-to-high 30s on Saturday, with a chance of seeing its hottest day of the 'hot season' so far.
Cooler conditions should develop from later in the weekend or early next week as a cold front pushes the hot airmass into eastern and central Australia.
Image 1: National Three-day Heatwave Forecast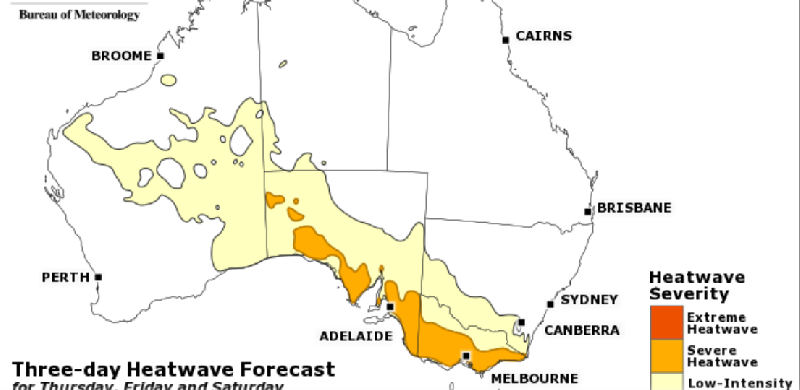 ---