Twitter

Instagram

Facebook | QLD | NSW | VIC | TAS | SA | WA | NT | NZ
---
On this day: 23 September 2009
23 September 2019
Today marks the ten year anniversary of the Eastern Australian dust storm, one of the worst dust storms in recorded history to hit the region, causing visibility to be reduced down to 100 metres and scenes more resembling Mars than Earth.
A vigorous cold front with wind gusts of 100km/h swept across the country and collected dust sourced from a very dry interior (northeast South Australia) and drought hit New South Wales, resulting in a band of dust more than 500km wide and 1000m long.
Skies were turned a thick red across large parts of the east coast, including Canberra, Sydney and Brisbane, with visibility reported down to 500 metres at Coffs Harbour and the Gold Coast, and 100 metres at Toowoomba. This lead to numerous flight delays and cancellations.
Air quality ratings were 'poor to hazardous', resulting in school trips and sports to be cancelled, as well as some outdoors workers being prohibited to work.
The event was considered the worst dust storm to hit NSW in nearly 70 years, and made headlines around the world.
Video: Remembering the 2009 duststorm in Sydney (Source: ABC News Sydney)
Image 1, EWN satellite of the dust storm on 23 September, 2009
Image 2, Dust storm over Brisbane (Source: Exist2Chase)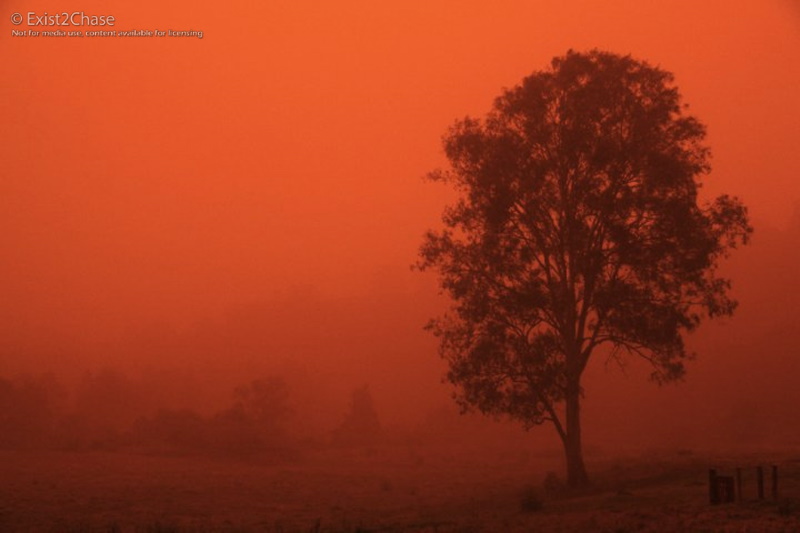 ---