Twitter

Instagram

Facebook | QLD | NSW | VIC | TAS | SA | WA | NT | NZ
---
Early summer cold blast for southeast, as fire danger soars again on the east coast
29 November 2019
A wild mix of weather is set to affect Australia to kick off summer, as the southeast of the nation is lashed by cold, wet and windy weather and alpine snow, whilst the east sees severe thunderstorms and more dangerous fire conditions.
A strongly negative Southern Annular Mode, which is likely still being caused by the Sudden Stratospheric Warming event over Antarctica in late August, is causing cold fronts to be stronger and extend further north than usual for this time of the year.
Whilst a weak cold front will cause showers and thunderstorms and cooler conditions over Tasmania, Victoria and NSW over the next two days, the strongest of these fronts is likely to impact the southeast of the nation on Sunday and into Monday.
Temperatures are expected to plunge as much as 10 to 15 degrees below average for December in some areas of southern NSW, VIC and TAS, with Melbourne expected to experience one of its coldest starts to summer on record, reaching just 17 degrees on Sunday and 16 degrees on Monday.
However, much of the day will feel cooler, with showers and isolated thunderstorms (which may be associated with small hail) and strong winds adding an extra chill factor to the air and temperature oscillations. Over the eastern ranges of Victoria, extending up to the NSW central tablelands, widespread falls of 5 to 15mm are likely, with some heavier falls up to 20-to-30mm possible.
The airmass is expected to be cold enough to produce snow over the alpine areas, with as much as 15-30cm of fresh snow likely. Areas in Tasmania above 500-600m are also expected to receive some snowfalls.
However, over the nation's east, particularly over northeast NSW and into QLD, this front is expected to lead to severe thunderstorms on Sunday, and dangerous fire weather on Monday.
Strong and dry westerly winds, gusting to 80-90km/h in some areas, will extend far further north than normal into these areas on Monday and combine with temperatures in the mid-to-high 30s to lead to extreme fire weather.
This is terrible news for these fire ravaged areas, with the winds likely to cause large ongoing fires, such as the Bora Ridge fire in northeast NSW, and Cunningham Gaps and Mt Barney fires in southeast QLD to flare up, with the risk of new blazes as well.
Similar conditions will persist into Tuesday, although some easing will occur as a high pressure region approaches.
Image 1: 850 temperatures across Australia on Monday 2nd December, 2019. Source: Pivotal Weather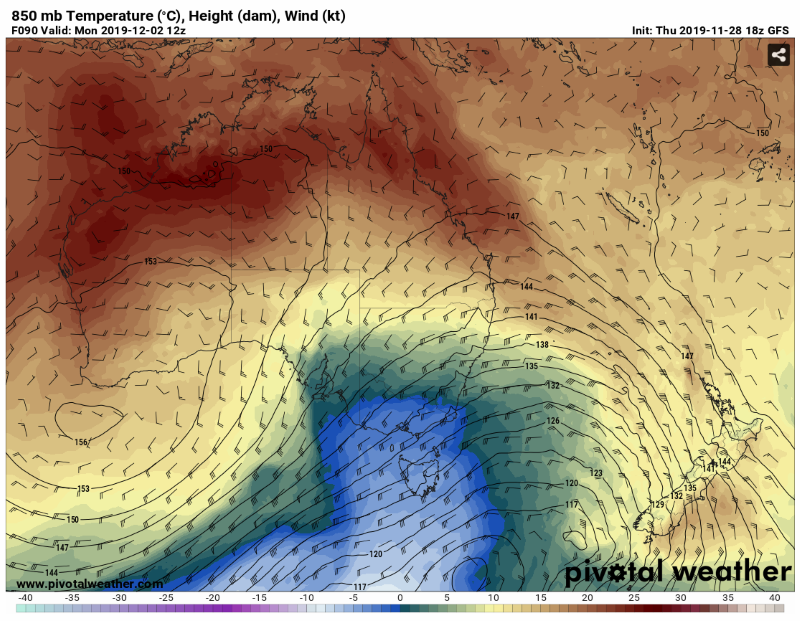 Image 2: 5 day rain accumulation. Windy.com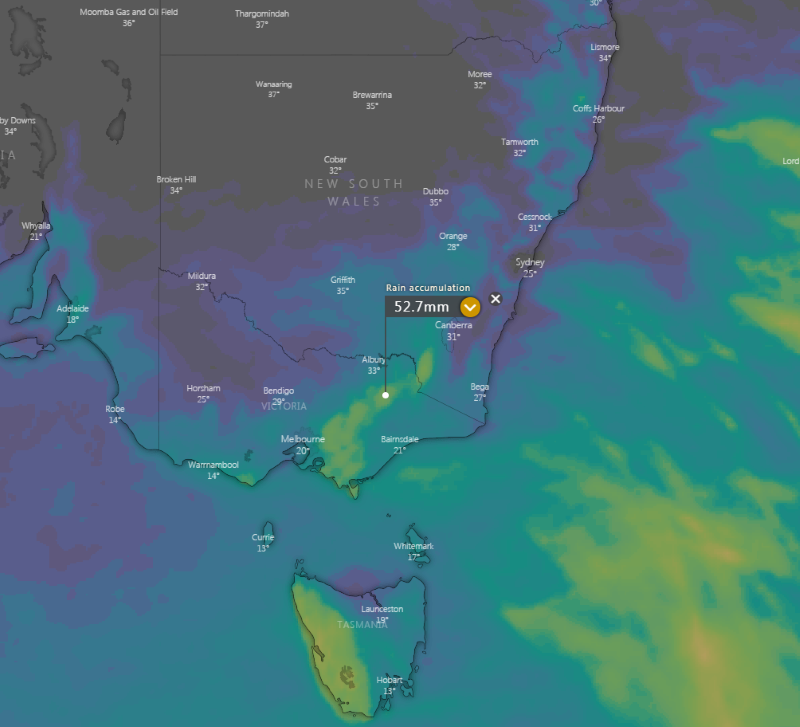 Image 3: 5 day snowfall accumulation. Windy.com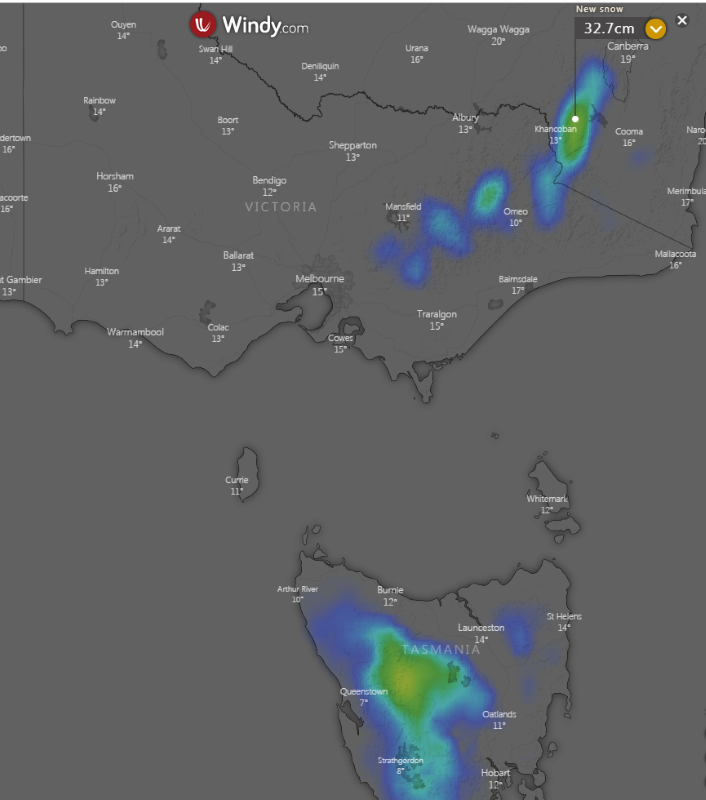 Image 4: Wind gust forecast for Monday 2nd December, 2019 Windy.com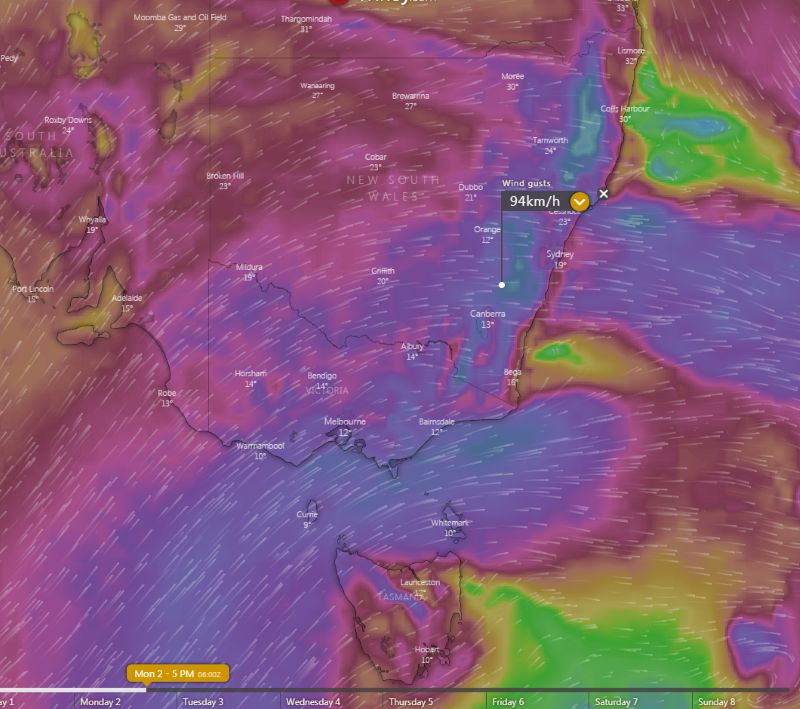 Image 5: Thunderstorm forecast for northeast NSW/southeast QLD on Sunday 2 December, 2019. Windy.com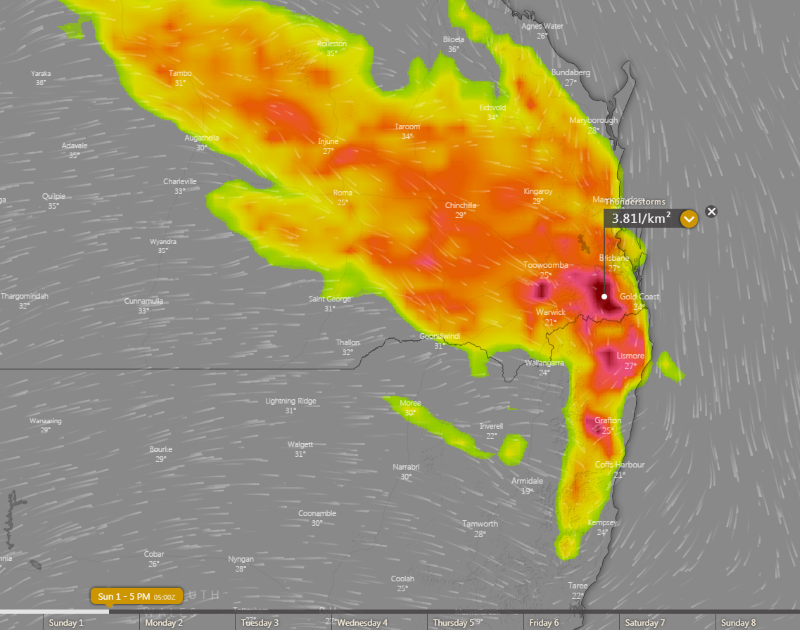 ---