Twitter

Instagram

Facebook | QLD | NSW | VIC | TAS | SA | WA | NT | NZ
---
Welcome Temporary Easing of Fire Dangers in Fire Affected East Gippsland/Southern NSW
Monday, 6th January 2020
It's good to see that over the last couple of days, patchy mainly light rainfall, more moisture, much cooler temperatures and weaker winds have eased fire dangers right back. This has allowed fire fighters much needed breathing space to make more progress in fighting the many bushfires burning in the region though there are still many fires which are uncontrolled.
However most of the rainfall totals over the last couple of days have been below 10 mm which is nowhere near enough to put out large fires and in certain situations such light falls can sometimes cause problems such as interfering with backburning that helps strengthen containment lines.
Looking ahead, most of the showers and patchy light rainfall caused by an upper trough should gradually contract east this evening to become confined to the NSW side of the border though some very patchy light shower activity may persist in parts of the Gippsland over the next few days.
Meanwhile fire affected parts of the NSW south coast should still see some shower activity continue for the next few days thanks to onshore moisture feeding into a trough lying to the west. The southern ranges including the Snowy Mountains area should also see some shower activity continue with some afternoon and evening storm activity during the next few days.
Unfortunately Friday is expected to see fire danger increase once again as hot gusty winds develop ahead of an approaching cold front though for the NSW side of the border they may not be quite as extreme as what we?ve seen a few days ago.
A band of showers and patchy rain with the front is then likely to move across East Gippsland but this rainfall is expected to be lighter and patchier for the NSW side of the border. The front will be followed by cooler temperatures again.
Image 1: Pictured here are the rainfall amounts that fell in the 48 hours up to 9 a.m. this morning.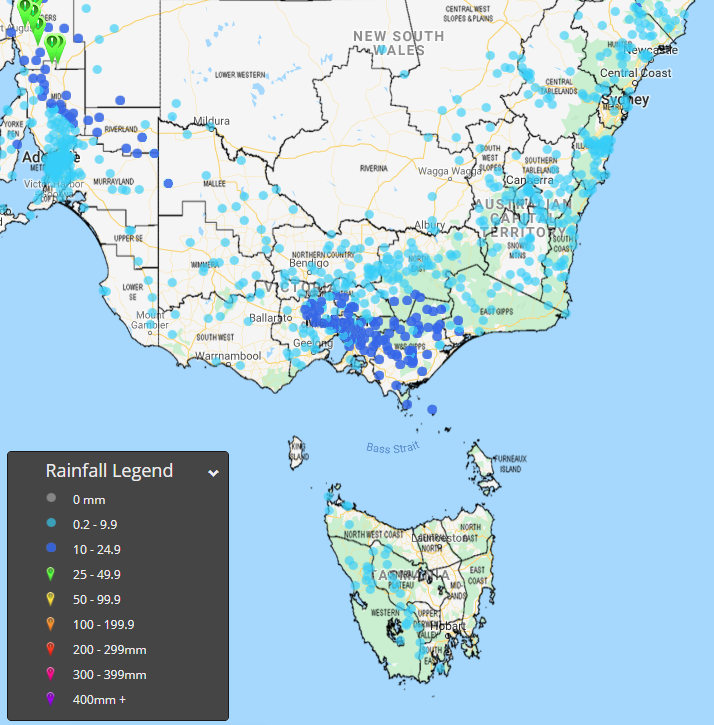 ---