Twitter

Instagram

Facebook | QLD | NSW | VIC | TAS | SA | WA | NT | NZ
---
First Tropical Cyclone for the Western Region for 2020
Monday, January 6th, 2020
Category 1 Tropical Cyclone Blake formed as of 8:57am WST is the first TC for 2020
TC Blake has a central pressure of 993hPA as of 9:00am this morning
Further intensification is likely with Category 2 strength forecast
Overall southwestern trend likely, steering this system adjacent the Kimberley and Pilbara Coasts
Local road closure information
Image 1: Tropical Cyclone Blake Forecast Track Map as of 8:57am on Monday, 6th January 2020.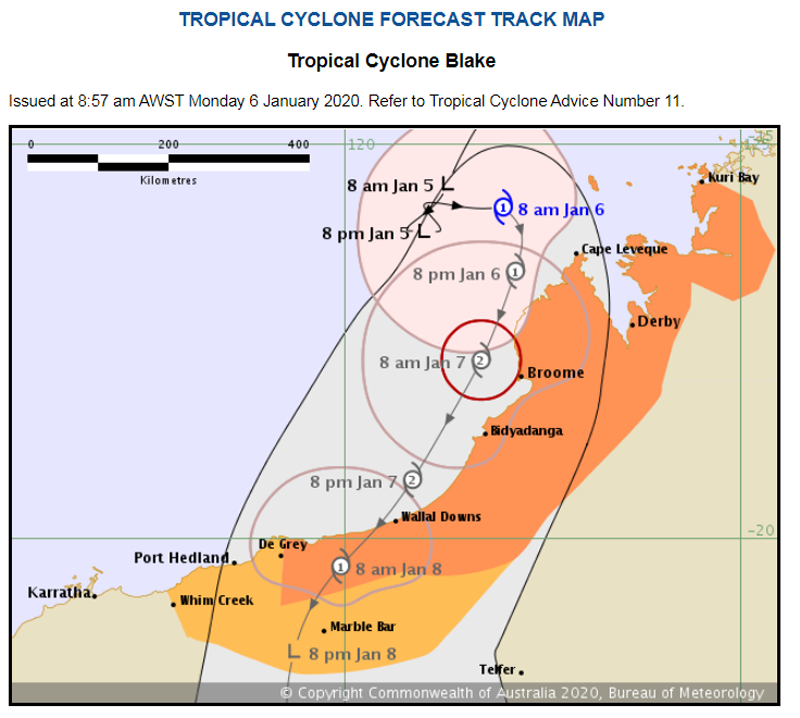 As at 9:00am (WST) this morning, Category 1 Tropical Cyclone Blake has been named and is the first Tropical Cyclone to exist in Australian waters for 2020. Blake has developed over the waters to the north of Broome and is likely to produce gales along the northwestern Kimberley Coast today with a Warning Zone extending from Kuri Bay in the north to De Grey in the south including Broome.
TC Blake's exact location is estimated to be 240kms north of Broome and 270kms west of Kuri Bay with an eastward trend at an estimated 9km/h. Currently, the central pressure of the system is 993hPa and producing wind gusts over water to 100km/h.
The Tropical Cyclone is expected to further intensify into tomorrow with a predicted southwestern track towards the northern WA coastline due to a mid-level ridge, essentially steering the centre of the cyclone adjacent the Dampier Peninsula over the next 24 hours.
Further ahead into Wednesday, the centre of Tropical Cyclone Blake (potentially a Category 2 system) is expected to lie to the west of Broome during the morning before dipping south-southwestward to the northeast of Wallal Downs.
There is a risk that if TC Blake edges closer to the coastline than anticipated, that land interaction and friction may attribute to the brief suppression of intensity, however at this stage the centre of the system is expected to remain just offshore adjacent Broome (this is still subject to change). Some road closures are in effect early including the unsealed section of Broome Cape Leveque Road in the Shire of Broome.
Image 2: Satelite imagery of Tropical Cyclone Blake adjacent the Kimberley Coast - Monday, 6th January 2020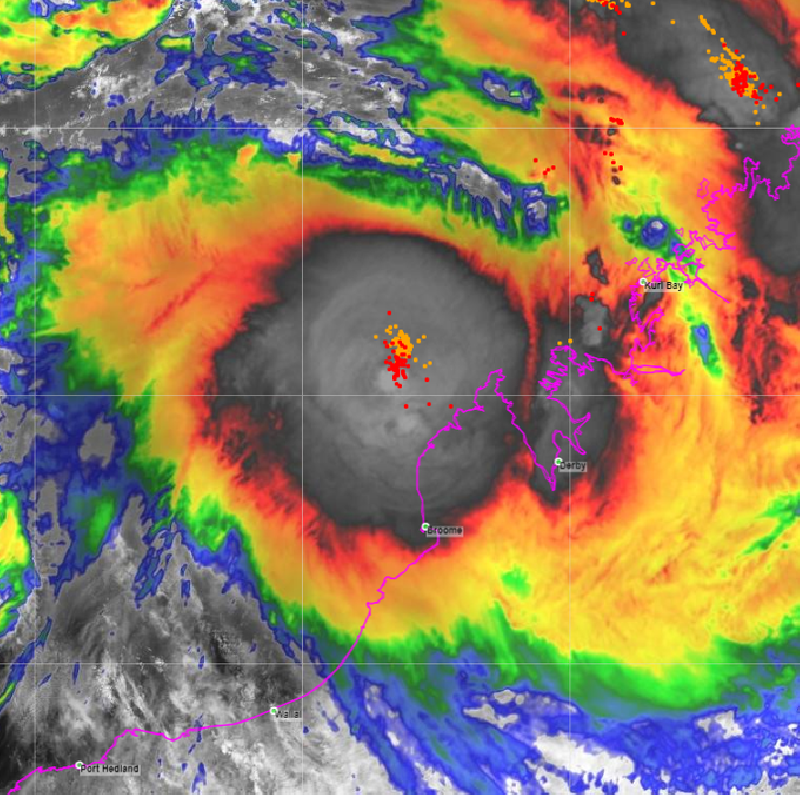 ---