Twitter

Instagram

Facebook | QLD | NSW | VIC | TAS | SA | WA | NT | NZ
---
Fire danger spiking again over southeast Australia - but patterns set to shift
Wednesday, January 8th, 2020
Another burst of heat and strong winds are set to cause bushfires to flare up again on Thursday and especially Friday, however a cooler change and increased moisture is finally set to bring a proper reprieve to Australia's southeast from the weekend.
Northerly winds ahead of a trough and cold front are dragging down an intensely hot airmass from the interior, with temperatures pushing into the low to mid 40s across South Australia, NSW and northern Victoria on Thursday. Some parts of NSW have had an intensely hot start to January, running five-to-ten degrees above average so far.
In South Australia, northerly winds will be moderate and gusty at times, before a gusty southerly change begins to push into coastal areas during the afternoon and evening. This will cause fire danger to reach severe across the south, with the most dangerous times expected during the afternoon (during peak heating and northerlies) and on the frontal boundary. Some light rain is expected in the evening and overnight in coastal areas.
Fire weather will become more dangerous on Friday as the airmass becomes even hotter and winds become stronger, with fire ravaged eastern Victoria and NSW likely to see the most intense conditions once again.
Temperatures will soar from the low 40s to high 40s, with strong and gusty northwesterly winds pushing across the region ahead of the change, with gusts reaching 50-70km/h across southern NSW and eastern Victoria. Northeasterly winds will prevent significantly hot weather on the NSW South Coast.
However, the most dangerous aspect of this system will be the squally southerly change associated with the change, with wind gusts in excess of 80-90km/h expected across eastern VIC and southern NSW during the afternoon and evening.
This will cause any current fires, including the massive Currowan Fire and the Border fire near Eden to spread rapidly north on the frontal boundary and a few hours after the change, before conditions ease. In the wake of the change, some light rain is also expected across the fire ground.
Thankfully, there is good consensus amongst computer models now that fire potential over the coming weeks will drop. Winds are expected to ease, temperatures become a little cooler, and a more easterly flow is expected to develop.
Some models indicate increased chances of rainfall in mid-to-late January, although it is too early to say how much and where this will fall.
Image 1: OCF Forecast Maximum temperature for NSW and Victoria for Friday 8th January, 2020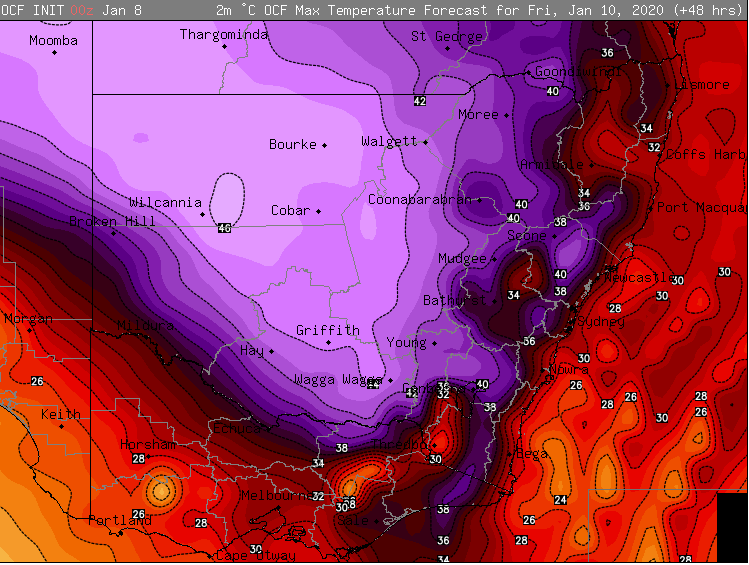 Image 2: Strong wind gusts associated with the southerly change during Friday 8th January, 2020 evening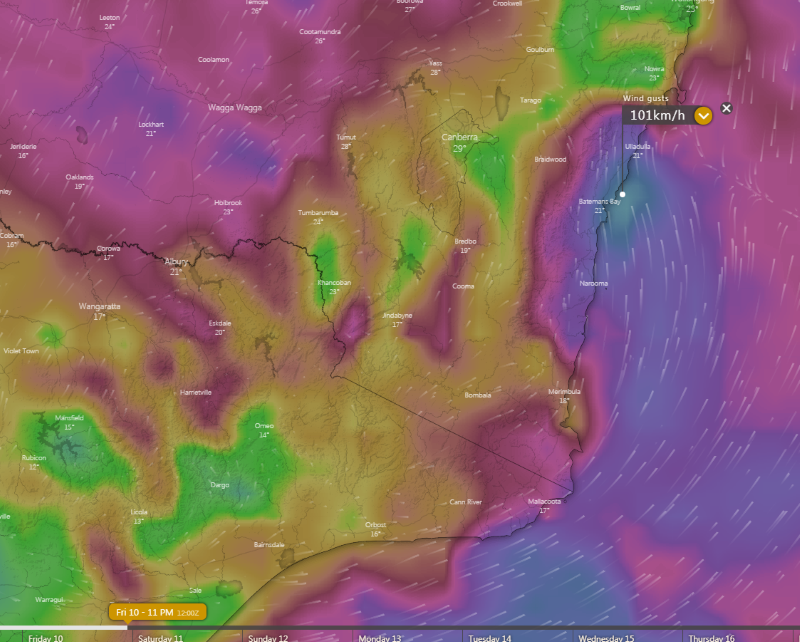 ---