Twitter

Instagram

Facebook | QLD | NSW | VIC | TAS | SA | WA | NT | NZ
---
Thunderstorms drench central Victoria - New South Wales and Queensland next
Thursday, 16th January 2020
Heavy rain soaked central Victoria yesterday as thunderstorms lashed the state, bringing the best rain in a few years to some places, with the focus of the action now moving to New South Wales and Queensland over the next few days.
A trough dragged a hot and humid airmass over the state, with temperatures rising into the mid-to-high 30s and moisture levels significantly higher than other hot air masses seen this summer.
Thunderstorms developed in the morning and became more widespread during the afternoon, peaking in intensity over central parts of VIC.
Strong cells developed in the Melbourne area, with a particularly strong storm around the Avalon and Geelong area bringing wind gusts to 113km/h, large hail and as much as 24mm in just 10 minutes. The eventual total of 49mm at Avalon was the site's heaviest fall since April 2017.
Many parts of the Central and North Central received totals in the 10-to-20mm, however some places saw even heavier totals, including Tullamarine (31mm), St Albans (77mm), Kinglake (35mm) and Mount Baw Baw (40mm), the best falls in more than a year for some of these places.
These thunderstorms tracked eastwards into east Gippsland and the northeast during the evening, however they unfortunately weakened. The most notable totals included 17mm at Waterford (near Dargo) and 19mm at Gelantipy, which fell over some fire affected areas.
Thunderstorms have cleared the state, with the focus now on the eastern half of NSW and QLD over the next few days.
Heavy falls have already been recorded today, although they have been patchy. Some notable falls in NSW include (to 3pm EDT): 70mm at Buldahdelah, 47mm at Mullaley, 59mm at Bendemeer and 45mm at Moree. In QLD, Blackwater recorded 63mm in the 24 hours to 9am, whilst Longreach had a wind gust to 98km/h.
Further widespread falls of 15-to-30mm are likely over eastern parts of central and northern NSW and southern QLD over the next three days. Some areas will receive significantly heavier falls, particularly on the slopes, ranges and just inland from the coast, with totals of 50-to-100mm and isolated heavier falls up to 150-200mm.
This system will clear off the coast around Sunday, however another rain bearing system is due next week, with potentially severe thunderstorms as well.
Image 1: ECMWF accumulated precipitation over the next 3 days (Source: Windy)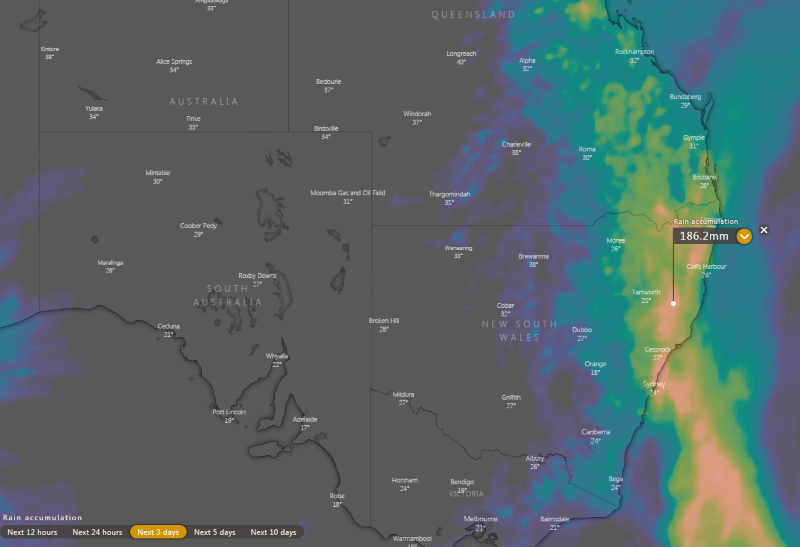 Image 2: ACCESSR accumulated recipitation over the next 3 days (Source: Weatherwatch MetCentre)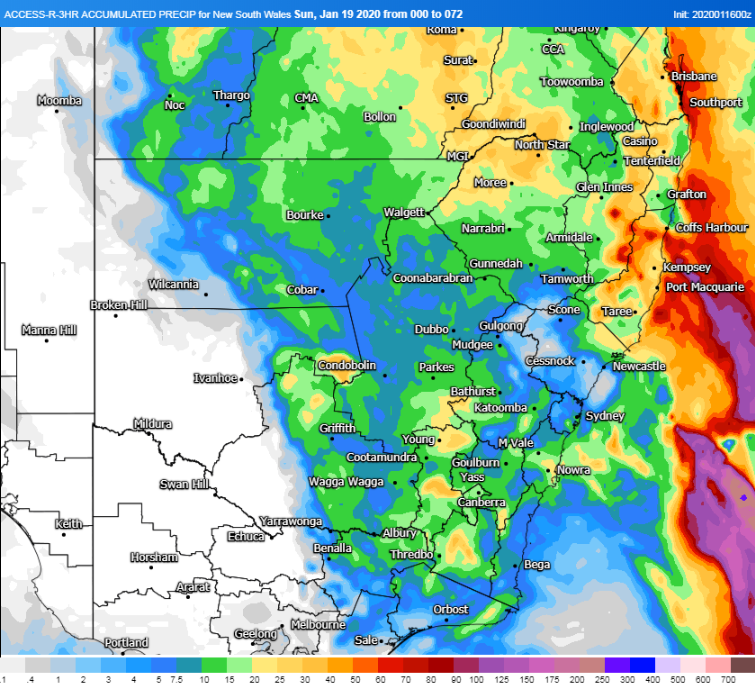 ---