Twitter

Instagram

Facebook | QLD | NSW | VIC | TAS | SA | WA | NT | NZ
---
Destructive winds and giant hailstones for the Nation's Capital
Monday, 20th January 2020
Severe thunderstorms containing damaging to locally destructive winds, giant to large hail and moderate to heavy rainfall have lashed Canberra today shortly after lunchtime, as a severe thunderstorm outbreak currently is occurring through central and southeastern parts of Australia.
At 12:01pm, severe thunderstorms were detected on the weather radar near the Brindabella Ranges, Goobarragandra (east of Tumut) and Wee Jasper and rapidly moving towards the southeast. Damaging winds and large hail were likely for parts of Belconnen, Hall, Gungahlin, Weston Creek and reaching Canberra Civic, Queanbeyan, Tuggeranong and the Canberra Airport by 1:00pm. At 12:31pm, the thunderstorm warning was upgraded to include locally destructive winds, giant hail and heavy rainfall with the thunderstorm moving directly over Canberra shortly thereafter.
Image 1: BoM Weather Radar for Canberra, ACT as at 12:36pm, Monday 20th January 2020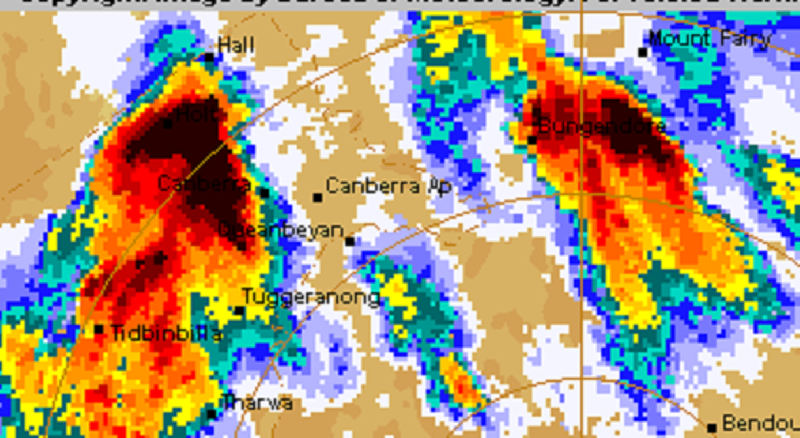 Damaging wind gusts of up to 117km/h was recorded at the Canberra Airport between 12:48pm to 12:53pm, and were sustained for a duration of five minutes during the peak intensity of the thunderstorm. Large hail to the size of golf balls were observed at Parliament House in the centre of the city and surrounding suburbs with large accumulations in some places.
Conditions are very favourable for the continuation of strong and destructive thunderstorms into this afternoon and evening for numerous locations situated through the eastern inland and coastal districts of southern Queensland but primarily through and eastern inland and coastal New South Wales districts, with the potential for further localised destructive winds, large hail and heavy rainfall that may be conducive to flash flooding and rises in rivers, creeks and streams.
Image 2: Early Warning Network Lightning Tracker, 12:35pm, Canberra ACT, Monday 20th January 2020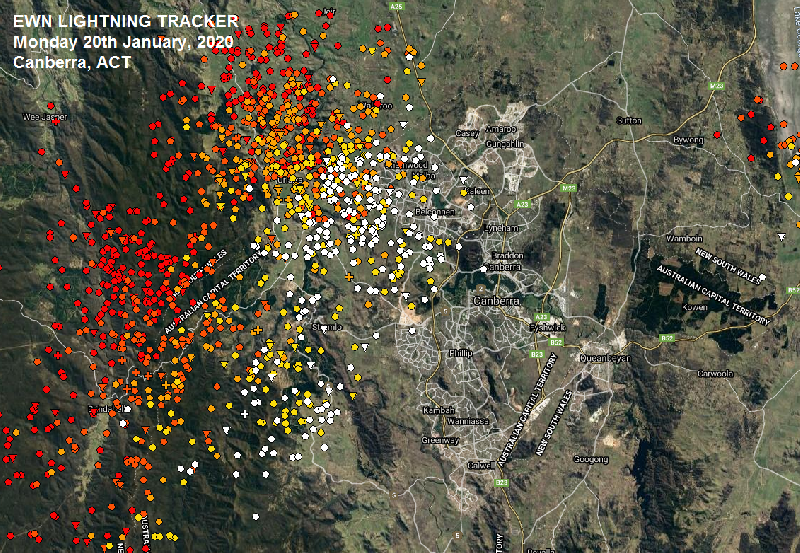 ---