Twitter

Instagram

Facebook | QLD | NSW | VIC | TAS | SA | WA | NT | NZ
---
Fire danger spiking over southeast Australia, but rain to follow
Wednesday, 22nd January 2020
A strong cold front is dragging a hot airmass and strong winds once again over southeastern Australia causing dust storms and fire danger to reach severe to extreme levels, however rain is thankfully on the way in the wake of the change.
The Southern Annular Mode (SAM) has moved back into a negative phase (a climate driver that sends westerly winds further north in this phase), pushing a strong frontal system across the region.
Severe Weather Warnings are current for Victoria, South Australia and New South Wales for wind gusts in excess of 90km/h, with potential for locally destructive gusts to 125km/h in showers and thunderstorms in SA.
A hot airmass is also being pushed ahead of the change is causing temperatures to push into the mid 30s to low 40s, although it is the strong winds causing the fire danger to increase most notably.
Fire danger is reaching severe levels over parts of SA, VIC and NSW today, with severe to locally extreme fire dangers expected over NSW tomorrow (the greatest risk being over central and southern areas). Several blazes have already broke out today across NSW, VIC and TAS.
The strong winds ahead of the front are also whipping up dust, with visibility down to 200 m reported between Peterborough and Yunta (SA)this afternoon. This dust storm is expected to move across TAS, VIC, NSW, SA and QLD this evening and into Thursday.
For VIC, TAS, southeast SA and far southern NSW, the fire threat will be greatly reduced in the wake of the change later today as a band of rain spreads across the area.
Flood watches for minor flooding are predicted across central and eastern parts of VIC due to falls of 20-to-40mm, and isolated totals up to 50-to-60mm. In TAS, widespread falls of 15-to-30mm are likely, with less in the east.
For NSW, wetter conditions will develop later Thursday and into Friday as showers and thunderstorms develop as a lingering trough is fed by moisture off the Tasmania and Coral Seas.
Image 1: Dust storm on visible satellite over southeast Australia on afternoon of Wednesday 22nd January, 2020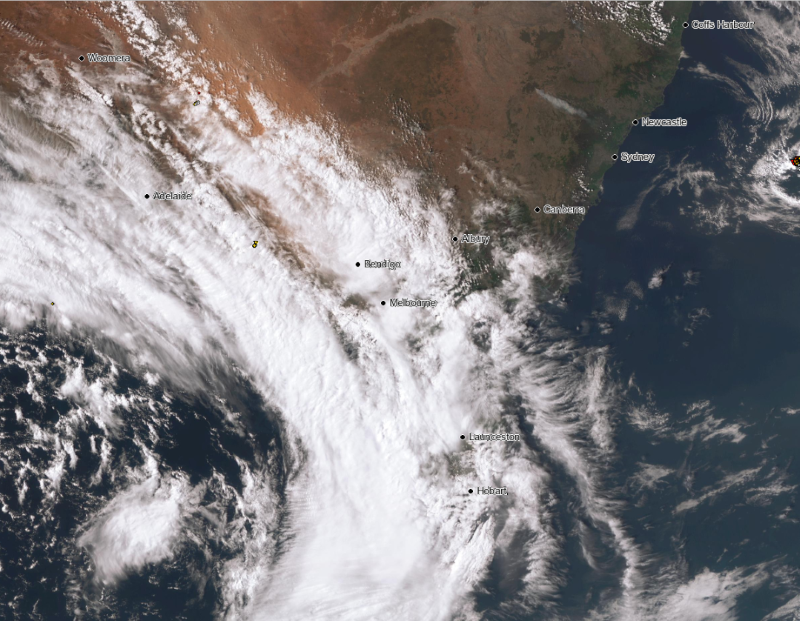 Image 2: Dust Mass Index for 2am over southeast Australia (Source: Windy)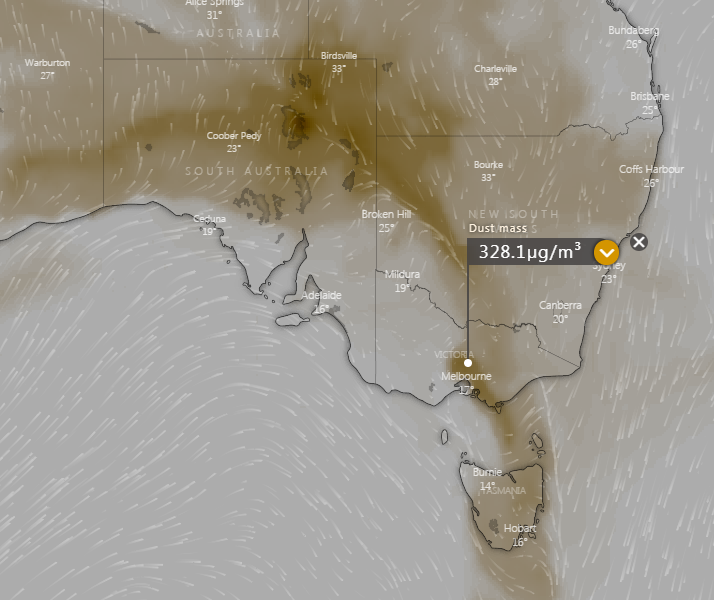 ---