Twitter

Instagram

Facebook | QLD | NSW | VIC | TAS | SA | WA | NT | NZ
---
Widespread moderate to heavy rainfall to ramp up across northern Australia
Friday, 24th January 2020
A slow moving surface and upper low is set to hover over the northern inland of the continent and cause widespread showers, storms and rain areas to persist day after day across much of the Northern Territory and northern Queensland.
When averaged across this area daily totals of 30 to 100 mm are likely to be common but some areas which experience storms could receive more than 100 mm in a day.
The wettest areas are expected to be in northeastern parts of the NT as well as far northwestern and the far north tropical coast and hinterlands of Queensland. These areas are likely to receive seven day accumulations up to 150 to 300 mm with locally heavier totals possibly much higher than that. This is likely to cause flash flooding as well as significant increases in river levels.
For now the low is expected to remain over land which reduces its risk of becoming a tropical cyclone but the chance of it coming close to Gulf of Carpentaria waters next week cannot be ruled out yet.
Image 1: Forecast ECMWF EPS seven day rain totals until Friday 31st January 2020 (Source: weather.us)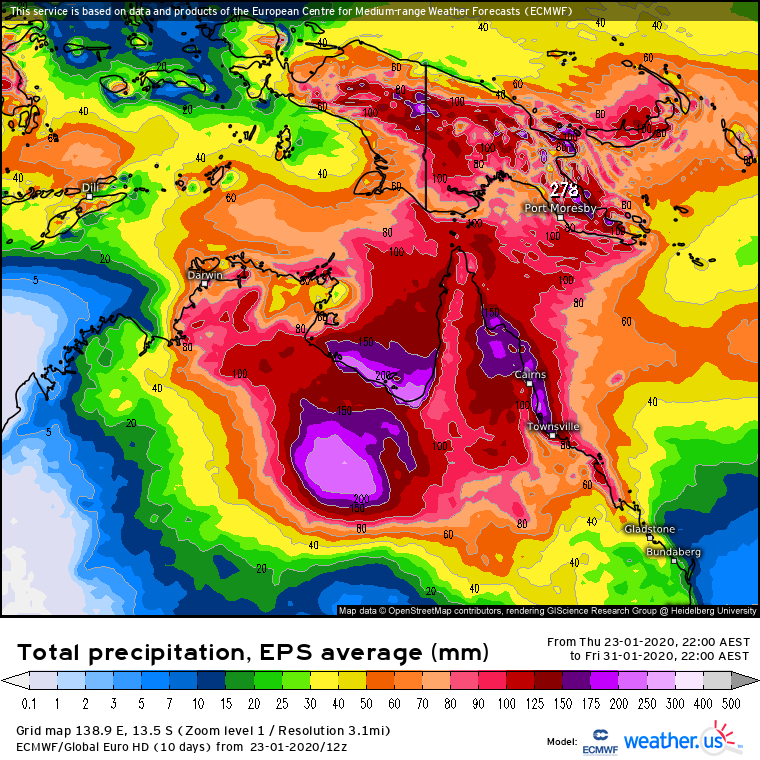 ---