Twitter

Instagram

Facebook | QLD | NSW | VIC | TAS | SA | WA | NT | NZ
---
Significant 24 hour rainfall totals for the Herbert and Lower Burdekin, Queensland
Tuesday, January 28th, 2020
Substantial and significant rainfall has fallen through parts of the Herbert and Lower Burdekin over the past 24 hours to 9am this morning, January 28th, 2020.
Yesterday and overnight, the State Emergency Service received approximately 20 calls for help in the Townsville area alone in response to the extreme rainfall. The rainfall has resulted in significant flooding for some areas including Ayr, which remarkably coincides this week with the one year anniversary of the 2019 Townsville flood event.
Some of the 24 hour rainfall figures recorded to 9:00am this morning include;
Rita Island - 529mm, Ayr - 421mm, Groper Creek Alert - 418mm, Inkerman Bridge Alert - 403mm, Brandon Alerts - 386mm, Ayr DPI - 328mm and Alva Beach - 275mm
Rail freight services have been cancelled indefinitely until the line can be checked and repaired due to the flooding throughout the Hughenden region with inland train services unable to be aided or replaces by road transport. The floodwaters have also cut the Bruce Highway section between Home Hill and Ayr, which has been impassable for motorists and other transport.
Remember to never enter into flooded water, or rushing/flowing water at any time.
We are keeping a close eye on the tropical low pressure system that has moved into the Gulf of Carpentaria where the system is expected to provide further moderate to heavy rainfall through the eastern gulf coastline today, including places such as Normanton and Kowanyama, before heading further south inland into late this week.
As of 4:00pm, an Initial Flood Watch for Coastal and Adjacent Catchments between Mackay and Innisfail has been issued for minor flooding across the region overnight tonight and tomorrow. Catchments likely to be affected include the Johnstone River, Tully River, Murray River, Black River, Ross and Bohle Rivers, Haughton River, Belyando and Suttor Rivers to Burdekin Falls Dam, Burdekin River to Burdekin Falls Dam, Burdekin River downstream of Burdekin Falls Dam and the Don and Proserpine Rivers.
Image 1: 24 hour rainfall totals to 9am Tuesday, January 28th, 2020 for the Rita Island Alert incdicating 529mm received.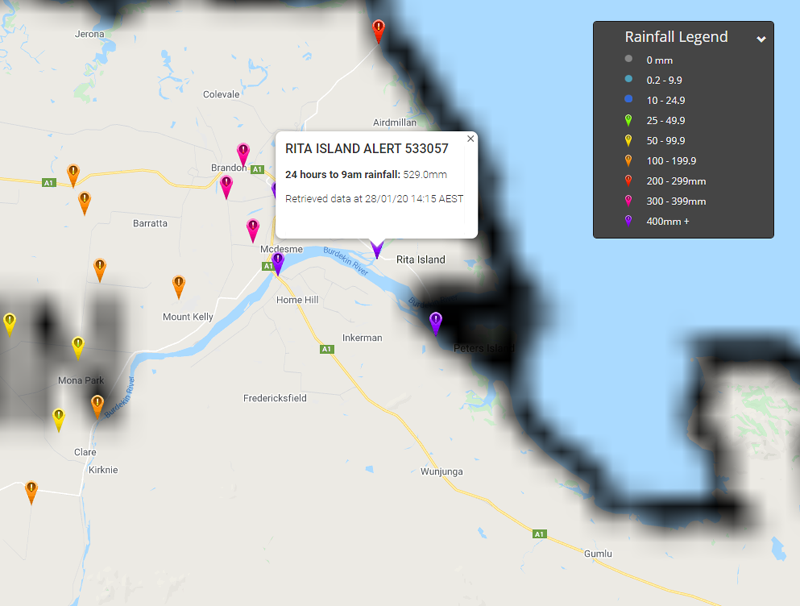 Image 2: Initial Flood Watch area as of 4:00pm, Tuesday, January 28th, 2020 for renewed rainfall for coastal and adjacent inland catchments between Innisfail and Mackay.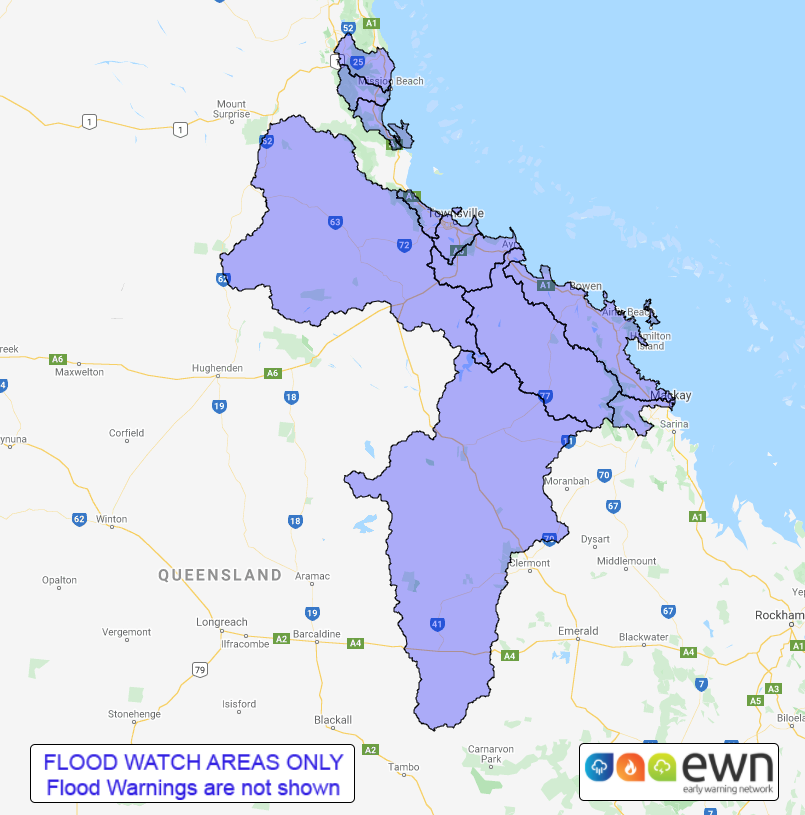 ---