Twitter

Instagram

Facebook | QLD | NSW | VIC | TAS | SA | WA | NT | NZ
---
Intense heat and fire weather to scorch southeast Australia
Wednesday, January 29th, 2020
After a run of cooler weather, an intense burst of heat will sweep across southeast Australia between Thursday and Saturday, causing temperatures to soar into the mid 40s and dangerous fire conditions.
A series of troughs and a tropical low are helping drag down a very hot airmass sourced from the nation's west, with temperatures set to challenge records for both day and nights.
South Australia will feel the hottest part of the airmass tomorrow, reaching into the low-to-mid 40s across most of the southern half of the state, with the northern part being coolest due to cloud and rain. Fire Danger is expected to reach severe levels across many areas as gusty northerly winds combine with the heat.
In Tasmania, strong northwesterly winds are also expected with the state seeing amongst the worst fire danger it has experienced so far this summer.
On Friday, the hottest part of the airmass will focus across Tasmania, Victoria and New South Wales. Hobart will reach 38 degrees, Melbourne the low-to-mid 40s, and Canberra around 41 degrees. The worst fire conditions will likely be over TAS, eastern SA and central and western VIC as fresh to strong and gusty northwesterly winds accompany the heat, with fire danger reaching Severe to Extreme.
On Saturday (first day of February), the hottest airmass will contract to eastern Victoria and NSW. Griffith will rise to 45 degrees, Canberra 42 degrees (challenging its February record of 42.2 degrees), and Bega the mid 40s. Overnight temperatures will also remain high on Friday night into Saturday, with some areas unlikely to fall below 30 degrees.
Winds will ease a little but still be fresh and gusty at times, with the worst fire conditions likely over over the fire ravaged northeast Victoria, inland parts of the NSW South Coast, Snowy Mountains, Southern Tablelands and ACT.
Meanwhile, at the same time, a band of rain and thunderstorms is likely to be affecting SA, western VIC and parts of TAS, bringing significant relief.
This moisture will continue to feed east, with the airmass intensity breaking down as it moves into northern NSW and QLD due to increased cloud and rain.
A cold front on Sunday and into Monday may be cold enough to bring alpine snow to Tasmania, and will bring a significant cooling of conditions across southeast Australia, which is expected to linger into mid February at this stage.
Image 1: OCF Forecast temperatures over southeast Australia on Friday 31 January, 2020 (Source: Weatherwatch Metcentre)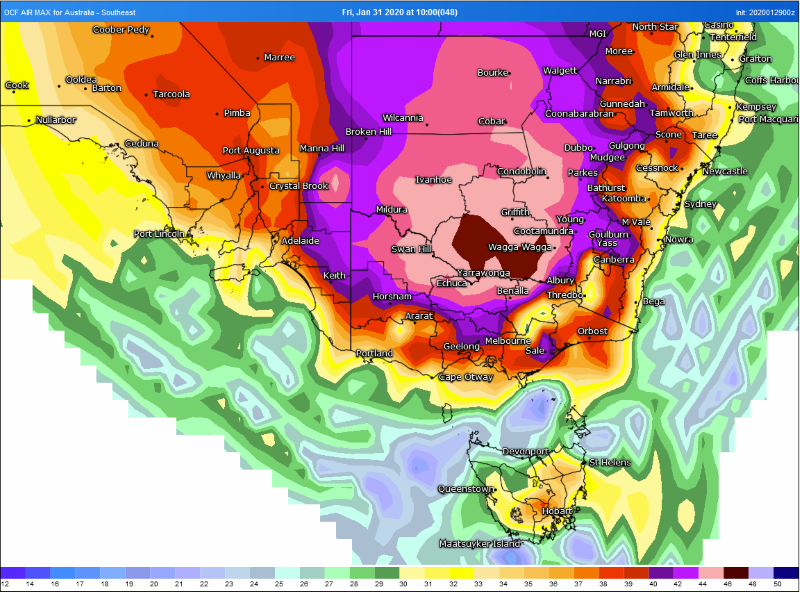 Image 2: OCF Forecast temperatures over southeast Australia on Saturday 1 February, 2020 (Source: Weatherwatch Metcentre)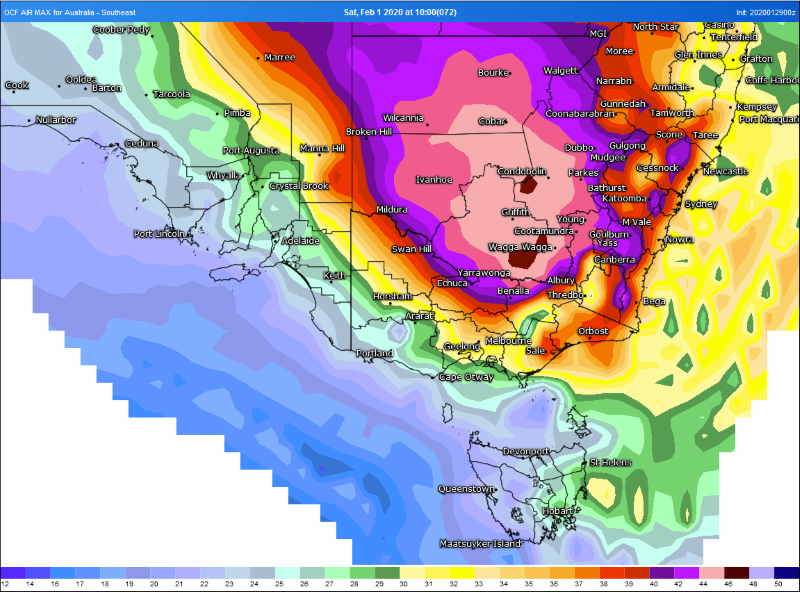 ---