Twitter

Instagram

Facebook | QLD | NSW | VIC | TAS | SA | WA | NT | NZ
---
Very hot temperatures for today and into this weekend for NSW and the ACT
Friday, January 31st, 2020
A series of fronts are helping drag down a very hot air mass sourced from the nation's west, with temperatures set to challenge records for today during the day and into the next couple of evenings. A State of Emergency has now been declared for the ACT and is in effect to protect the community from worsening fire and weather conditions. In a State of Emergency, it is imperative that everyone is prepared, even if you are not in the area of immediate danger. As a community, the ACT must all be prepared ahead of more extreme weather conditions that are forecast for the ACT and the surrounding region.
Significantly elevated fire danger is present for the majority of Victoria today with severe ratings current for the Mallee, Wimmera, Northern Country, North Central, South West and Central districts with Extreme fire danger present for the Midlands region of Tasmania. Significant severe fire dangers are also current for the eastern and southeastern portions of Tasmania, including the East Coast, Upper Derwent Valley, South East and Central Plateau under in the influence of severe fire danger. Conditions are expected to abate back to High to Very High dangers for tomorrow.
Looking ahead into tomorrow, the hottest air mass will contract to eastern Victoria and southern and central New South Wales. Very hot temperatures are anticipated with the OCF Forecast Consensus predicting temperatures of 44° for Kapooka, 43° for Cowra, Dubbo, and Wagga Wagga, 42° at Nowra and Parkes respectively. Daytime maximum temperatures may also reach or exceed 41° for the Canberra Airport with 37° forecast for Cooma.
These very hot temperatures combined with dry and windy conditions are expected to elevate fire danger to severe thresholds for people situated within the Illawarra/Shoalhaven, Far South Coast, Monaro Alpine and Southern Ranges. Very warm overnight temperatures will also remain this evening, and overnight into Saturday for southeastern parts of the continent, with some areas unlikely to fall below 30° as a minimum. Winds will ease slightly for Victoria during tomorrow, however may still be fresh and gusty at times with the worst fire conditions likely over for parts of northeastern Victoria.
Conditions are expected to ease further for Victoria late on Saturday and into Sunday at this stage with much cooler conditions over southeastern parts. Another cold front on Sunday and into Monday may be cold enough to bring snow to Tasmania, and in addition will bring a significant cooling of conditions across southeast Australia and respite from the hot conditions this past week.
Image 1: New South Wales Fire Weather Warning for Saturday, 1st February, 2020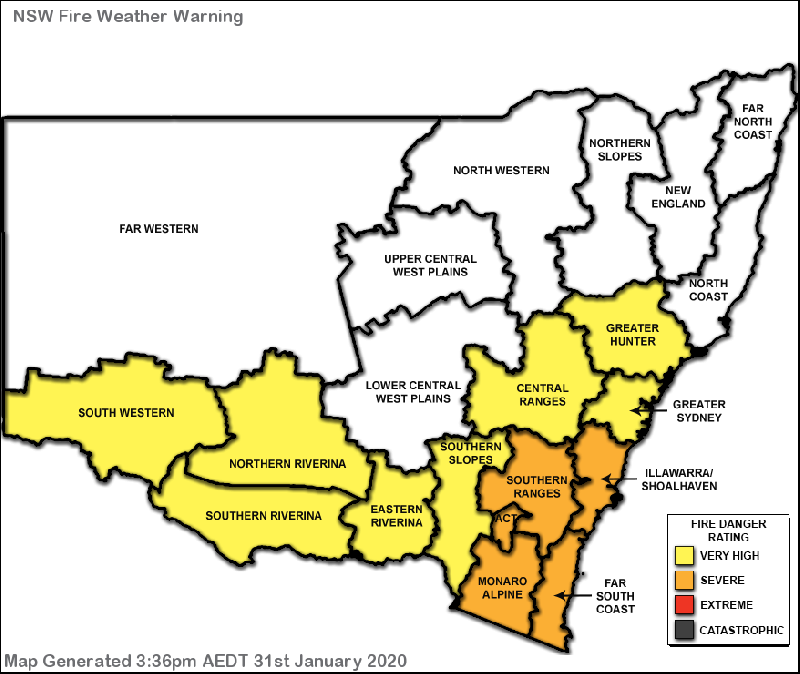 Image 2: MetCenter (Weatherwatch) OCF Maximum Daytime Temperature forecast for Friday, Saturday, Sunday and Monday as at Friday, 31st January, 2020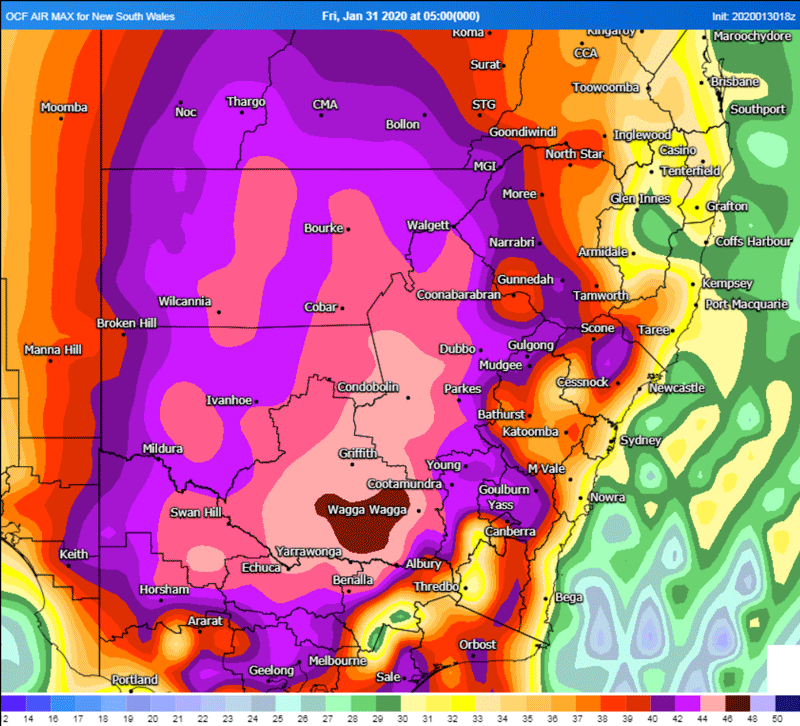 ---