Twitter

Instagram

Facebook | QLD | NSW | VIC | TAS | SA | WA | NT | NZ
---
Tropical Cyclone Damien to develop off the Western Australian Coast
4th February 2020
As the eastern seaboard of Australia braces for a major rain event, Western Australia is expected to see Tropical Cyclone Damien develop off the Kimberley coast later this week.
A tropical low across the eastern Kimberley region will continue to steadily drift west today, before reaching coastal regions during Wednesday morning.
This low is expected to intensify as it moves off the WA coastline, with damaging winds likely to develop between Broome and Kuri Bay during Wednesday.
During Thursday and Friday this low will deepen further into a Tropical Cyclone Damien whilst heading slowly in a south-westerly direction. It is then expected to curve back to the south-east and intensify further into a severe category 3 system.
At this stage, a coastal crossing is expected between Onslow and Karratha on the Pilbara coast. Should Damien cross the coast as a category 3 system, winds gusts in the 165km to 224km/h range would be expected, along with torrential rain that would lead to flash flooding and riverine flooding. A storm surge would be expected as it crossed the coast however the size of this surge would be highly dependant on crossing with a high tide.
Image 1: Bureau of Meteorology's forecast TC track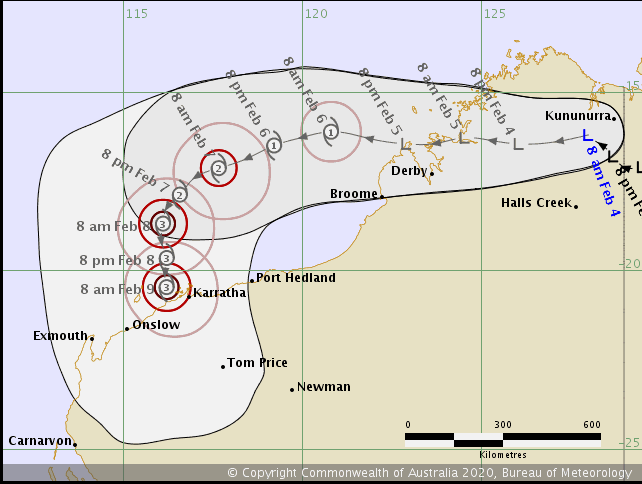 ---