Twitter

Instagram

Facebook | QLD | NSW | VIC | TAS | SA | WA | NT | NZ
---
Torrential rain and significant flooding for the NSW Central and South Coasts
7th February 2020
The heaviest rain in years (more than a decade for some areas) will drench the central and southern NSW coast over the coming days with widespread falls of 150-to-300mm expected, with some areas at risk of seeing in excess of 500-600mm.
A deep easterly fetch feeding into a low pressure trough has already caused heavy falls and flooding in the past 24 hours over the state's north coast, with widespread falls of 100-to-200mm. Byron Bay recorded 275mm in the 24 hours to 9am today, its heaviest February fall on record.
Moderate totals were recorded over central NSW overnight and this morning, with widespread falls of 30-to-50mm with isolated totals to 100mm. Since 9am, coastal parts of central NSW have picked up similar falls, with moderate to heavy falls expected to continue for the remainder of the day.
Heavy rain is expected to continue over Saturday and Sunday for the central NSW coast, before the heaviest totals begin shifting from central parts of the state to southern parts later on Sunday and into Monday.
Most areas will receive in the order of 150-to-300mm, with more elevated areas such as the Illawarra Escarpment and eastern ranges of the Blue Mountains possibly seeing falls in excess of 500-600mm. A Flood Watch is present for large parts of the NSW coast, with moderate to major flooding expected in many catchments on the central and southern NSW coast.
Some of this rain is expected to come down very quickly in some areas with potential for flash flooding, particularly under thunderstorms, convergence areas along the trough, and to the south of any embedded lows.
Whilst this is great news for the firegrounds, with many firegrounds likely to be extinguished, the huge amount of forest is likely to have unique implications for this event.
Due to the lack of vegetation, there will be a larger amount of runoff than usual, increasing the rate of flooding. Any flooding also has potential to be filled with debris and ash, increasing damage potential and polluting waterways, and is likely to have significant ecological impacts as a result.
Landslides are also a real threat, particularly on any steep slopes that have been ravaged by fire.
Elsewhere, areas west of the divide (and the ACT) will receive much lighter falls than the coast, with many locations likely to record 15-to-30mm, with isolated higher falls towards 50mm.
Due to the rain, Cricket Australia's bushfire relief match at Sydney on Saturday has been rescheduled to Sunday in Melbourne.
Image 1: Accumulated precipitation across the 72 hours from the ACCESSR Model (Source: Weatherwatch Metcentre)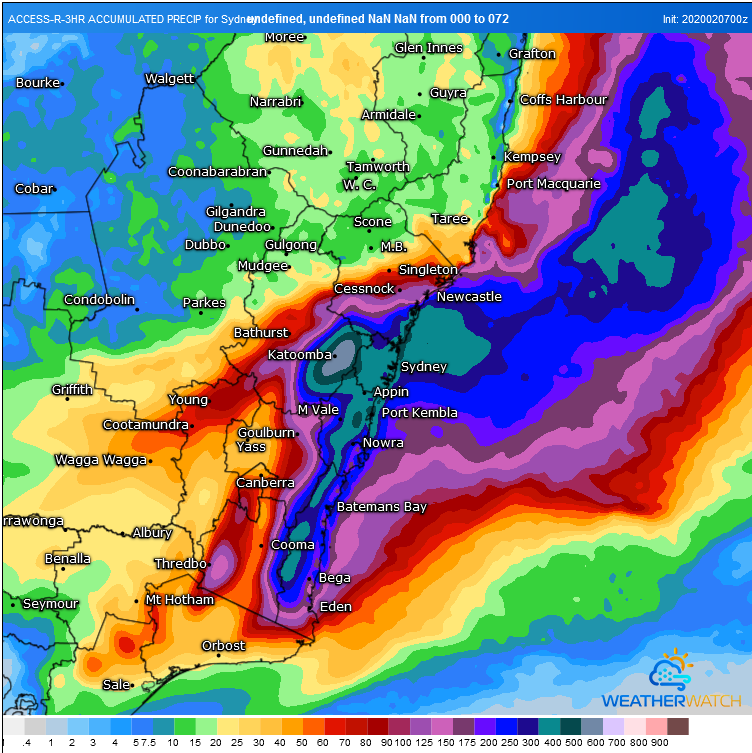 Image 2: Accumulated precipitation across the 120 hours from the GFS Model (Source: Weatherwatch Metcentre)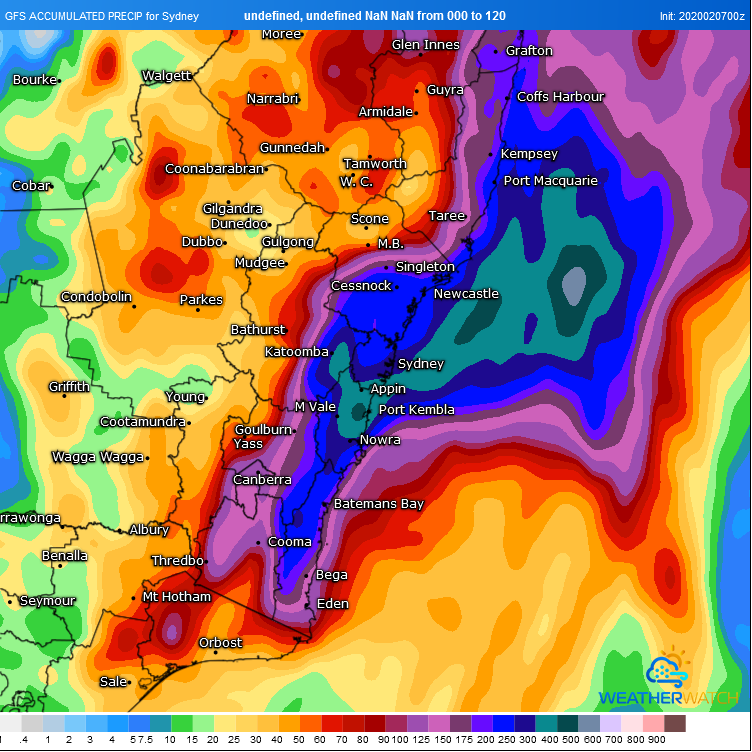 ---