Twitter

Instagram

Facebook | QLD | NSW | VIC | TAS | SA | WA | NT | NZ
---
The Land of Extremes from Droughts to Cyclones to Flooding Rains
Tuesday, February 11th, 2020
Severe Tropical Cyclone Damien:
Severe Tropical Cyclone Damien lashed Karratha, Western Australia and parts of the Pilbara crossing the coast on February 8th, 2020 as a severe Category 3 system. Alarm bells rung across the town of Karratha as TC Damien crossed the coast during the afternoon, with very destructive wind gusts to 185km/h recorded from within the eyewall. The tropical cyclone passed directly over the Karratha AWS producing a clean set of data and observations. Residents between Dampier and Whim Creek were warned of very dangerous storm tides as the cyclonic centre crossed the coastline. The port of Port Hedland was closed for more than 25 hours, moving into a cyclone stage four shutdown at 6:00pm on Friday before reopening at 12:30pm the next day. Heavy rains occurred through the Pilbara region, with Solomon Airport, which services Fortescue Metals Group's Solomon Hub experiencing 205mm of rainfall in 24 hours.
Image 1: Tropical Cyclone Damien Storm Surge Map - Karratha, Western Australia for February 8th, 2020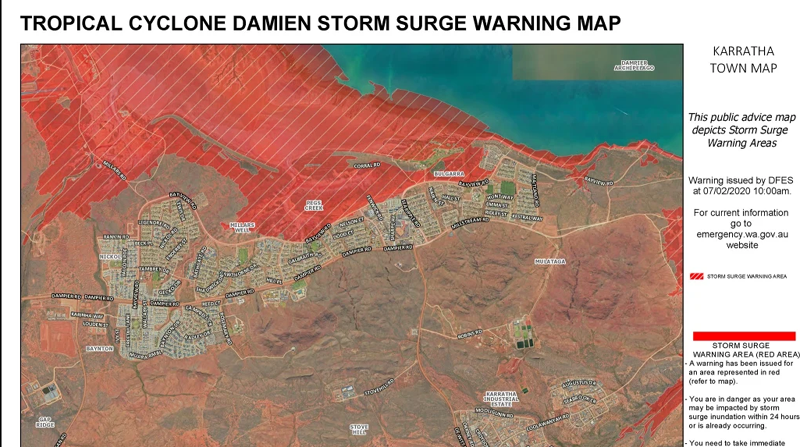 Image 2: TC Damien just prior to making landfall around 1:15 a.m. EST on 9th February 2020 via the MODIS instrument aboard NASA's AQUA satellite.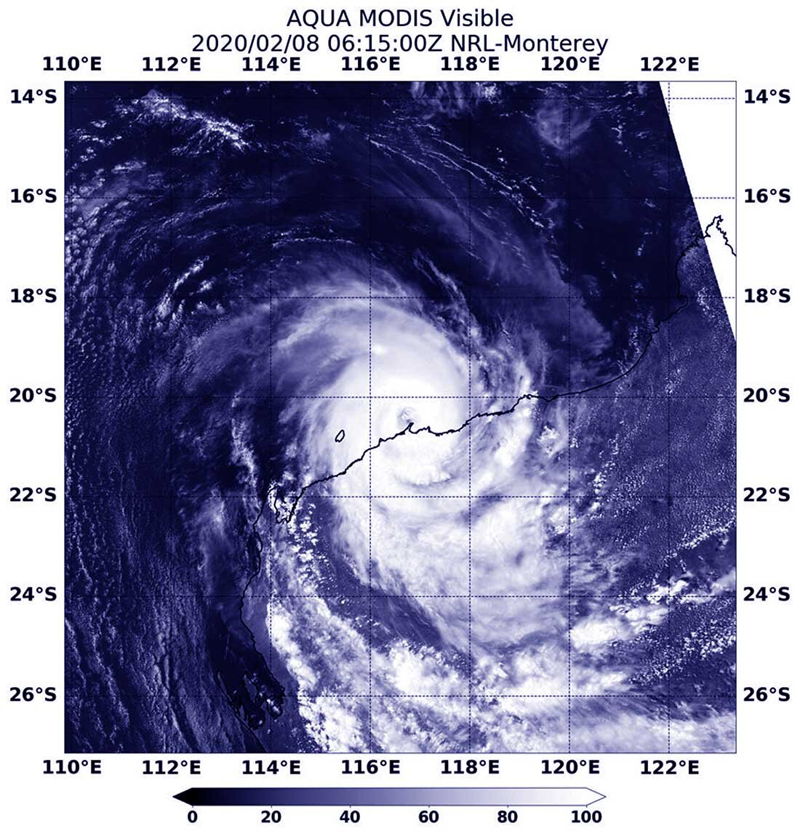 Widespread Heavy Rain and Flood Event - Eastern Australia:
Some amazing rainfall totals in the 24 hours to 9:00am Monday 10th for NSW, the highest rainfall totals for New South Wales included 433mm at Brogers Creek, 418mm at Wattamolla, 397mm at Robertson, 387mm at Kangaloon and 363mm at Macquarie Pass. Between 250mm-550mm has fallen across many parts of the Northern Rivers, Mid North Coast, Central Coast, Sydney, Blue Mountains and Illawarra forecast districts in the past several days, with some isolated falls above 600 mm (mostly about the Illawarra/Shoalhaven area). Over the past three days to 9:00am 10th Feb, 310mm of rain fell on Sydney's CBD. That's more than three times the city's average February rain in just a few days. Severe water restrictions are still in place for parts of New South Wales. Only a few days ago, Warragamba Dam was sitting just under 42% capacity. The past two days of rain have seen the dam level jump to more than 63% capacity - a change of 21.7% per cent. Currently as of 2:00pm today, the level now sits at 69.3%. Water NSW data on Monday morning indicated that greater Sydney dam levels were at 64.2%, up 22.3% in seven days. QLD saw slightly lower totals than their southern neighbours, however weekly totals edged over the 400mm mark for some southeastern QLD locations. The following rainfall totals are for the period between the 5th of February to today (the 11th of February) and the amounts received include 433mm for Gatton, 334.6mm for Ormiston College, 329.4mm for Noosaville and Eumundi, 318mm at Burleigh Waters, 311mm for Miami, 305mm for Carole Park and 303mm for Mt. Kanigan near Gympie. Much more modest rainfall was observed elsewhere in QLD during same period with 138mm recorded at Heathwood, 112mm at Morven Post Office, 106mm at Rewan Station and 104mm at Victoria Downs.
Image 3: Past 72 hours of rainfall for Eastern Australia as at 12:00pm EST on the 11th February, 2020 via the Early Warning Network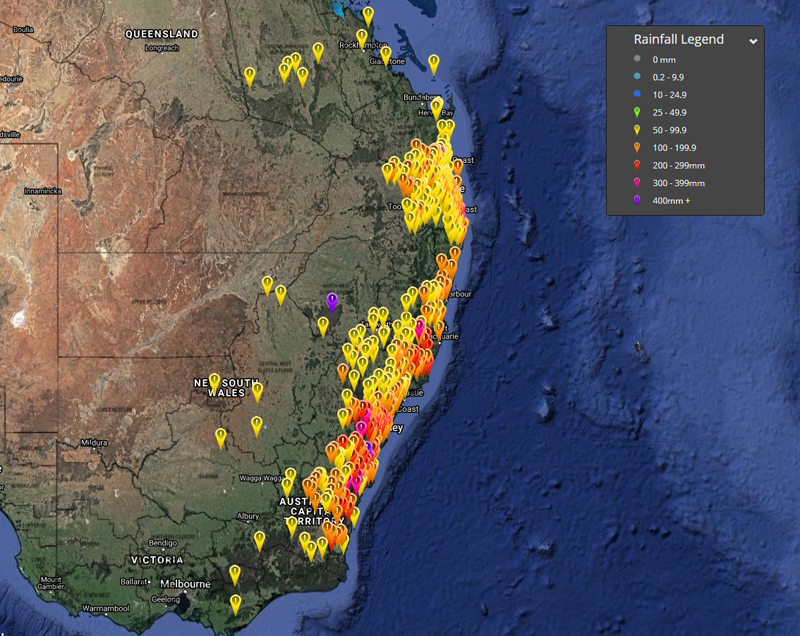 Flooding Emergency Response:
The NSW State Emergency Service received up to 10,000 jobs over the course of the entire rain event with 2,695 of those jobs during the overnight hours. NSW SES have conducted 200 flood rescues - mainly caused by people driving into floodwaters. Added to this, NSW SES team members had been door knocking areas of risk through the southern parts of NSW due to the evacuation orders in the Narrabeen Lakes, along in the Milperra and Moorebank areas. During the past weekend's extreme weather event more than 15,000 triple-zero calls were made. The record number is more than three times the calls made during the peak of the 2019/20 bushfire season.
Image 4: Warragamba Dam Level via Water NSW as at 12:00pm EST on the 11th of February, 2020 showing nearly 70% after significant increase of flow the past few days.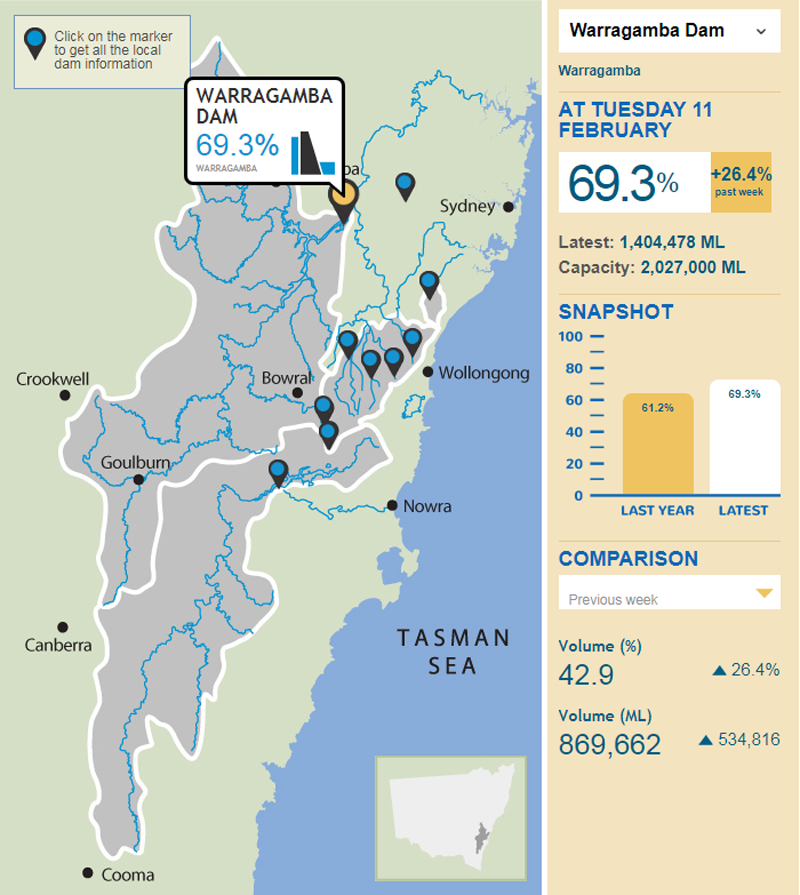 Severe Thunderstorms and additional forecast to the end of the week:
Severe thunderstorms have drenched many locations in central and southern Queensland and the majority of eastern coastal and adjacent inland New South Wales over the past few days with rainfall totals in the hundreds of millimetres. This has resulted in the flash flooding and rises in creeks, streams and estuaries to moderate and major levels. Any additional rainfall over the coming few days will likely be instant run-off and likely further exacerbate existing flooding. These thunderstorms from here on in are likely to remain localised, and specific to thunderstorm affected areas over the coming few days. Widespread thunderstorm activity is forecast for parts of QLD and NSW today and into tomorrow, where localised moderate to heavy rainfall is the primary risk, second to severe wind gusts. Tomorrow, slightly better wind profiles may allow for better organisation of thunderstorms through these regions, with similar conditions possible into Thursday. Thunderstorm activity is also likely to continue through northern parts of the continent including the NT and WA where localised strong wind gusts, heavy rainfall and further potential for flash flooding may exist.
As always, please remember to stay vigilant and up-to-date with all significant weather warnings including thunderstorms, tropical cyclones, substantial rainfall and floods via the Early Warning Network App or via our website and/or social media pages on both Facebook and Twitter. Your safety is our #1 priority.
---