Twitter

Instagram

Facebook | QLD | NSW | VIC | TAS | SA | WA | NT | NZ
---
Rapid River Rises and Flooding impacts parts of SE QLD and NE NSW
Thursday, 13th February 2020
Image 1: Flooding through Wooyong Road, Pottsville as captured by EWN Alerts Operator and Forecaster Justin Noonan. February 13th, 2020.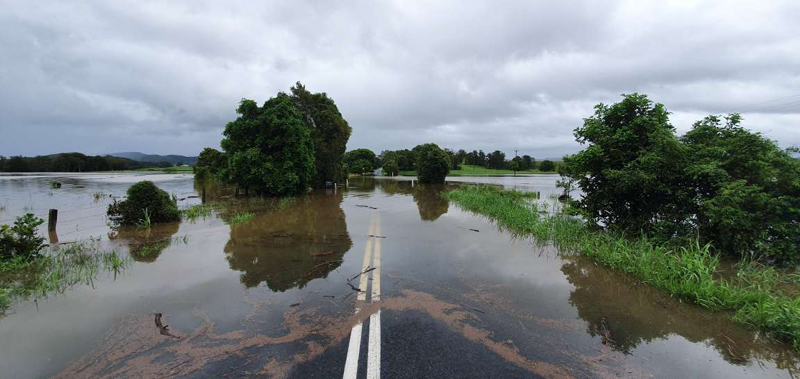 Substantial rainfall has fallen across the coastal and adjacent inland districts of southeast Queensland and northeastern New South Wales overnight with coastal and inland rivers and streams rising quickly. In the 24 hours to 9:00am this morning, the following southeastern locations in QLD have received significant rainfall and include the following: 232mm for the Sunshine Coast Airport, 201mm at Nambour, 178mm at the Gold Coast Seaway, 165mm at Miami, 158mm for Cape Moreton, 146mm at Coolangatta and 115mm received at the Brisbane Airport.
**DEVELOPING: EMERGENCY ALERT - An Emergency Flood message has been issued by the Gold Coast City Council for residents near the Coomera River. Due to heavy rain in the northern Gold Coast, some properties may be impacted by flood water in the Oxenford, Hope Island and Helensvale area. Flood modelling indicates that properties adjacent to the Coomera River and Saltwater Creek may be impacted. Residents are being urged to monitor the situation and if necessary, move to higher ground.

In the 24 hours to 9:00am this morning, the following northeastern NSW locations have received over 100mm and include: 191mm at Murwillumbah, 168mm at Mullumbimbi, 153mm at Tweed Heads, 122mm at Cape Byron, 121mm at Byron Bay, 116mm at Nimbin and 100mm at New Italy. Additional rainfall is considered 'instant run-off', which is rain falling on already saturated catchments. This in turn escalates the danger and speed of water level rises within creeks, streams and estuaries ,and also including localised and suburban flash flooding through low-lying areas. As of 1:00pm, Thursday the 13th of February, Queensland has eighteen flood warnings in effect covering minor, moderate and major flooding.

In southeast Queensland, the Oxenford Weir is still rising as heavy rainfall continues for the northern coastal and inland parts of the Gold Coast today. The Albert River at Wolffdene is currently sitting at 4.65m and below minor levels currently, however is rising sharply and may potentially reach the moderate level later this evening based on current rainfall projections. A Major Flood Warning is current for the Logan and Albert Rivers with major flooding expected at Beaudesert this afternoon with higher levels possible with further rainfall. Moderate flooding is expected at Wolffdene and Beenleigh this evening.
Significant flooding is also occurring about the northeastern portion of NSW in response to renewed rainfall over the past 24 hours as noted above. Thirteen flood warnings are in effect ranging from minor, moderate to major flooding. Coutts Crossing is current in moderate flood (Lower Clarance River) with at 10m as of 2:00pm EDST, and the Orara River at Glenreagh sitting at 9.17m in moderate flood. A Moderate Flood Warning is in effect for the Tweed River with minor flooding expected along the Tweed River at Tumbulgum where the river level may peak near the moderate flood level this afternoon.
**DEVELOPING: TWEED SHIRE DECLARED NATURAL DISASTER area by Federal Government. The declaration provides Tweed Shire Council with access to disaster assistance funding under the Commonwealth-State Disaster Recovery Funding Arrangements to repair essential public infrastructure damaged by flooding.
Image 2: Orara River at Glenreagh Water Level 559066 13th February, 2020.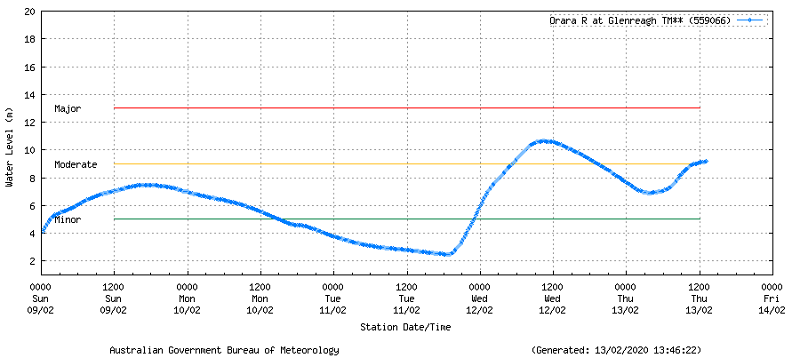 During the past 24 hours, there has been 320 calls to the State Emergency Service for assistance due to flash flooding. Over 1,800 QLD residents were also left without power with outages recorded on the Sunshine Coast to 1:00am this morning, meanwhile approximately 25,000 of Sydney and central coastal residents are still left without since last weekends severe weather activity.
Rainfall rates are expected to start to subside into tomorrow relaxing into the weekend, where the potential for dangerous surf conditions is expected to increase due to EX-TC Uesi situated in the Coral Sea. Hazardous surf warnings are currently in effect for the Byron Coast of NSW today and will extend to include the Coffs Coast, Macquarie Coast, Hunter Coast, Sydney Coast, Illawarra Coast, Batemans Coast and the Eden Coast tomorrow. Surf and swell conditions are expected to be hazardous for fisherman, boaties and swimmers.
Image 3: 24 hour rainfall totals to 9:00am (Southern QLD and northern NSW), Thursday 13th February, 2020.
As always, please remember to stay vigilant and up-to-date with all significant weather warnings including thunderstorms, tropical cyclones, substantial rainfall and floods via the Early Warning Network App or via our website and/or social media pages on both Facebook and Twitter. Your safety is our #1 priority.
---