Twitter

Instagram

Facebook | QLD | NSW | VIC | TAS | SA | WA | NT | NZ
---
Widespread thunderstorm outbreak brings destructive winds and large hail to NSW and VIC
19th February 2020
Severe thunderstorms lashed Victoria and New South Wales yesterday in one of the most intense thunderstorm outbreaks this storm season, bringing hail larger than golf balls, destructive wind gusts and incredbile lightning rates.
An upper level cold pool and surface trough combined with high levels of heat, humidity and ample wind shear to generate widespread severe thunderstorms across the two states. Activity developed from the late morning in Victoria, before spreading into eastern Victoria and southern NSW during the afternoon, and then central and northern NSW during the evening and into Wednesday morning.
Across Victoria, two waves of thunderstorms swept across Melbourne and over the east of the state, with the most intense activity tracking over East Gippsland and the Alpine areas. Hail was reported across several localities in the state (though generally small), whilst squally winds of 80-90km/h were reported at some localities, including Sheoaks and St Kilda.
Notably, heavy falls were recorded across some areas (particularly around Melbourne) with the city picking up 38.4mm in the 24 hours to 9am, its equal second heaviest February total of the last decade. Other notable falls included 67mm at Warburton in the Yarra Valley, 38mm at Geelong and 30-40mm at many locations in eastern Melbourne.
In NSW thunderstorms were even more widespread and severe, with the most significant damage across central and southern areas with more than 80,000 people losing power. Hail the size of golf balls (and larger) were reported at Captains Flat (near Canberra) and at Mittagong in the Southern Highlands (southwest of Sydney), whilst 2.8cm hail was also reported at Tuncurry in the early hours of Wednesday morning.
A vigorous line of thunderstorms swept across Sydney and the Blue Mountains in the evening, with wind gusts of 111km/h being recorded at North Head, 104km/h at Fort Denison and 102km/h at Richmond bringing down trees and powerlines, as well being accompanied by a spectacular lightning show.
Over the state's west where conditions were most favourable for severe thunderstorms, several supercell thunderstorms were reported including around the Canowindra, Trangie and Gilgandra areas, with destructive winds resulting in major property damage near Gilganda close to midnight.
Thunderstorms spread into northeast NSW into the early hours of Wednesday morning (although easing in severity), before weakening close to sunrise.
As the trough contracts to northeast NSW and southeast & central QLD today, more thunderstorms are likely this afternoon and evening. Conditions aren't expected to be quite as potent for severe thunderstorms as Tuesday, however there is still the risk of isolated dangerous thunderstorms with destructive winds, intense rain and giant hail, as well as more generalised squall lines with damaging wind gusts. High rates of lightning are also expected.
Thunderstorms will contract northwards on Thursday and Friday, before a tropical cyclone brewing over the Gulf of Carpentaria becomes the focus of the nation's weather over the weekend.
Image 1: NSW Satellite image and lightning at 11pm EDT 18 February, 2020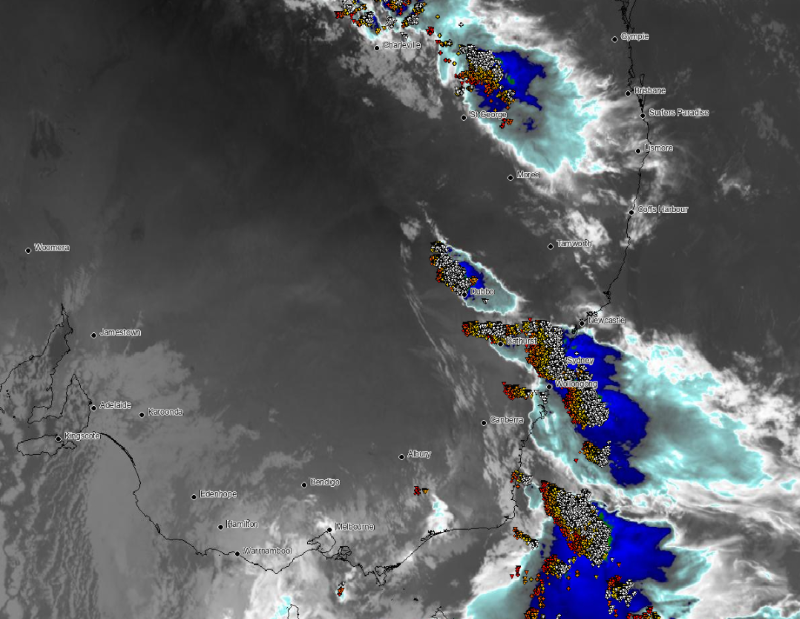 Image 2: Skew-T Diagram in the evening 18 February, 2020 near Trangie, NSW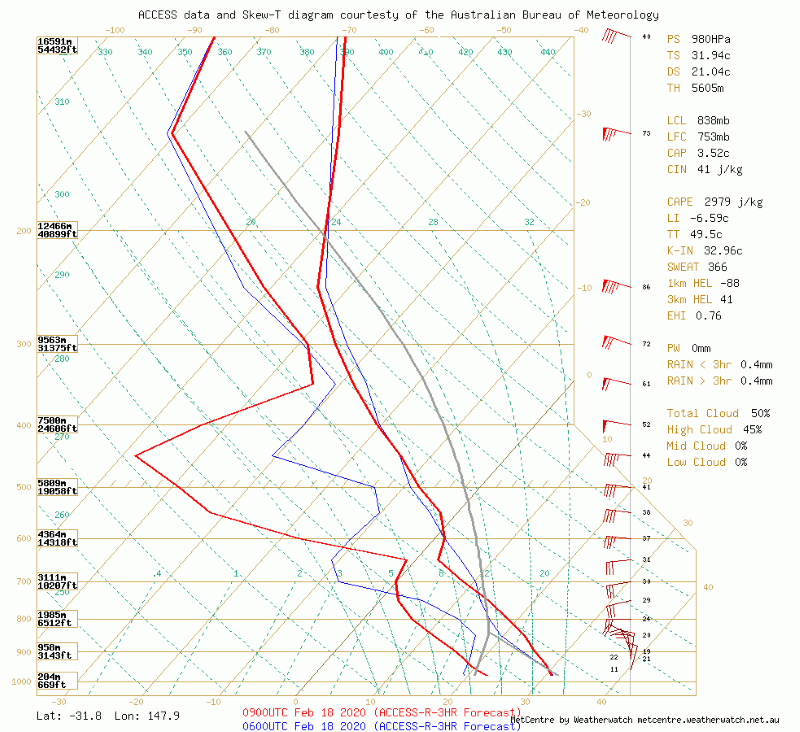 Image 3: Thunderstorm forecast today from ECMWF Model (Source: Windy)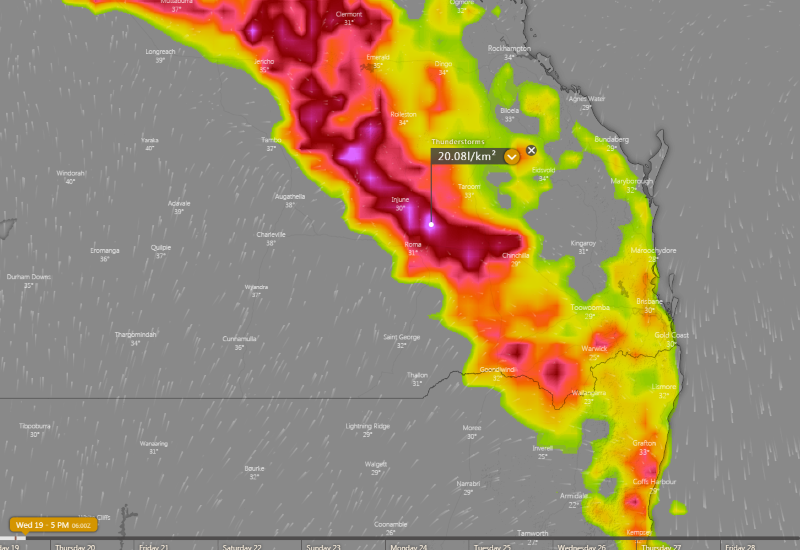 ---