Twitter

Instagram

Facebook | QLD | NSW | VIC | TAS | SA | WA | NT | NZ
---
Severe thunderstorms lash parts of Southeastern Queensland
Thursday, February 20th, 2020
Image 1: EWN Lightning Tracker Archive detailing the Boonah/Beaudesert Storm Track and new development through the Somerset. 19th February, 2020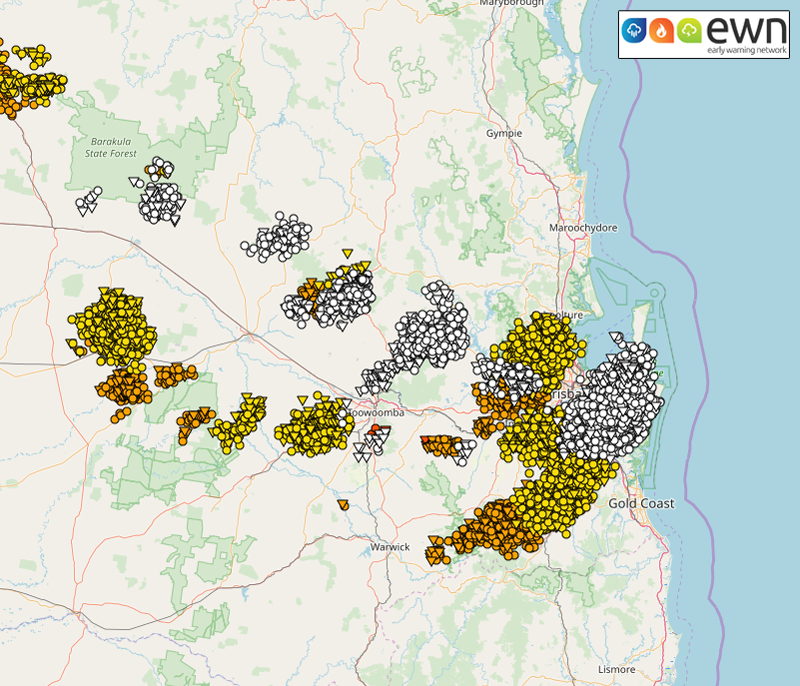 Severe thunderstorms affected some inland and coastal locations of the southeast yesterday afternoon and evening, as the atmosphere overcame an dry air intrusion which supressed thunderstorm formation. Much better moisture profiles and hot daytime temperatures assisted thunderstorm development during the afternoon as the dry air inversion was overcome.
At 6:04pm, the Bureau of Meteorology Brisbane issued a severe thunderstorm warning for damaging winds for parts of the Logan Council area and the Scenic Rim. Severe thunderstorms were detected on the weather radar and were forecast to affect Boonah, the area between Boonah and Beaudesert and Kooralbyn by 6:30pm and Beaudesert by 7:00pm.
Some locations received nearly 40mm from the severe thunderstorm activity, mostly concentrated through the coastal northern and southern suburbs of Brisbane and also parts of the bayside. Some locations that received over 25mm of rainfall include: Mt Nebo 36mm, Cedar Creek 36mm, Inala 35mm, Samford Valley 34mm, Dayboro 31mm and Slacks Creek with 26mm of rainfall (to 9:00am this morning).
Reports of downed trees from strong to damaging winds were recorded and documented for the bayside suburbs, but the peak wind speed of the event was recoreded on the eastern Darling Downs with the Wellcamp Airport to the west of Toowoomba recording a peak wind gust of 107km/h at 8:20pm last night. Some thunderstorms were also accompanied by flash flooding, however these did not have a major effect on transport or rail services.
By 10:45pm last night, severe thunderstorms were still ongoing for the northern suburbs of the southeast, with potentially severe thunderstorms detected in the vicinity of Toogoolawah, Blackbutt and Albany Creek, moving northeastward and further impacting the areas of Strathpine, Redcliffe, Caboolture and Kilcoy by 11:30pm. The Bureau of Meteorology also added a large hail threat to the warnings from 6:30pm onward. At 12:58am this morning the severe thunderstorm warnings were cancelled as thunderstorms moved out of the area. 55,000 thousand lightning strikes were recorded in the southeast during the entire event last night.
Across eastern QLD, thunderstorms are likely to develop across parts of the Darling Downs and Central Highlands, with the potential for a few severe storms with large hail, damaging winds and heavy rain, before shifting east into the evening hours.
There were a number of spectacular thunderstorm images and sunsets captured on dusk last night, including these images below provided by our very own EWN Operations Manager and veteran storm chaser Michael Bath, and also by EWN Alerts Operator and Forecaster Justin Noonan with this incredibly colourful image from Banora Point below, and also an outstanding lightning image by EWN Alerts Operations Manager Ben McBurney from Wellington Point.
Image 2: Sunlit Anvil from Banora Point, NSW by EWN Alerts Operator and Forecaster Justin Noonan. 19th February, 2020.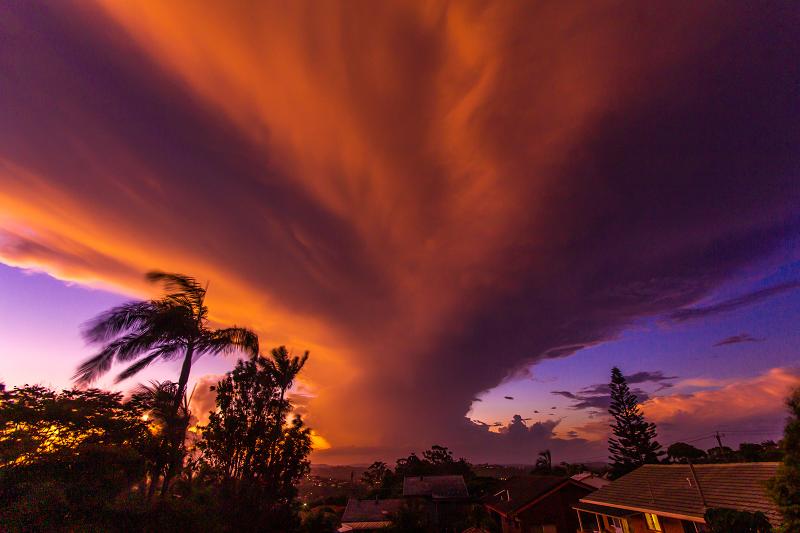 Image 3: Late afternoon thunderstorms over the Border Ranges as viewed from McLeans Ridges, NSW by EWN Operations Manager Michael Bath. 19th February, 2020.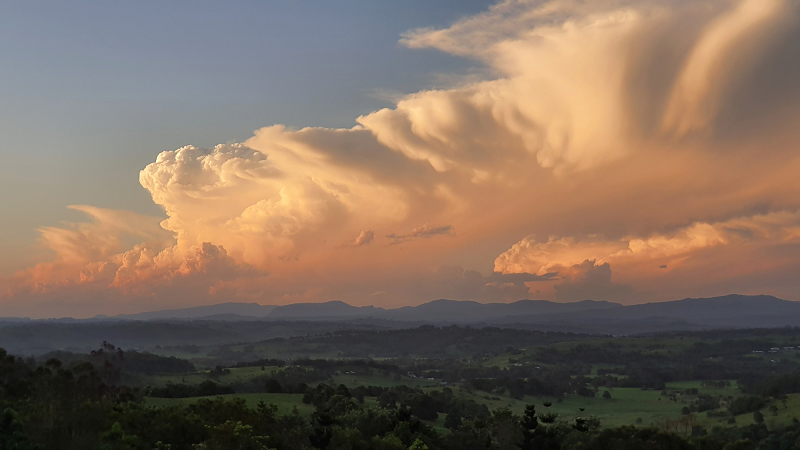 Image 4: Spectacular lightning strike captured by EWN Regional Alerts Manager Ben McBurney from Wellington Point, QLD. 19th February, 2020.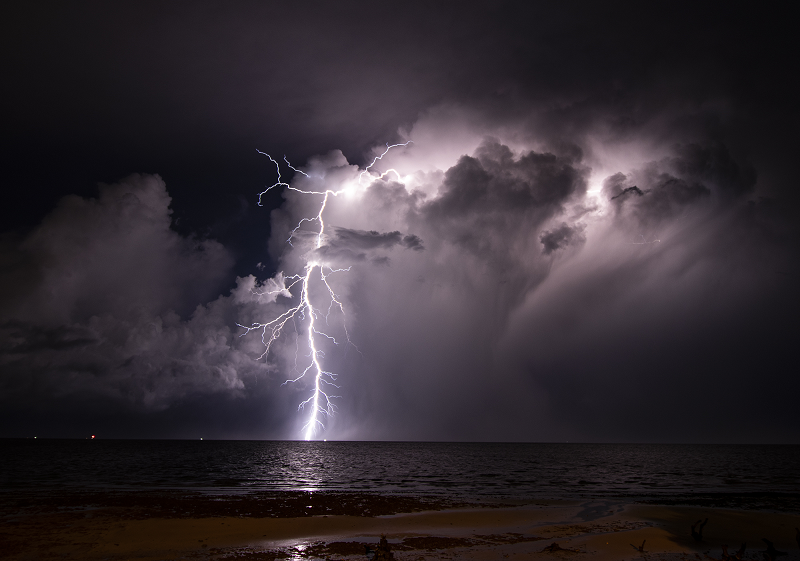 ---