Twitter

Instagram

Facebook | QLD | NSW | VIC | TAS | SA | WA | NT | NZ
---
24 hour rainfall totals over 200mm recorded for inland parts of Queensland
Sunday, 23rd February, 2020
Significant rainfall has been recorded yesterday and overnight for the northern tropical coastal and adjacent inland districts and also parts of the southern inland, including parts of the Warrego and Maranoa. An active monsoon trough lies across parts of the Gulf of Carpentaria and Cape York Peninsula and into the northern Coral Sea producing heavy rainfall areas for the tropical north.
A surface trough situated on a northwest to southeast trajectory across northwestern and central parts of Queensland has been the catalyst for isolated areas of very to very heavy rainfall over the past 36 hours. A strong northeasterly wind flow at the surface about the northern and central coastal regions is likely to assist and see a continuation of shower activity for coastal and adjacent inland districts of eastern Queensland today and into early next week.
Image 1: QLD 24 hour rainfall totals to 9:00am 23/02/2020 via EWN Rainfall Interface.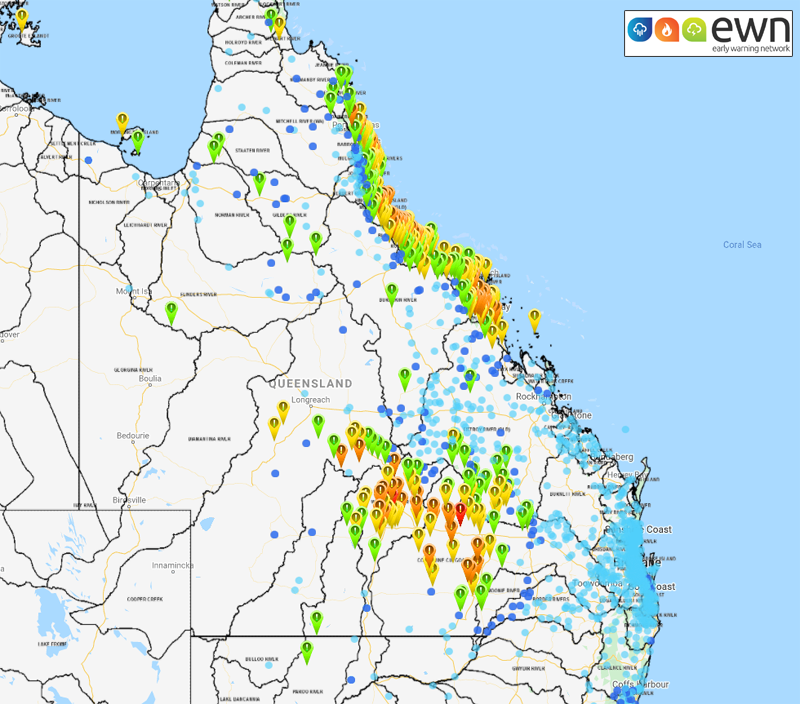 A tropical low pressure system embedded in the above mentioned monsoon trough, is likely to deepen into tropical cyclone strength by late tonight or overnight into early Monday. This will effectively bring areas of squally winds, destructive gusts and areas of very heavy rainfall to western areas of Cape York and far northwestern parts of Queensland with a projected SW movement of the system prior to landfall in the southern Gulf of Carpentaria
Image 2: Tropical Cyclone Threat Map as of 1:27pm QLD/NT (Gulf of Carpentaria) 23/02/2020.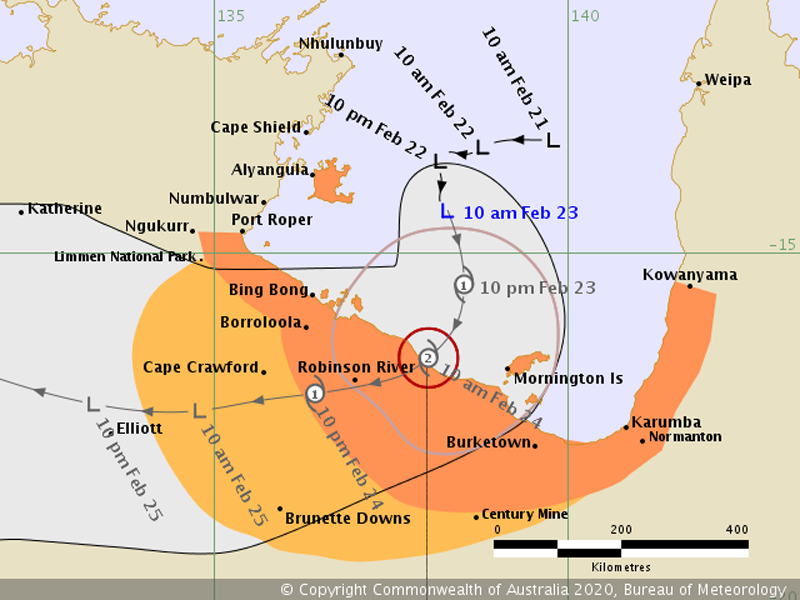 Amby Creek topped the official rain gauges with 248mm in 24 hours recorded from 9:00am yesterday to 9:00am this morning, which lies within the Condamine-Culgoa Rivers catchment. 210mm received over the same period for the Barradeen Alert within the Warrego River catchment and Mount Jukes with 204mm within the O'Connell River catchment.
Other notable 24 hour rainfall totals over 100mm include but are not restricted to the following areas: 162mm Lucinda, 149mm Calen, 142mm Augathella, 132mm Giru, 126mm Mitchell, 124mm Rollingstone, 121mm Sarina, 119mm Port Douglas, 117mm Charleville, 116mm Kenilworth Station and 102mm at Mungallala.
Major flood warnings are currently in affect for the Balonne and Maranoa Rivers and also the Paroo River. The Condamine-Balonne river system is one of the major tributaries of the Murray-Darling river system and is one of the most important river systems in Queensland in terms of agriculture. The headwaters of the Condamine-Balonne River rise in the Border Ranges upstream of Killarney and flow for approximately 1200kms through Queensland before entering New South Wales.
Image 3: Balonne River Height showing rising trend as at 12:00pm 23/02/2020.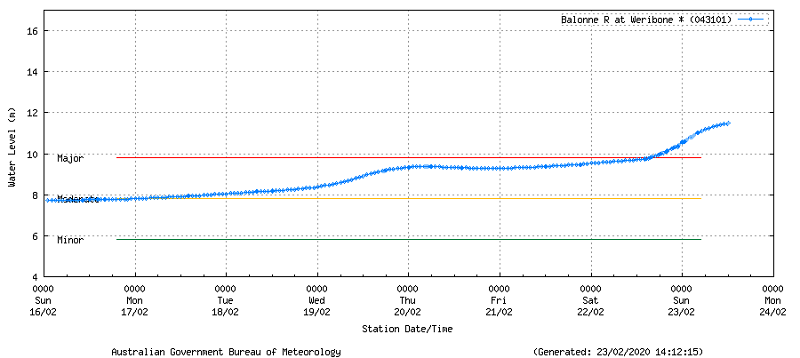 The Balonne River at Weribon is over major levels of 9.80m and currently sits at 11.51m at 12:00pm 23/02/2020 and showing a rising trend as per the flood level reading below.
A new Flood Watch for QLD is current as of 1:00pm for the northwest Gulf between the QLD/NT border and Karumba for into tomorrow and early next week. Widespread showers and localised thunderstorms have been recorded in the Flood Watch area over the past week and heavy rainfall is expected during Monday and into Tuesday. Localised flooding is possible with catchments likely to include Settlement Creek, Nicholson River, Leichardt River and Lower Flinders River. People that are living or working along rivers and creeks should stay up to date with the latest warning information.
---