Twitter

Instagram

Facebook | QLD | NSW | VIC | TAS | SA | WA | NT | NZ
---
Widespread severe thunderstorms continue for Queensland
Friday, 28th February 2020
Severe thunderstorms have been the major focus for Queensland and New South Wales this past week with reoccurring thunderstorms within an active pattern ongoing for most of the week, as major flood waters flow through southern and southwest parts of QLD.
Very heavy rainfall was evident with scattered thunderstorm activity yesterday with some regions situated through the tropical coastal north receiving over 100mm in 24 hours. These locations included Murray Springs, which recorded 133mm at the gauge to the southwest of Cairns, Peets Bridge Alert with 120mm, Marco Street Alert with 106mm and Mulgrave Hill with 104mm. The majority of these rainfall totals were for coastal locations of the Cairns Coast and adjacent inland districts.
Rainfall totals for the southeast were much more modest, however heavy rainfall did occur in parts with 80mm of rainfall recorded at Coomera, 75mm at Springbrook, 62mm at Caloundra Airport and 53mm at Horse Crossing on South Stradbroke Island. As of Friday, 28th February 2020, there are no outstanding Flood Warnings for the southeast post-event with all river levels now below the minor level and decreasing.
Major flooding is still occurring for parts of Surat, St George and Dirranbandi in southern Queensland with major flooding also occurring at Wallen, situated south of Charleville. The Warrego River at Bakers Bend to the south of Charleville is currently in moderate flood and is slowly decreasing. This trend is expected to continue as rainfall has eased through the central and southern catchment areas.
Isolated thunderstorms also occurred for Queensland's neighbouring state (New South Wales), with some areas receiving heavy bursts of rainfall over short periods of time. 68mm was recorded at Numinbah, 56mm at Billyrimba in the Clarence Valley and 40mm for Elsmore Bridge over the Macintyre River to the west of Glen Innes. Numerous locations missed out on rainfall due to the very isolated nature of thunderstorm activity over the past 24 hours. There have been some spectacular thunderstorm and lightning images from both states this week, just like this spectacular lightning capture by EWN Operations Manager Michael Bath.
Image 1: Severe thunderstorms occurring through parts of the Northern Rivers on Wednesday, 26th February 2020 by Michael Bath.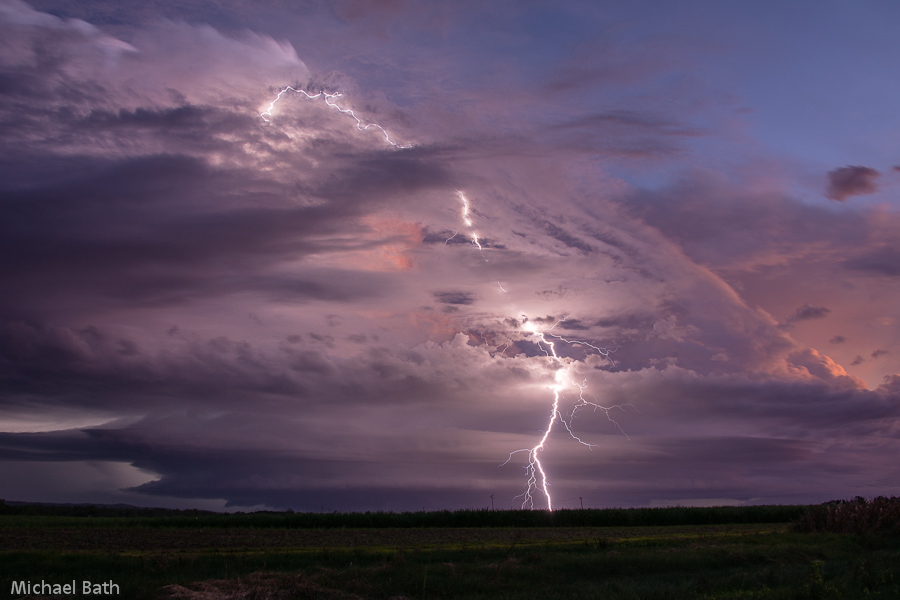 ---