Twitter

Instagram

Facebook | QLD | NSW | VIC | TAS | SA | WA | NT | NZ
---
Summer 2019-2020 wrap: Bushfires and drought give way to widespread rain and flooding
2nd March 2020
Summer 2019-2020 was a season of contrasts across Australia, as blistering heat, bushfires and record dry in December gave way to flooding by mid-to-late January and into February as the climate drivers behind the nation's big dry broke down.
In December, the nation was in the middle of a significant bushfire outbreak, as a negative Southern Annular Mode (SAM) and positive Indian Ocean Dipole (IOD) continued to cause prolonged dry conditions. The drought reached its absolute peak in December as the nation recorded its hottest and driest December on record and capped off Australia's driest three year period since national records began in 1900.
Strong winds fueled by the Southern Stratospheric Warming event (that occurred in late winter, but effects dragged into summer) and the negative SAM (which caused increased frontal activity and wind), caused many days to have hazardous fire weather. Combined with the bush being extremely dry and high fuel loads, any fires that started spread very quickly and became highly dangerous.
Fire activity at the beginning of December was generally focused over central and northeastern New South Wales and eastern Queensland, however by the end of the month other large fires had broken out across South Australia, eastern Victoria, the alpine regions, southeastern New South Wales and Tasmania.
These dangerous fire conditions persisted into the first half of January, with close to 19 million hectares of Australian land being burnt by mid January. However, as the IOD and SAM returned to neutral conditions, we saw rainfall return across the country, with rainfall 12% above average nationwide over the month.
The increased moisture lead to a number of severe thunderstorm outbreaks mid-to-late month, including large hail across parts of southwest Sydney, Canberra and southeastern Melbourne. These storms also lead to a number of daily rainfall records falling across NSW and QLD around the 18th. Tropical systems across the north lead to record rainfall in some areas, including a mammoth 562mm in just 24 hours at Dum in Mirrie to the southwest of Darwin on the 11th. This tropical moisture spread south, with parts of Victoria seeing daily rainfall records later in the month, which contributed to some sites seeing their wettest January on record.
Enhanced rainfall continued for parts of the country in February, particularly the southwest of WA and the east. For NSW, rainfall was double the long term average, and close to double the average for the Murray-Darling Basin. A widespread and heavy rain event affected this region early in the month, with a significant number of February daily rainfall records falling across southeastern QLD and into NSW, which lead to flash flooding and riverine flooding. This event contributed significantly to a large number of stations seeing their wettest February on record, while for some places it was their wettest month on record (such as Tweed Heads, with records beginning in 1886).
The increased rainfall and cloudiness also lead to cooler daytime temperatures for the southeast of the country in February, with snow falling over the higher parts of Tasmania.
When crunching all the numbers across the summer, the nation recorded its second hottest summer on record (since nation-wide averages began in 1910), with the mean temperature (maximum and minimum combined) 1.88 degrees above average.
Rainfall was 13% below average, although this was largely due to the extremely dry conditions in December, with rainfall rebounding significantly in January and February.
Looking into autumn, parts of southern Australia are likely to be wetter than average, while some parts of the north are expected to be drier than average. Temperatures should remain warmer than average, particularly at night
Image 1: Rainfall deciles across Australia for summer 2019-2020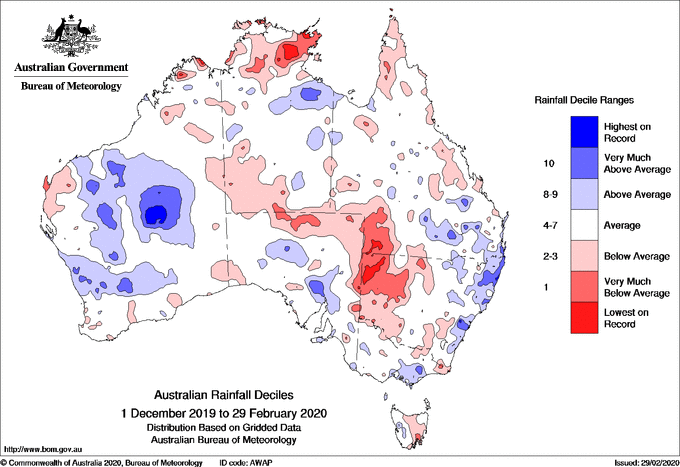 Image 2: Temperature deciles across Australia for summer 2019-2020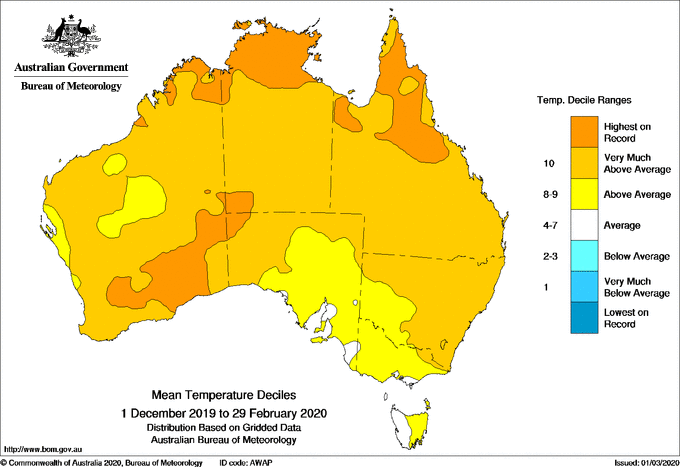 Image 3: Rain outlook from March-May 2020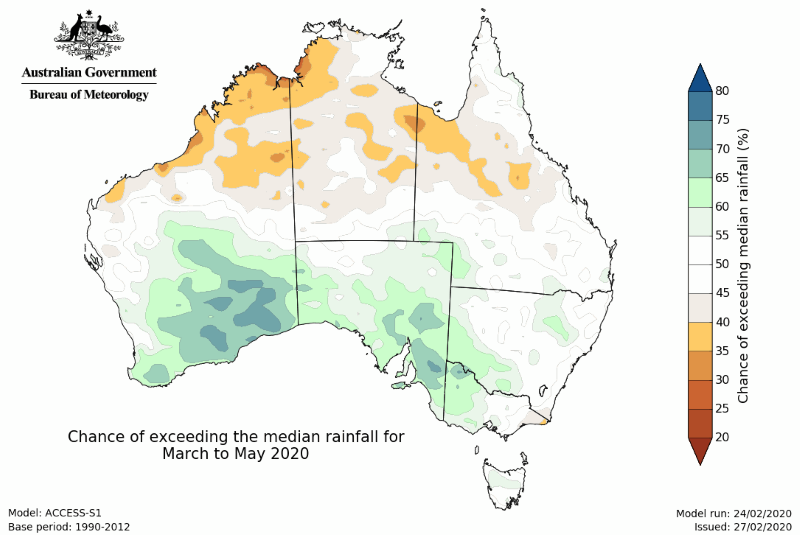 ---