Twitter

Instagram

Facebook | QLD | NSW | VIC | TAS | SA | WA | NT | NZ
---
More welcome rainfall for the interior including vast portions of western QLD and NSW
Tuesday, 3rd March 2020
The next few days look set for showers, isolated thunderstorms and heavy rain periods that may lead to flash flooding and riverine flooding to develop across parts of the central and southeastern NT tomorrow with the remnants of ex-TC Esther expected to drift in a southeasterly direction leading into Friday.
The combination of a surface trough, upper low and deep moisture fetch are expected to increase the potential for enhanced rainfall over the next 48-72 hours, with an estimated 25mm-30mm likely with up to 65mm possible for some locations. Some of the heavier rainfall is expected for northwestern parts of NSW from early Thursday before increasing towards the southern parts of the state.
Localised strong to damaging winds are expected to accompany isolated thunderstorm risks, along with heavy rainfall leading to flash flooding. These may bringing renewed river rises due if rainfall does persist over saturated catchment areas.
The good news is a lot of the projected rainfall is forecast to fall through the western interiors of both Queensland and New South Wales, essentially where it's really needed. Late last month saw and active rainfall pattern bringing much relief to western districts of QLD with major flooding particularly through the southern inland parts of the state including Charleville and St. George.
A NSW Flood Watch is current for the Murrumbidgee, Tumut, Queanbeyan and Bulubula Rivers, with Minor Flooding possible. In addition Flood Warnings are in place for river systems in the Upper Western, resulting from previous rainfall. A QLD Flood Watch is also active for western and southern inland QLD catchments due to renewed river level rises and major flooding is possible across parts of the Flood Watch area from tomorrow (Wednesday) onwards.
A number of locations may experience their heaviest rainfall in a few years, with the potential for accumulated rainfall totals of up to and exceeding 125mm over the next 4 days mostly for inland regions. Eastern coastal and adjacent inland districts are expected to see more modest rainfall totals in the order of up to 15mm until the commencement of this coming weekend, before more settled conditions are likely into Saturday and Sunday.
Image 1: GFS Accumulated Rainfall to Friday evening, 00z run Tuesday, 3rd March 2020
Image 2: MeatherWatch MetCenter GFS Forecast Radar as at 00z run Tuesday, 3rd March 2020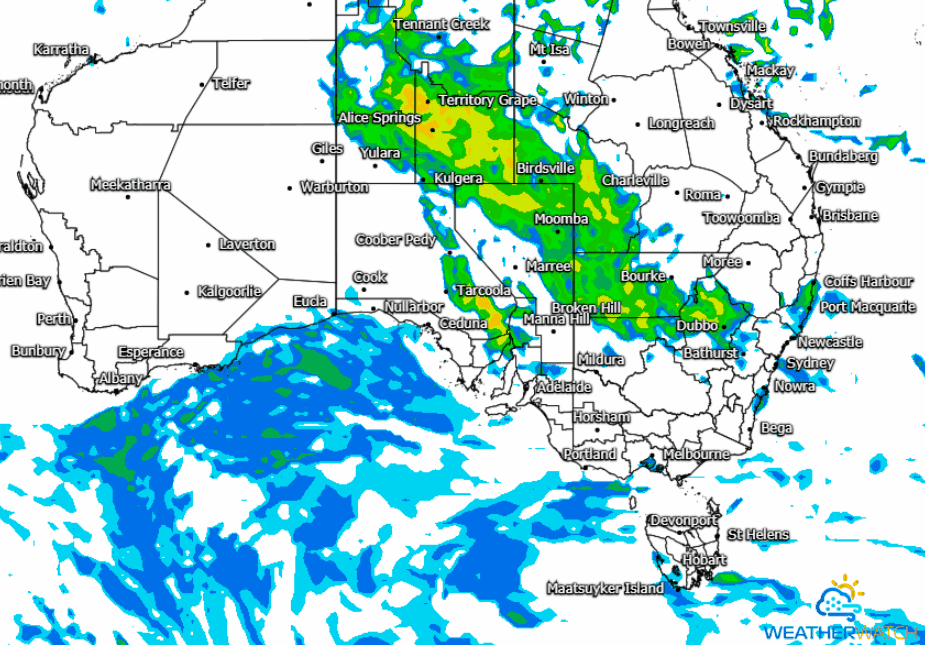 ---