Twitter

Instagram

Facebook | QLD | NSW | VIC | TAS | SA | WA | NT | NZ
---
Cold and wet weather spreading across southeastern Australia
Thursday, 12th March 2020
After basking in balmy conditions for several days, a cold front is set to sweep across the southeast of the nation, causing temperatures to plummet as well as bringing more good rain across the region.
After a chilly start to March, the last two days have seen temperatures spike up to more than 10 degrees above average across parts of South Australia, Victoria and Tasmania as temperatures reached between the mid 20s and mid 30s.
This heat is set to be short lived though as a cold front sweeps across tomorrow. Areas ahead of the change - including eastern Tasmania, central and eastern Victoria and NSW - will still still see warm conditions on Friday (high 20s to mid 30s) before the front moves through, but as the change hits the mercury will fall more than ten degrees.
By Saturday, Hobart is forecast to reach just 14 degrees (with possible snow over the Tasmanian peaks), Melbourne 19 degrees and Adelaide 22 degrees.
In all states but South Australia (and western Victoria), the front will bring with a burst of moderate to heavy rain as well as the risk of thunderstorms, continuing the fantastic start to 2020. In fact, Melbourne hasn't had such a wet start to a year since 1973 - collecting 256.4mm so far this year and more to come.
Rain, showers and isolated thunderstorms will spread into western Tasmania tonight, before pushing across the remainder of TAS, Victoria and southern New South Wales on Friday and into Saturday morning. By Saturday and into Sunday the rain will predominantly be focused over eastern NSW and eastern Victoria.
How much rain will fall will be highly dependent on the location, with those over central Victoria and southern NSW likely to see falls of 5-15mm, however these totals will increase further east. Over eastern Victoria and southeast NSW, some areas could see in excess of 100mm (especially if a low forms near the coast), whilst the remainder of the VIC ranges and up to the central NSW ranges (including the ACT) will see widespread falls of 15-to-30mm (and some up to 50mm).
Further ahead, coastal rain may linger into next week over central and northern NSW, however there is significant uncertainty about how much rain may fall at this stage.
Image 1: Accumulated rainfall across the next 72 hours over southeast Australia (Source: Weatherwatch Metcentre)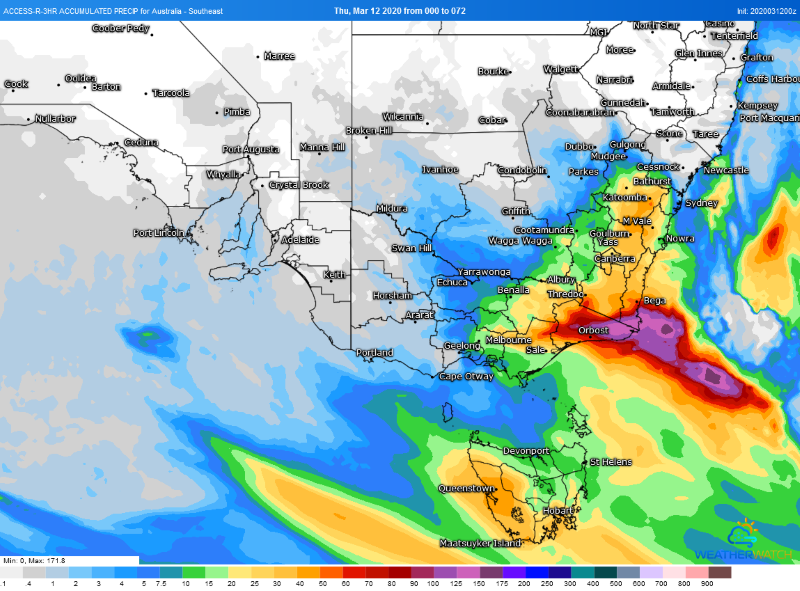 Image 2: 850 temperatures across Southeastern Australia on Saturday 14 March, 2020 (Source: Weatherwatch Metcentre)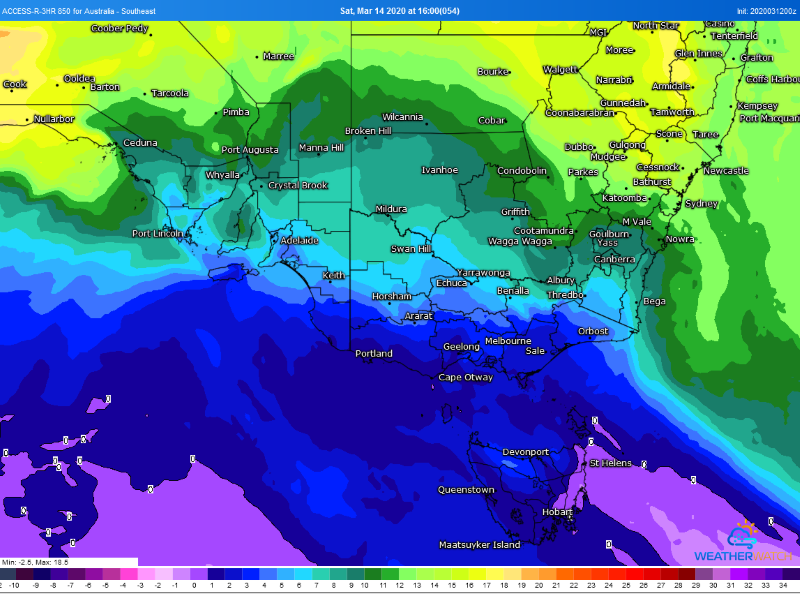 ---