Twitter

Instagram

Facebook | QLD | NSW | VIC | TAS | SA | WA | NT | NZ
---
Sunday and Monday likely to see gusty winds and increase in swells shifting to southern QLD and northern NSW coasts.
Saturday 14th March 2020
A large tropical low in the Coral Sea is forecast to continue strengthening while tracking southeast well out to sea. While the low is currently forecast to reach tropical cyclone intensity early Sunday, there is still some uncertainty about the timing of this and it may occur earlier or later than expected.
Despite the fact the system itself will keep tracking southeast and come nowhere near the Australian mainland, it is still likely to be strong enough (in conjunction with a high pushing a south-southeasterly wind surge up the coast) to cause gusty winds to develop along the southern Queensland and northern NSW coasts on Sunday and Monday. Higher terrain inland of the coast is also likely to experience gusty winds. Peak gusts are likely to reach 60 to 80km/h at times but much weaker gusts are expected for more sheltered areas.
Swells are also likely to increase along the southern Queensland and northern NSW coast later on Monday into Tuesday before easing again.
However only some isolated showers are expected near the coast during this time. The only exception is a possible localised area of moderate to locally heavy rainfall along a small section of the NSW Mid North Coast for a short time early Sunday due to a surface and upper trough.
Meanwhile Norfolk Island is forecast to experience more significant effects from the tropical system with the main peak expected on Monday when damaging winds, moderate to locally heavy rain and dangerous surf are possible.
Image 1: EC model forecast maximum wind gust speeds within next three days - Source: Windy.com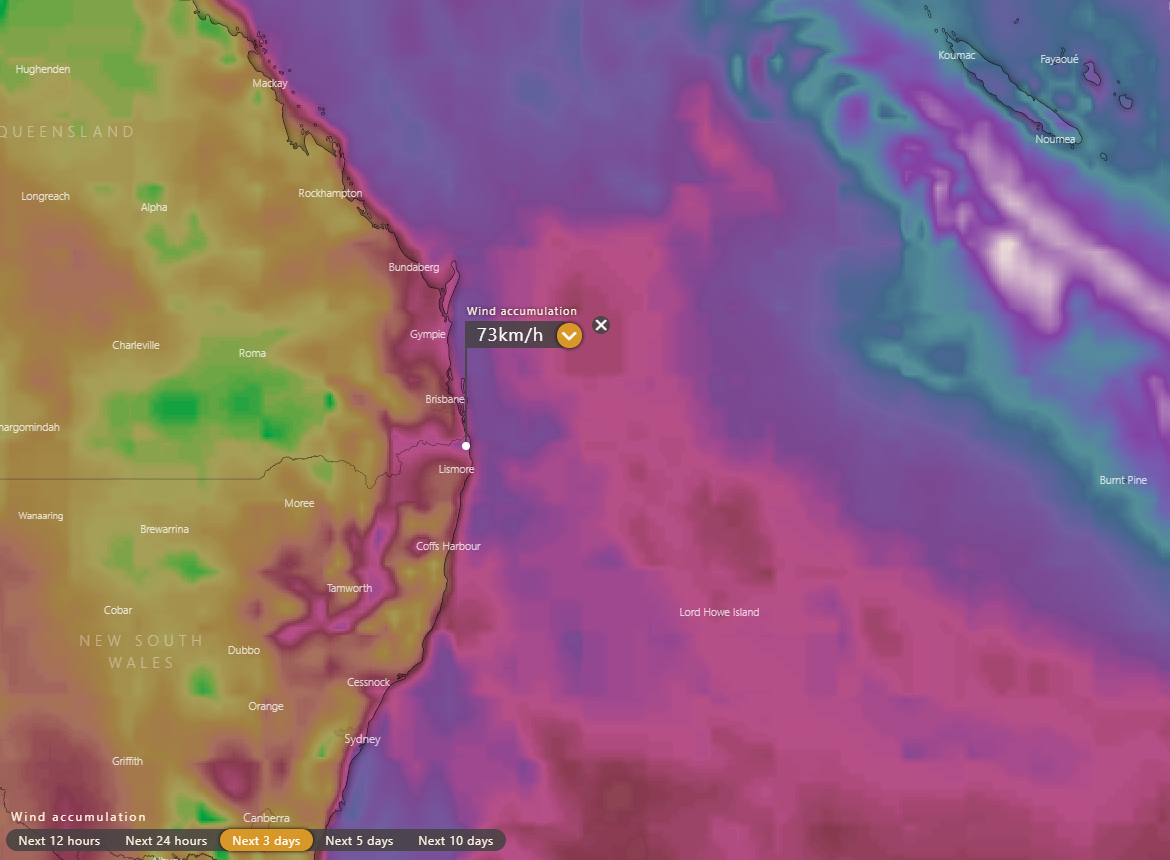 ---