Twitter

Instagram

Facebook | QLD | NSW | VIC | TAS | SA | WA | NT | NZ
---
Unseasonably cold March weather affecting southeast Australia
Monday 16th March 2020
If anyone thinks it flipped from summer to autumn quickly this year, they would not be wrong as many parts of southeastern Australia are experiencing their coldest weather this early in the year for a number of years.
A strong cold front swept over the region on the weekend, bringing an unseasonably cold blast of air, with temperatures more typical of those after the autumn equinox or in April than of mid March.
Sydney struggled to just 17.9 degrees on Saturday, its coldest March day since 1970, although it was just 13.3 degrees around 3pm which was also its official minimum temperature (the lowest minimum this early in the year since 2008). Strong winds associated with the front made it feel below 10 degrees at times, during the peak time of heating, which isn't even a common occurrence in winter in the harbour city.
Chilly conditions were also experienced in Melbourne over the weekend with temperatures more than five degrees below average, although this wasn't unusual for the city. However this morning the mercury dipped to just 9.3 degrees, the coldest its been this early in the year since 2009.
The chill has been felt up into southeast Queensland, with Brisbane currently experiencing its coolest run of March nights since 2008. Humidity levels have also been unusually low for this time of the year and combined with strong southeasterly winds, temperatures have felt 3-4 degrees colder than recorded.
Cool temperatures will be replaced by warmer weather this week as the high in the Tasman moves away. Melbourne will reach the high 20s to low 30s by mid this week, whilst Sydney will push into the low to mid 30s on Friday. Temperatures reaching the 30s are likely in Brisbane by the weekend.
Image 1: Maximum temperature anomaly for the week ending 15th March, 2020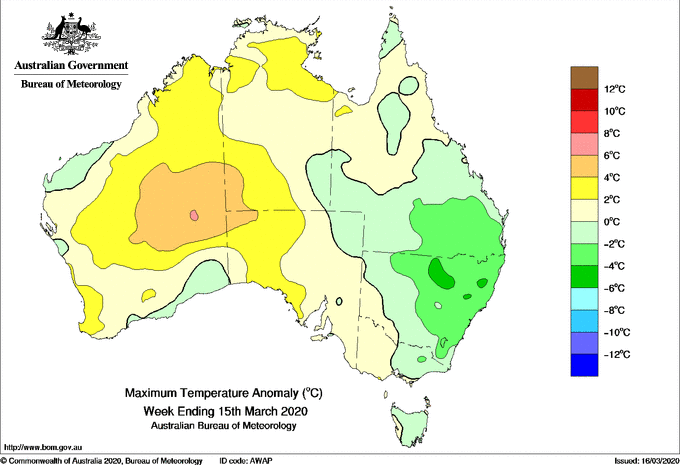 Image 2: Maximum temperature anomaly for the 15th March, 2020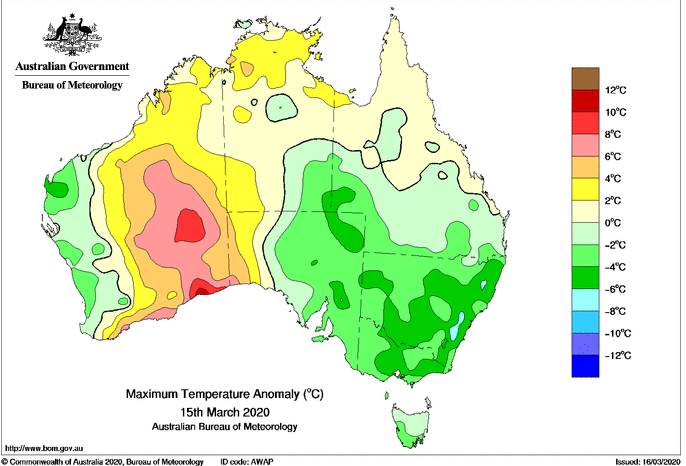 ---