Twitter

Instagram

Facebook | QLD | NSW | VIC | TAS | SA | WA | NT | NZ
---
Early autumn chill grips southern Australia
26th March 2020
Some of the coldest March weather in decades has gripped southern Australia across the past five days as a slow-moving high pressure system has driven unseasonably cool southerly winds over the region.
After a strong cold front swept across the nation's south on Friday, temperatures have been more typical of mid to late April than late March, with many locations enduring several consecutive days of maximum temperatures 5-to-10 degrees below average, with some chilly nights mixed in as well.
In Melbourne, the past five days have averaged a maximum of just 17.84 degrees, the coolest five day stretch in March since 1988.
On Monday, parts of South Australia's west coast fell more than 10 degrees below average, with Streaky Bay seeing it's coldest March day on record (59 years of data), and Ceduna seeing its coldest March day since 1969.
Keith in southeast SA dropped to just 0.1 degrees this morning, more than 10 degrees below average for March and its coldest March night since 2008.
As a result of the chilly conditions, many areas are on track to see their coldest March in at least five years, some places potentially since 2005.
The cold spell has broken today, with many areas reaching into the 20s, with temperatures expected to climb into the high 20s to low 30s over the weekend ahead of another cold front.
This front will cross later on Sunday, causing temperatures to fall below average again over the final days of the month.
Image 1: Maximum temperature anomoly for Australia 24th March 2020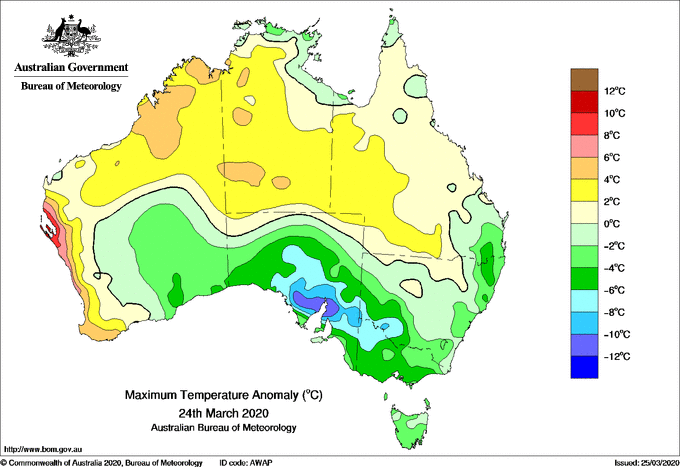 ---