Twitter

Instagram

Facebook | QLD | NSW | VIC | TAS | SA | WA | NT | NZ
---
Storms provide welcome rain across NSW
26th March 2020
Widespread thunderstorm activity during Wednesday afternoon produce moderate to locally heavy falls across central and northern parts of NSW.
An upper trough and surface trough combined to produced an unstable airmass during Wednesday afternoon, with widespread shower and storm activity. A few of these storms became severe during Wednesday afternoon and were warned for damaging winds, large hail and heavy rain.
Across the Mid North Coast, Meldrum recorded 108mm, Thora Post Office picked up 55mm and Bellingen with 38mm.
Parts of the North West slopes and Plains also received moderate to locally heavy falls, with Mulla Crossing near Tamworth scoring 67mm, Ruvigne 66mm, Tamworth 43mm and Boggabri 39mm.
Heavy falls also developed across parts of the Hunter as a southerly change slowly moved up the NSW coast. Newcastle Tafe recorded 80mm to 9am this morning, with Nobbys Head scoring 69mm, Broadmeadow 65mm, Waratah Reservoir 62mm.
Other notable totals include, Bathurst 64mm, Ben Bullen 54, Bilpin 41mm, Canterbury 26mm, Nullo Mountain 38mm, Nelson Bay 37mm. Meanwhile, Coonamble Airport registered a 95km/h wind gust at 2:14pm Wednesday afternoon.
Further showers, patchy rain periods and isolated storms are expected across the NSW coast throughout Thursday and should slowly contract to the northern half of the state whilst easing.
Image 1: EWN rainfall totals, 24 hours to 9am 26/03/2020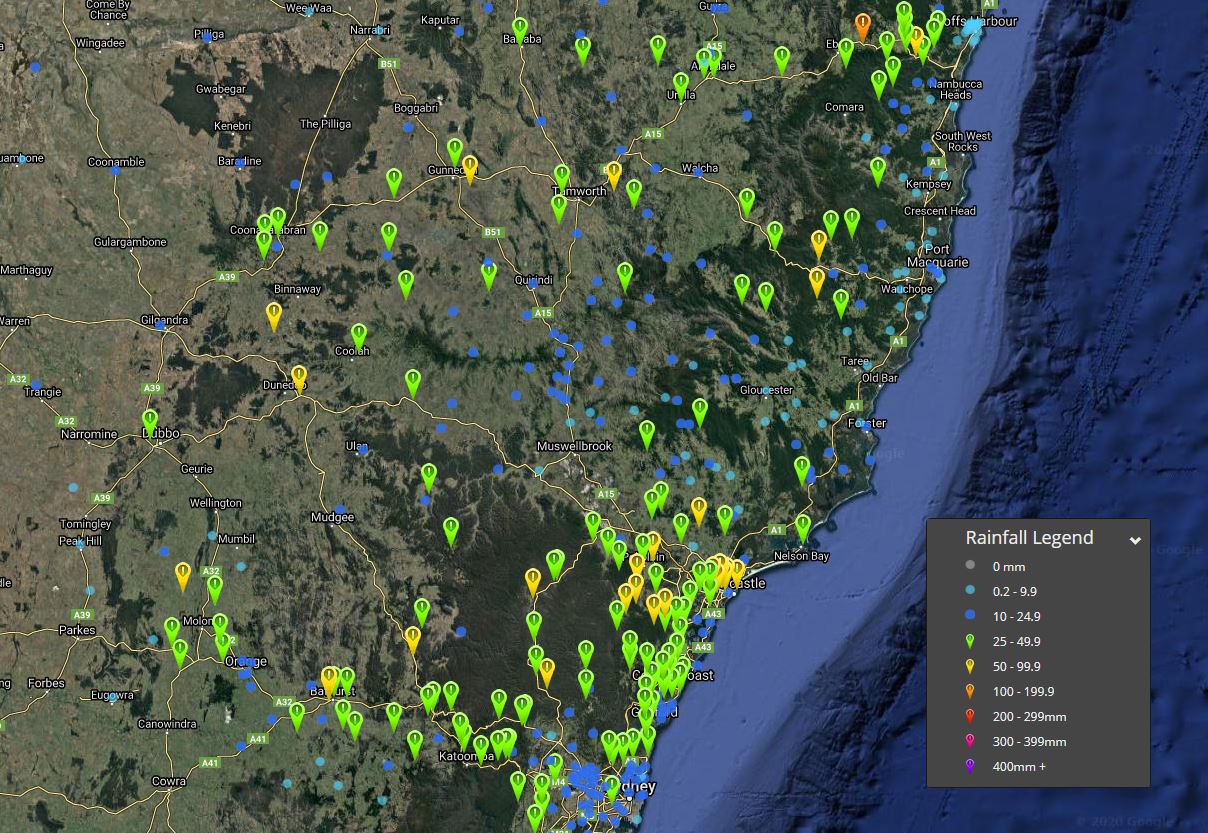 ---