Twitter

Instagram

Facebook | QLD | NSW | VIC | TAS | SA | WA | NT | NZ
---
Wet, windy and snowy start to winter for southeastern Australia
Monday 1st June 2020
A cold front and upper cold pool of air will move across southeastern Australia today, generating widespread showers, locally damaging winds, hail and snow to low levels.
A cold front will sweep across Victoria today, with locally damaging winds to 90km/h expected this afternoon, particularly with shower activity. Small hail will also develop with this shower activity throughout the day.
Snow will fall above 1500m in Victoria today, lowering to 1200m tonight. Snowfall will drop to 800m across the Snowy Mountain region in NSW this evening, with as much as 15cm falling. Snow flurries will extend into the Central Tablelands during Tuesday morning, with isolated snow flurries even developing across far southern regions of the Northern Tablelands and Barrington Top in the Hunter region.
Showers and isolated storms will develop across northern parts of NSW and far southern QLD this afternoon, as a pre-frontal trough shifts east ahead of a cold front. In the wake of this cold front, a very cold airmass will invade New South Wales and Queensland overnight Monday and into Tuesday.
This cold airmass will lead to maximum temperatures remaining below the June average for many locations. In southern Queensland, Stanthorpe is heading for a top of just 12°C on Tuesday, Toowoomba 14°C, Beaudesert and Ipswich 21°C, Noosa 22°C and Brisbane 21°C. Meanwhile, in NSW Bathurst is heading for a top of 9°C Tuesday, Guyra 6°C, Penrith 17°C, Wollongong and Sydney both 17°C.
Strong to gale force southwesterly winds will develop across parts of northern NSW and southern Queensland during Tuesday, with gust of up to 70km/h. Temperatures are likely to feel even colder during the day, as dry air invades the region in association with gusty winds.
From Tuesday to mid-week, a broad and complex low pressure system is expected to lie east Victoria in the Tasman Sea, directing gusty southerly winds and potentially damaging surf conditions along coastal districts of Tasmania, Victoria and New South Wales.
Image 1: OCF max temperatures, Tuesday 2/06/2020. Image via WeatherWatch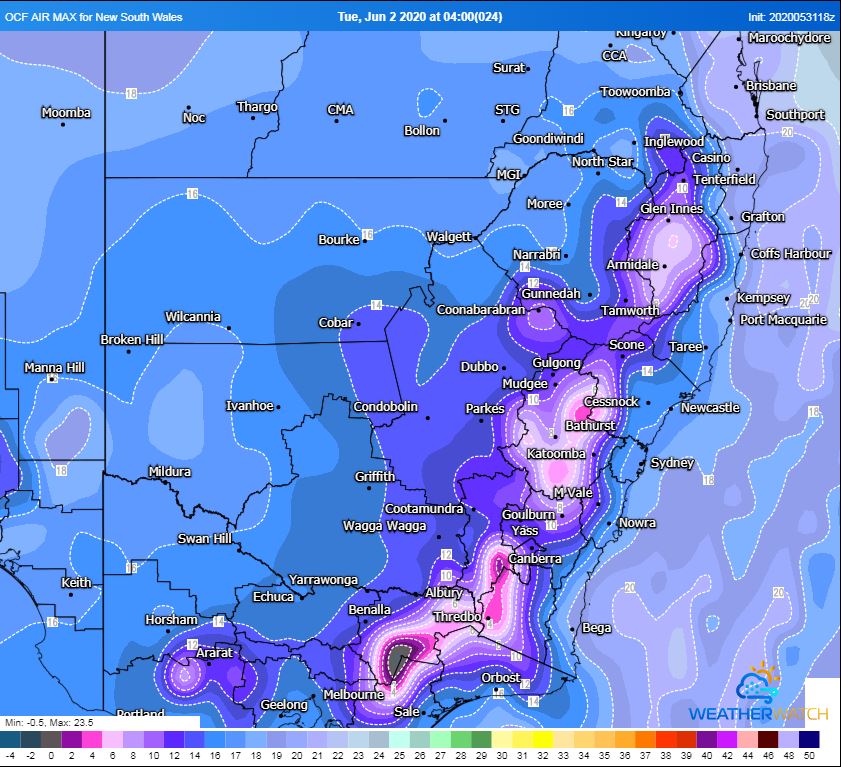 Image 2: EC Potential snow depth, valid to 12pm 2/06/2020. Image via weather.us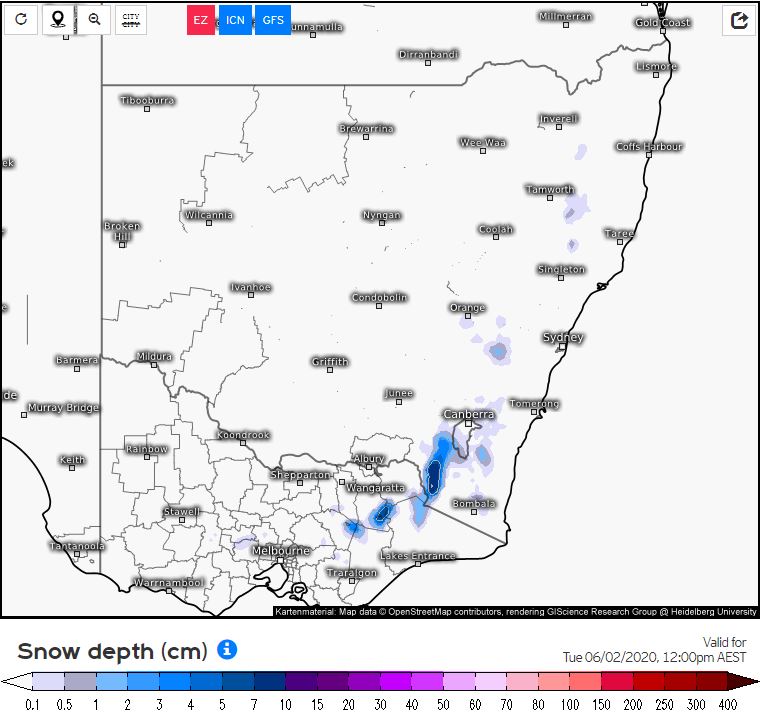 ---