Twitter

Instagram

Facebook | QLD | NSW | VIC | TAS | SA | WA | NT | NZ
---
Widespread frost and fog over southeast Australia into next week
Friday 5th June 2020
A large high will cause a run of settled weather and light winds across large parts of Australia's southeast for the next week, however at night time the mercury will plummet to as low as 10 degrees below average in some areas with frost and fog commonplace.
Numerous locations had their coldest morning of the year today, including Albury (-0.9c), Bega (-2.6c), Moss Vale (-2.8c), Sydney (7.2c), Braidwood (-6.0c), Canberra (-4.9c), Wagga Wagga (-0.2c), Melbourne (4.1c), Horsham (-2.5c), Warrnambool (-0.1c), Bendigo (-1.3c) and Adelaide Kent Town (3.4c).
As the high remains stubborn until next week, cold foggy and frosty mornings are likely to persist across large parts of the southeast. Saturday morning is likely to be another very cold night/morning for most parts of the southeast. For NSW and TAS, the coldest nights/mornings are likely to occur over the weekend, before warming up into next week as an onshore airflow increases moisture in NSW, and frontal activity brushes TAS.
However for VIC and SA, some areas are likely to see even colder mornings than today and tomorrow early next week as a lingering cold airmass left behind by a weak cold front over the weekend, combines with the light winds and clear skies generated by the high. Albury is forecast to dip to -1 degrees on Monday, whilst Melbourne is forecast to dip to just 3 degrees on Tuesday, and Ballarat 0 degrees.
The high doesn't look like going anywhere soon, and will likely stick around into mid June before frontal activity increases again.
Image 1: Temperature Anomoly at 4am AEST Saturday 6th June, 2020 (Source: Wxcharts.com)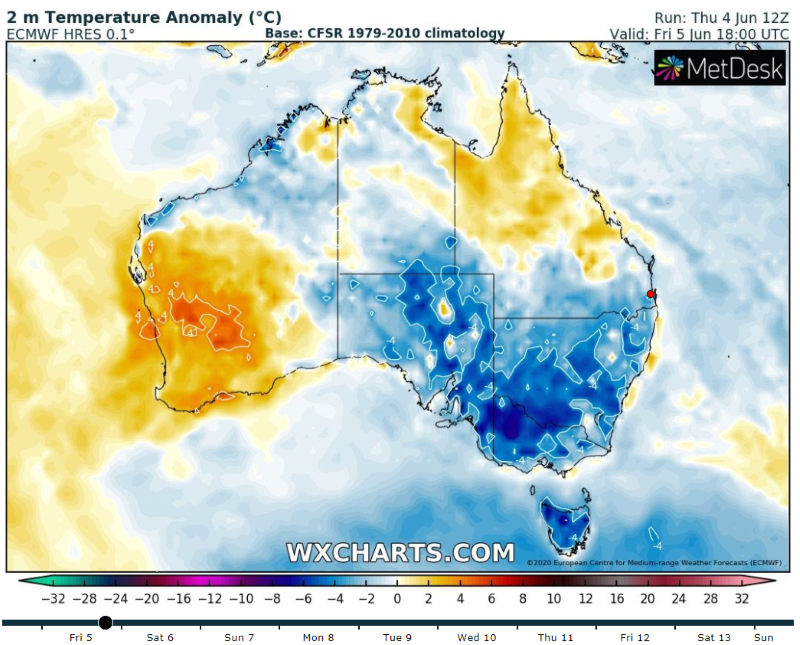 Image 2: Meteye Graphic of forecasted frost at 4am AEST Saturday 6th June, 2020 over southeast Australia (Source: Bureau of Meteorology)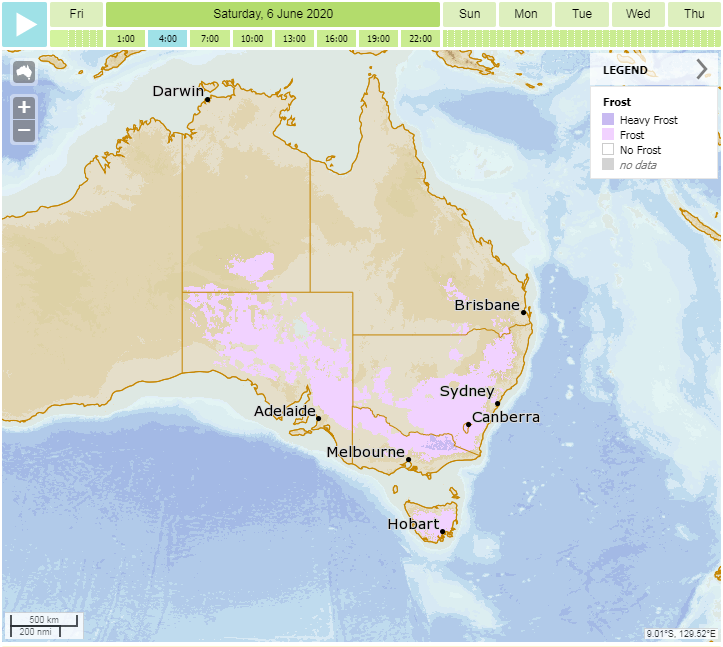 ---