Twitter

Instagram

Facebook | QLD | NSW | VIC | TAS | SA | WA | NT | NZ
---
Large High Pressure System to bring cold temperatures to Southern NZ
Thursday, 19th June 2020
Temperatures are set to plummet into this coming weekend as a cold front sweeps over the north island and stalls preceding a very broad high pressure system during this weekend during Saturday and Sunday. A vast portion of New Zealand's South Island is forecast to experience sub-zero temperatures during Saturday night and into Sunday, especially away from the coastal fringes and elevated areas of the southern Alps.
There is also the added risk of accompanying gale force winds from the northwest into tomorrow, specifically concentrated through Southland, which is likely to spread and fan northward up towards areas such as Canterbury, Wairarapa and into Otago.
A large high-pressure system is forecast to move across the South Island into the weekend, with the potential of pressures 1040hpa and above. Typically, these stronger highs are more common towards the end of winter relative to the commencement of winter. The depth of the high may also rival pre-existing records for the month of June, potentially eclipsing the June record of 1044.7hpa measured back in June 2016, although is likely to fall short of the highest pressure ever recorded which was measured in Wellington in 1889 at 1046hpa some 131 years ago.
High pressure systems typically form with the greatest air pressure values contained within the centre relative to the areas around the system itself. The winds tend to blow away from the high pressure centre, and rotate in the opposite direction of a low-pressure system in an anticyclonic flow (anticlockwise).
The air from high up in the upper levels of the atmosphere also sink into the high pressure region centre, as the winds are blown away from the centre of the system itself, and hence the reduction of isobar pressure rings you would typically see on a synoptic weather chart.
Widespread frosts are a significant risk this weekend, with the Canterbury plains forecast to reach an overnight low of -3 particularly through low lying areas, with overnight lows also potentially falling to -5° for inland areas of Tekapo, -5° for Ashburton, -5° for Alexandra and 0° in Queenstown itself during Sunday morning.
Elevated and mountainous areas of the Alps are expected to reach potential low temperatures of 17° below freezing, with the added risk of black ice, and snow showers. This is partly due to the very cold southerly wind flow expected to move northward into the late weekend as the high pressure region slowly shifts eastward.
Road Snowfall Warnings are already currently in effect for parts of the southern island, which include Lindis Pass, Crown Range Road and Milford Road. Snow showers are forecast to affect higher parts of Lindis Pass with 1cm to 3cm of snow expected to accumulate and settle near the summit, with snow showers also expected to settle above 800m for Crown Range Road with 2cm to 4cm of snow forecast to settle above 800m for Lindis Pass.
A Heavy Rain Watch is also current for the eastern regions of the South Island tonight and into tomorrow, but is likely to remain restricted to the ranges of Westland and Fiordland, with up to 60mm possible in some areas, however this threat is expected to ease late in the weekend and into early next week.
During Monday, warm sub-tropical north to northwesterly winds are expected to bring a reprieve to the cold temperatures, however conditions will still remain quite cool at this stage which is quite typical for this time of year.
Image 1: ECWMF Temperature via Windyty.com interface - June 11th, 2020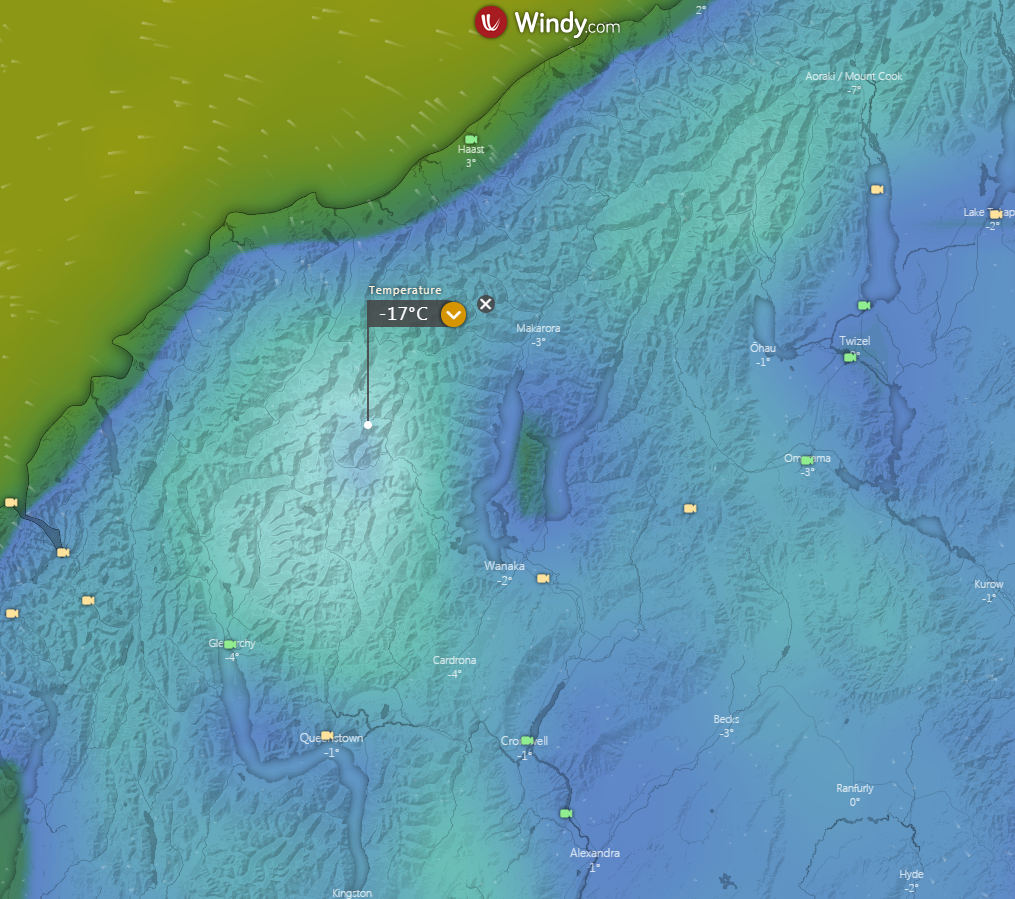 Image 2: ECWMF Temperature via Windyty.com interface Animation: Friday to Monday - June 11th, 2020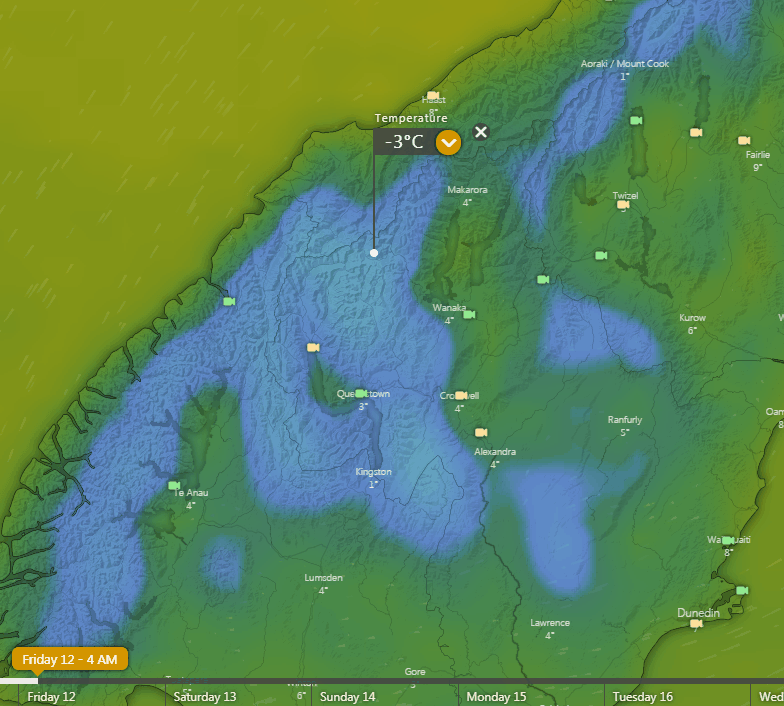 ---