Twitter

Instagram

Facebook | QLD | NSW | VIC | TAS | SA | WA | NT | NZ
---
Wild winds batter Western, Northern and Central Tasmania
Tuesday, 16th June 2020
A strong and gusty northwesterly wind flow has battered the northwestern and northern coastal and adjacent inland districts in the wake of a cold front over the past 12 hours, with significant sustained winds and gusts recorded for a number of locations.
Noteworthy wind gusts focus on the western districts of the state, with Maatsuyker Island recording a peak wind gust of 150km/h at both 8:46am, 8:48am and 10:40am respectively. Sustained northwesterly winds for the island have consistently been over the 100km/h mark since 8:40am this morning. (Refer Latest Weather Observations for Maatsuyker Island Lighthouse in the photo provided).
Wind gusts over 100km/h have also been observed in other locations throughout the western region of Tasmania with peak gusts reaching 109km/h for Low Rocky Point, 122km/h for Mount Read and 126km/h for Scotts Peak which was recorded at 9:38am this morning. Earlier this morning, a peak gust of 120km/h was also recorded at Macquarie Island at 3:52am this morning.
Destructive to very destructive winds of this nature likely cause damage to roofs, trees and homes accompanied by chilly temperatures and squally showers. Some locations in the northeastern part of the state were not exempt from damaging winds with Larapuna (Eddystone Point) gusting to 98km/h this morning at 11:08am and also southeastern locations such as Cape Bruny also recording a peak gust of 98km/h at 7:58am.
A Severe Weather Warning for damaging winds is still in effect for people situated within the northeastern districts of the state, which include the Furneaux Islands, North East, East Coast and parts of the Midlands forecast districts with the severe weather warning now cancelled for people situated within the Western, Upper Derwent Valley, South East, North West Coast and Central Plateau districts with winds generally on an easing trend.
The strong cold front will move across central and eastern parts of the state this afternoon, however leaving fresh and gusty winds within it's wake. Snow falls are expected to continue through western parts of the state this afternoon, potentially lowering to 500m in elevation during the evening. There is the low risk of isolated thunderstorms about the south during this evening also, with some squally showers containing snow, graupel and small hail.
Looking ahead into tomorrow, Tasmanian's can expect a further easing trend and reprieve from damaging and locally destructive winds, with the northwesterly air flow set to shift more southwesterly as a high pressure system shifts over the Tasman during Thursday, with a forecast fresh northerly wind flow over the state into Friday at this stage.
Image 1: BoM Meteye - Wind Speed (knots) for 1:00pm, 16th June, 2020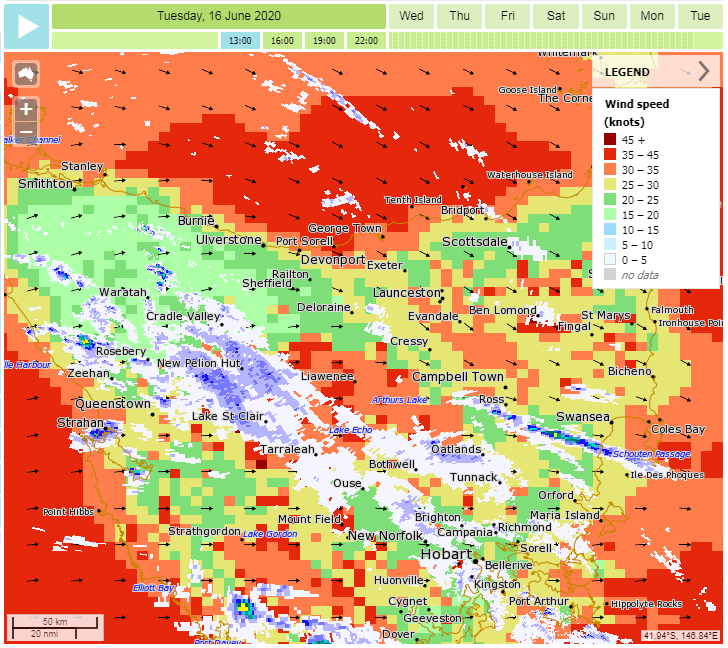 Image 2: Maatsuyker Island Lighthouse Observations - Northwestern Tasmania - June 16th, 2020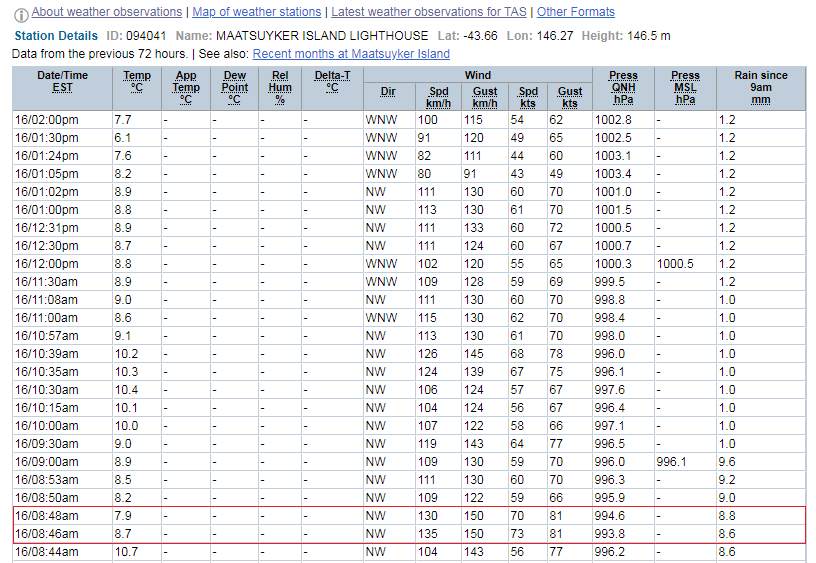 ---