Twitter

Instagram

Facebook | QLD | NSW | VIC | TAS | SA | WA | NT | NZ
---
Strong cold front to bring low-level snow to New Zealand
Tuesday, July 7th, 2020
A strong cold front will sweep across New Zealand from this evening, bringing bitterly cold conditions, showers, strong winds and snow to low levels over the next few days.
The front will begin impacting the South Island this evening, before reaching the North Island on Wednesday. In the wake of the front, a very cold airmass will begin to push north across the country.
The coldest airmass will affect the southern half of the South Island, with snow potentially falling as low as 200-300m in some areas, but snow will reach as far north as central parts of the North Island about higher elevations. Heavy snow watches have been issued for Clutha, Southland and southern parts of Fiordland on the South Island, and Taihape on the North Island.
The ski fields will get a good dump of snow in the first week of the school holidays, with some resorts around Queenstown seeing 50-75cm of fresh snow, and 40-50cm possible at Whakapara and Turoa on the North Island.
The front will also be associated with good rain, particularly over the North Island and southern parts of the South Island where accumuations may exceed 40mm in some areas, although there will be widespread falls of 5-15mm. About the North Island, isolated thunderstorms are also a risk.
Strong Wind Watches have also been issued for southeast parts of the South Island, and central and southeastern North Island, with wind gusts possibly reaching 80-100km/h.
Conditions will begin to ease from Thursday as a high pressure region approaches.
Check out our New Zealand Facebook page at https://www.facebook.com/alerts.nz/
Image 1: Rainfall accumulation across the next 72 hours across New Zealand from GFS model (Source: Weatherwatch Metcentre)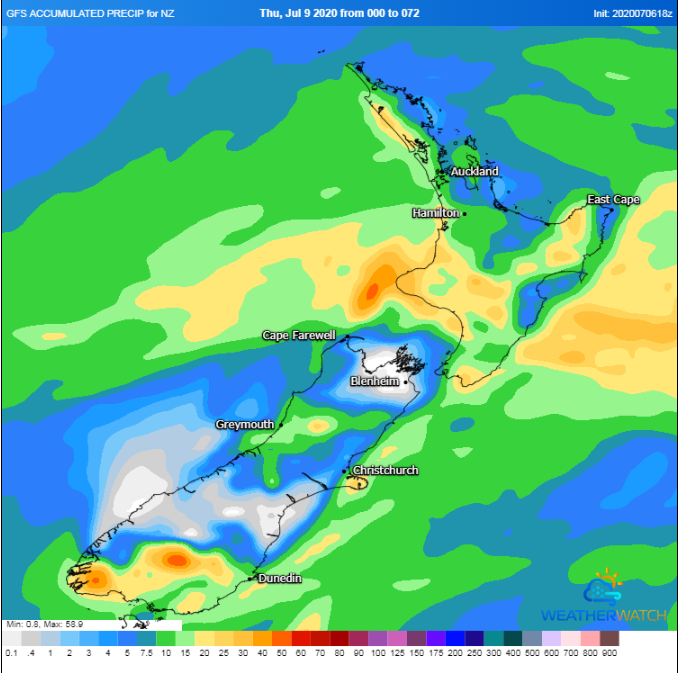 Image 2: New snowfall forecasts across New Zealand across the next 72 hours from the ECMWF Model (Source: Windy)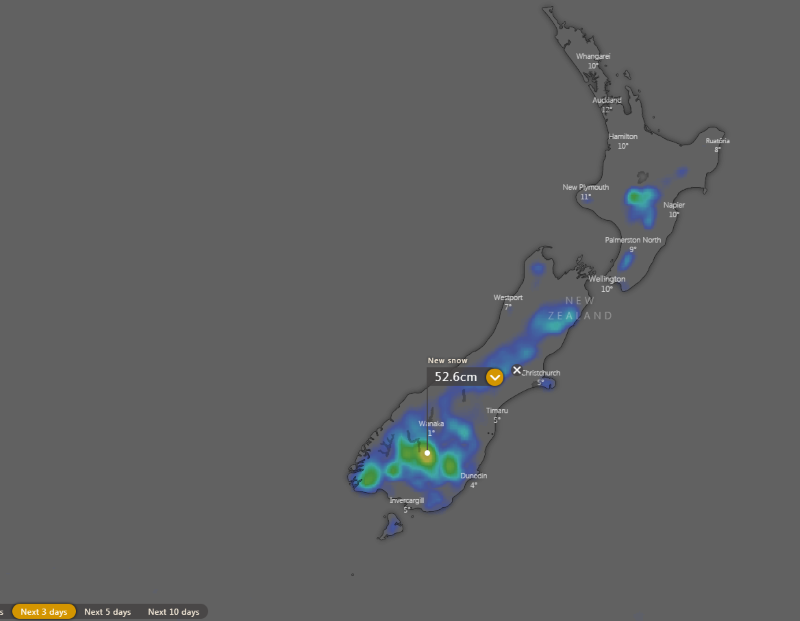 Image 3: Severe Weather Warnings and watches across New Zealand from 7th July, 2020 (Source MetService New Zealand)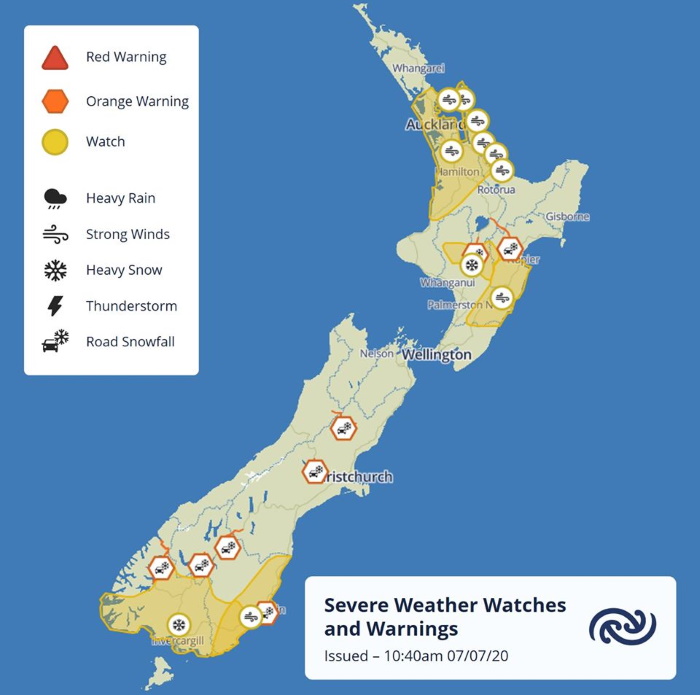 ---