Twitter

Instagram

Facebook | QLD | NSW | VIC | TAS | SA | WA | NT | NZ
---
Dry westerlies take a break in Southeast Queensland
Thursday, 9th July 2020
Moisture has returned to the skies over Southeast Queensland as a coastal trough pushed north and allowed a moist onshore flow to develop. This caused showers and patchy rain areas to spread onto the coast last night and some showers are still continuing in the area today.
Mainly light falls were recorded in the 24 hours up to 9 am today with most places getting below 10 mm but closer to the coast, scattered falls of 10 to 25 mm were recorded with some places recording in excess of 50 mm.
This is unlikely to be the end of the moisture though. On Sunday night and Monday, a cold front and upper trough tracking across eastern Australia is expected to deliver a band of showers, rain areas and possible thunder to the Darling Downs and the Southeast. At this stage, moderate falls of 20 to 60 mm are likely with the possibility of some localised heavier falls of up to 80 mm or higher in some spots.
Image 1: Observed rain amounts in the 24 hours up to 9 am today. Source: BOM.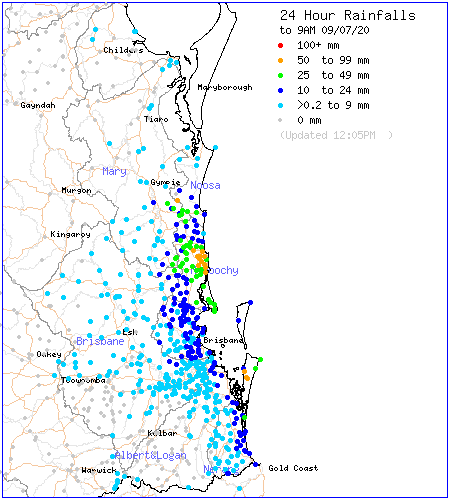 ---