Twitter

Instagram

Facebook | QLD | NSW | VIC | TAS | SA | WA | NT | NZ
---
Widespread rain and East Coast Low potential for southern and eastern Australia
Friday, 10th July 2020
A dynamic weather situation is unfolding across southern and eastern Australia, as a upper level cold pool interacts with a surface trough over the east of the country, bringing potential for widespread rain and a potential east coast low over the coming days.
A high over the Tasman Sea is currently directing a humid onshore flow over the nation's east coast into a developing trough, generating showers along the coastal strip and causing moisture to push inland.
Meanwhile, an upper level cold pool is making its way towards South Australia and is due to affect the state tomorrow, bringing showers, possible thunderstorms and the risk of small hail.
This approaching feature will cause an amplification of the surface trough over eastern Australia tomorrow as well, causing rain and thunderstorms to develop over parts of southern Queensland, New South Wales and Victoria.
Over the weekend, this cold pool will push gradually east and continue to bring with it rain and storms across parts of SA, VIC, NSW and QLD. As the system approaches the east coast and reaches higher levels of moisture and slightly more than average ocean temperatures, rain and thunderstorms have potential to become heavier as the trough deepens further.
There is growing consensus that a low is likely to form within the trough as it moves offshore around Monday or Tuesday next week and bring heavy rainfall to eastern NSW, although this is highly dependent on where the low forms.
With such a dynamic system and the convective nature of the sytem, rainfall amounts are difficult to predict, particularly from early next week. Across many parts of VIC, inland NSW and southern QLD, widespread totals of 5-20mm are likely. However, depending on where the low forms (and how close to the coast it gets), coastal rainfall has potential to be in excess of 100mm.
If the low forms close to the coast, damaging wind gusts are also a chance as well as potential for rough seas and large swells. There are also indications of possible snow as far north as the NSW Northern Tablelands early next week.
Our team at EWN will post regular updates as this system unfolds over the coming days.
Image 1: GFS accumulated precipitation. Image via WeatherWatch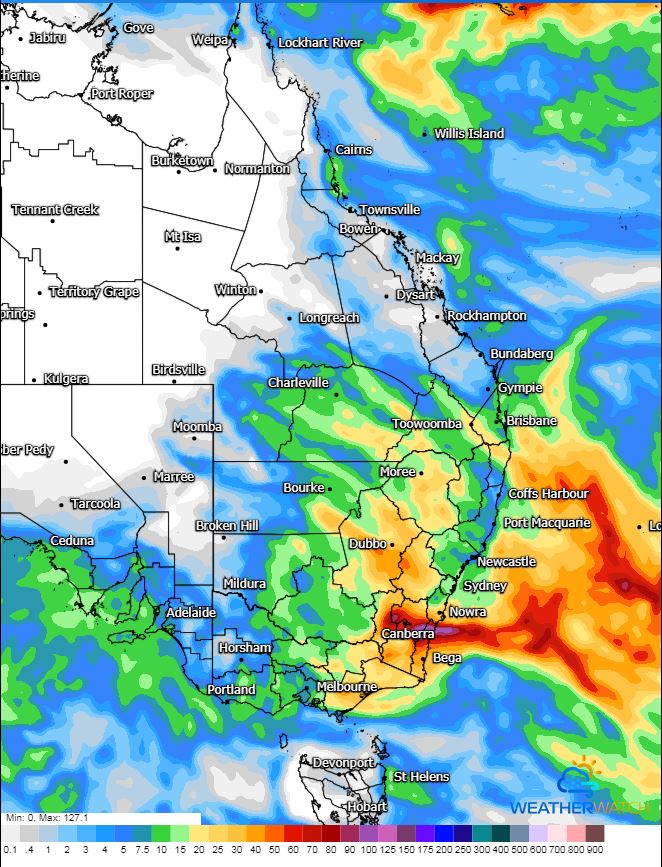 ---