Twitter

Instagram

Facebook | QLD | NSW | VIC | TAS | SA | WA | NT | NZ
---
ECL to bring severe weather to SE Australia early next week
Saturday, 11th July 2020
A low-pressure system is set to continue developing across the Bass Strait and Victoria today and into tomorrow while deepening off the eastern coastal districts of Victoria and the southern coastal districts of New South Wales into early next week.
Potentially severe thunderstorms along with damaging winds, heavy rainfall and rough surf conditions are expected to whip up and the low tracks into the Tasman Sea on Monday, before gradually moving northward along the NSW coastline into Tuesday.
As the low-pressure system moves northward adjacent the southern and central coastline of NSW, heavy rainfall is expected to occur along the coast and adjacent inland districts under the influence of moderate to gusty SE winds.
Rainfall totals currently vary, which on current consensus will likely remain mostly confined to the East Gippsland district of Victoria and the southern inland and central coastal parts of NSW.
Southern NSW may experience rainfall totals of up to 50mm-60mm during Monday, with a further 60mm of rainfall probable along the southern coast between Sydney and Moruya Heads during Tuesday. These projected rainfall totals from the BoM WATL rainfall forecasts are expected to be accompanied by moderate to gusty winds, especially about the exposed coast and elevated and mountainous terrain.
Looking further ahead into Wednesday, the east coast low is expected to shift east into northern parts of the Tasman Sea effectively reducing the amount of rainfall and winds onto the coast. Localised flash flooding is possible under the influence of showers and very isolated thunderstorms from the SE wind flow, which is expected to reduce during the mid-week as the low-pressure system moves away from the central coast of NSW.
The positioning of the system is subject to change, and slight variance in location of the system will have an effect of exactly where the winds are probable, and where the greatest amount of rainfall is expected to fall. Tomorrow, will see a further and better indication in real time of where the concentrated area of winds, and rainfall conducive to flash flooding may actually occur. Severe Weather Warnings are likely be issued for both eastern VIC and southern NSW into Sunday or early into Monday.
Below is the ECWMF (European Model) scenario of where the forecast model predicts the system to be during Monday, Tuesday, Wednesday and into Thursday next week. Surface winds are shown on the diagrams listed below.
Image 1: ECWMF Surface Winds via Windyty showing surface low positioning during Monday through Thursday next week at 7:00am daily.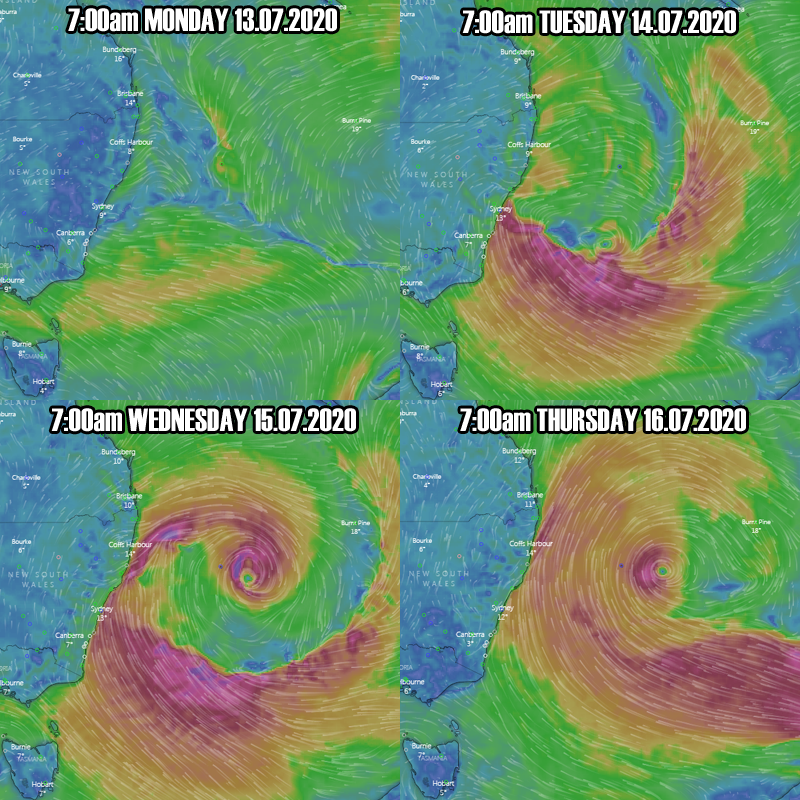 ---