Twitter

Instagram

Facebook | QLD | NSW | VIC | TAS | SA | WA | NT | NZ
---
Consecutive cold fronts for Southeastern Australia
Saturday, 18th July, 2020
As a ridge of high pressure is anticipated to shift further eastward into the Tasman Sea during this weekend and into early next week, allowing consecutive cold fronts affect some portions of southeastern parts of Australia including parts southern New South Wales, Victoria and Tasmania today before a potentially stronger cold front sweeps through during Sunday.
The fronts are forecast to bring showers, cooler conditions and isolated thunderstorms about parts of the southwest and central coasts of VIC tomorrow, with areas of snow forecast to fall about the southwestern slopes and adjacent ranges of NSW above 1200m (mostly concentrated on the Australian Alps) during tomorrow evening. These snowfalls may lower into Monday to 1000m on the alps with a further accumulation of snow fall possible.
Snow falls may also be prevalent for our Tasmanian counterparts tomorrow with snow falls possibly lowering to 800m, primarily during the afternoon along with accompanying thunderstorm activity for the western region and about Bass Strait. Gusty northerly winds are forecast to swing westerly in wake of the passage of the cold front tomorrow allowing for cooler west to southwesterly winds to prevail. Snow falls may also lower further to 600m in elevation around the mountains during the day and into the evening, with further thunderstorm activity possible during Monday with the second cold front moving through the Tasmanian region.
Some of these thunderstorms may have the potential to produce very localised strong winds, however gusty winds and hail and are considered to be more likely about elevated and mountainous terrain of Tasmania, and even into parts of Victoria during the day and into the evening. A new high pressure system is then expected to build through the Great Australian Bight during Tuesday which will result in mostly fine and more settled conditions for VIC and TAS and extend into the mid-next week.
A Severe Weather Warning for damaging winds has been issued earlier this morning for people situated within parts of the East Gippsland, South West, North East and West and South Gippsland forecast districts for gusty winds developing during Sunday. At this stage, these are expected to be mostly concentrated through the southwestern coastal regions and areas of the northeast about the Australian Alps. There is the slight possibility of small hail to mixed in with shower and thunderstorm activity during Sunday and into Monday at this stage.
Winds are expected to oscillate between 60-70km/h with gusts up to 100km/h likely about elevated parts above 1200m. Some VIC locations that may be affected may include, and not restricted to the Warrnambool, Portland, Apollo Bay, Falls Creek, Mount Hotham and Mt. Buller regions. A Severe Weather has also been issued this evening for damaging winds for people situated in parts of the Illawarra, South Coast, Southern Tablelands and Snowy Mountains forecast districts, with winds up to 100km/h likely above 1900m in the Snowy Mountains.
Image 1: Windyty Wind Gusts for 3pm Sunday, 19th July 2020 at 3pm via the ECWMF forecast model.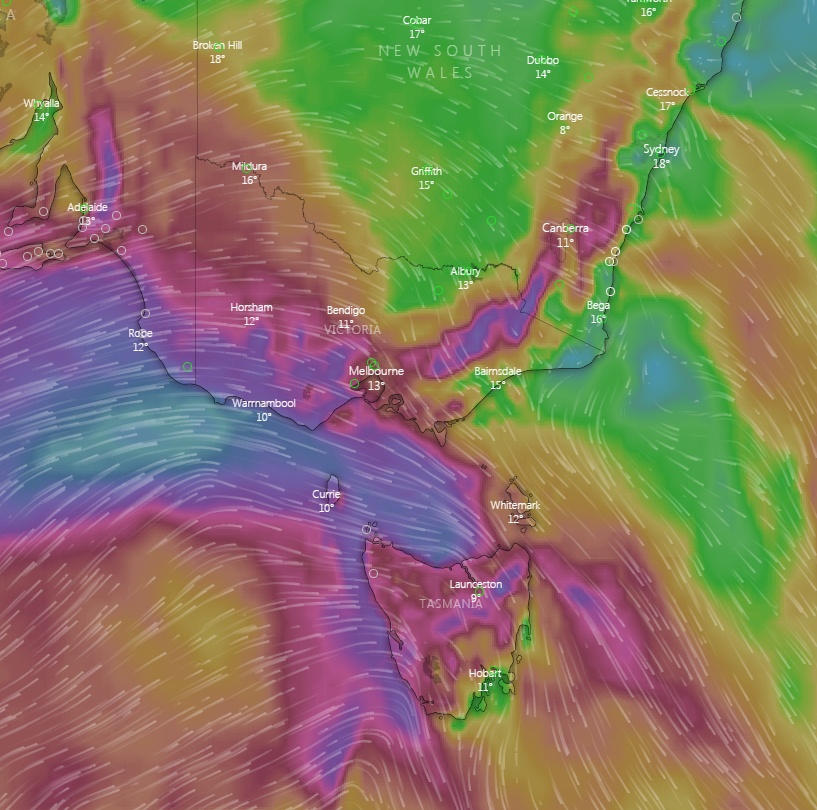 ---