Twitter

Instagram

Facebook | QLD | NSW | VIC | TAS | SA | WA | NT | NZ
---
Snow showers and blizzard conditions inbound for Victoria, Tasmania and New South Wales early next week
Saturday, 1st August, 2020
A high pressure system situated over the eastern portion of the Great Australian Bight is directing a strong northwesterly wind flow over the state of Tasmania tonight, ahead of a cold front expected to cross the state overnight and into tomorrow. A secondary cold front is then forecast to cross the state during Monday, with an accompanying very cold antarctic airmass directing southerly winds across the state, passing to the southeast of the state into early next week.
As a result, snowfalls will be likely about the usual elevated regions of TAS, lowering to 300m during Tuesday. Small hail is also possible with scattered shower activity with accompanying strong to localised gusty winds chiefly during the afternoon. There is a moderate to high chance of Severe Weather Warnings being issued from tomorrow, for the element of localised strong to damaging winds for elevated areas across all three above mentioned states.
The secondary cold front during Monday will also have an also have an effect on Victoria, and is forecast to move through the VIC snow and ski resorts during the day and into the evening, with snow showers, small hail and blizzard type conditions that will likely develop and extend up into southern NSW into Tuesday and briefly on Wednesday.
Snowfalls will possibly become heavy at times with low level snow lowering to 200m-300m in elevation with emphasis on the alpine regions of the Australian Alps and adjacent inland districts of southeastern Australia.
Very cold conditions and cool daytime maximum temperatures are expected to follow in wake of the frontal systems and movement of the upper low, especially above elevated regions of VIC, the eastern coastal districts of VIC and also the southern portion of NSW into early next week. Cold southerly winds are expected to ease during Wednesday at this stage as the upper low pressure system shifts further eastward into the Tasman Sea during mid-next week.
Additional snowfalls lowering down to 400m may be possible during Wednesday for regions of southern NSW during this time, however may be subject to change with the real-time positioning and timing of the upper level system.
Image 1: Visable Satellite Imagery - Himawari 8 as of 4:10pm AEST (6:10 UTC)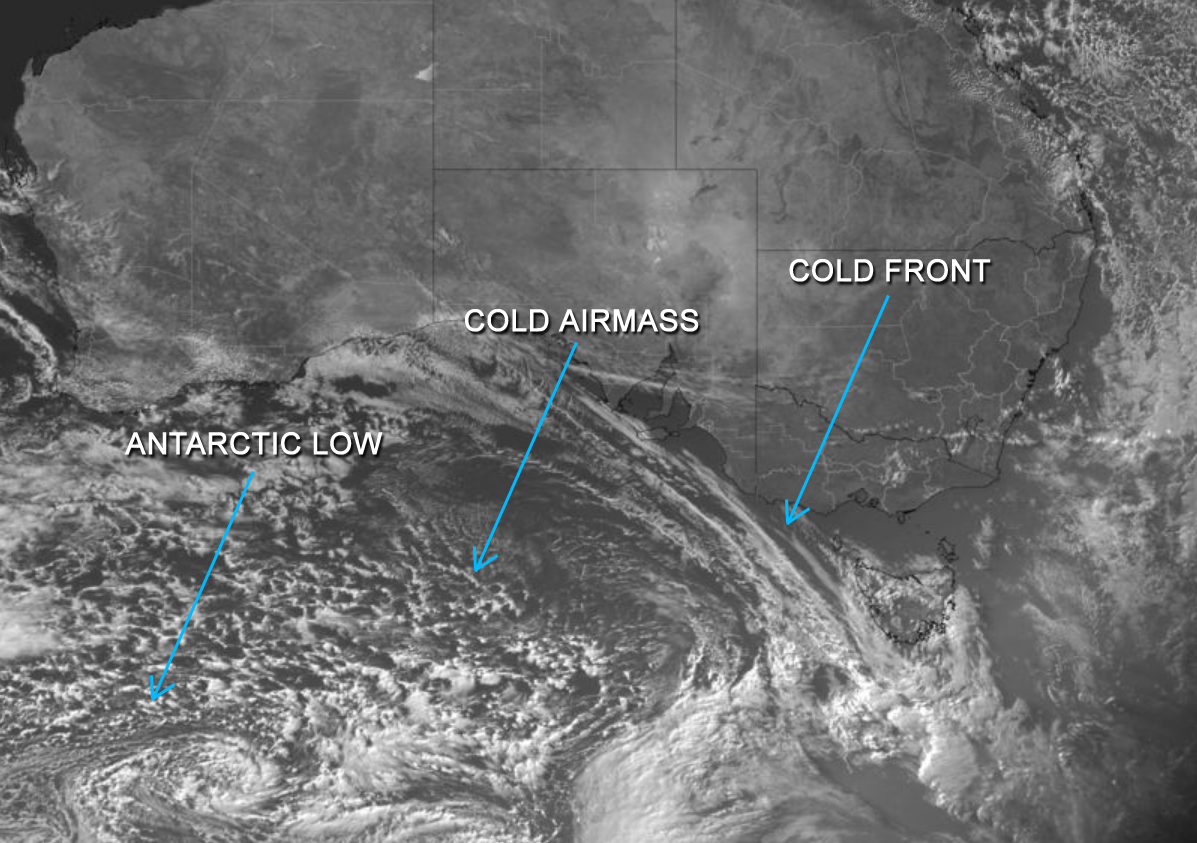 ---