Twitter

Instagram

Facebook | QLD | NSW | VIC | TAS | SA | WA | NT | NZ
---
Another big drenching looming for the southern NSW coast this weekend
Posted Friday 7th August 2020
Yet another heavy rain event with flooding potential is aiming its sights on the southern coast of New South Wales this Saturday and Sunday.
The third strong Tasman Sea low pressure area in almost as many weeks is expected to consolidate on Sunday and Monday off the New South Wales coast after the current low over western NSW moves offshore but as it does so, it's expected to start directing a strong east to southeasterly flow onto the southern coast. This is then likely to cause heavy rain to start focusing on the area on Saturday and Sunday.
At this stage, total rain amounts of 100 to 150mm are expected on average along the coast, grading to 40 to 100mm a bit further inland but locally higher amounts up to 200mm or more are possible in some spots along the coastal fringe. If these totals eventuate, flash flooding will become very likely along with some river flooding.
Gusty winds may also start developing along the southern coastal fringe this weekend before spreading further up along the central and possibly northern parts of the coast on Monday while strengthening. These winds carry some damage potential along parts of the coastal fringe on Monday.
Thankfully though, the surf and beach erosion isn't expected to be quite as severe as the last two events but a significant increase in swells is still expected along much of the coast.
However it should be emphasised that if the low happens to stay further out to sea than expected during this whole time, rain amounts and winds will be less.
Image 1: EC model wind gusts for 10 pm Sunday (Source: Windy )
Image 2: Accumulated rain from Friday up to the end of Sunday from the EC model (Source: weather.us)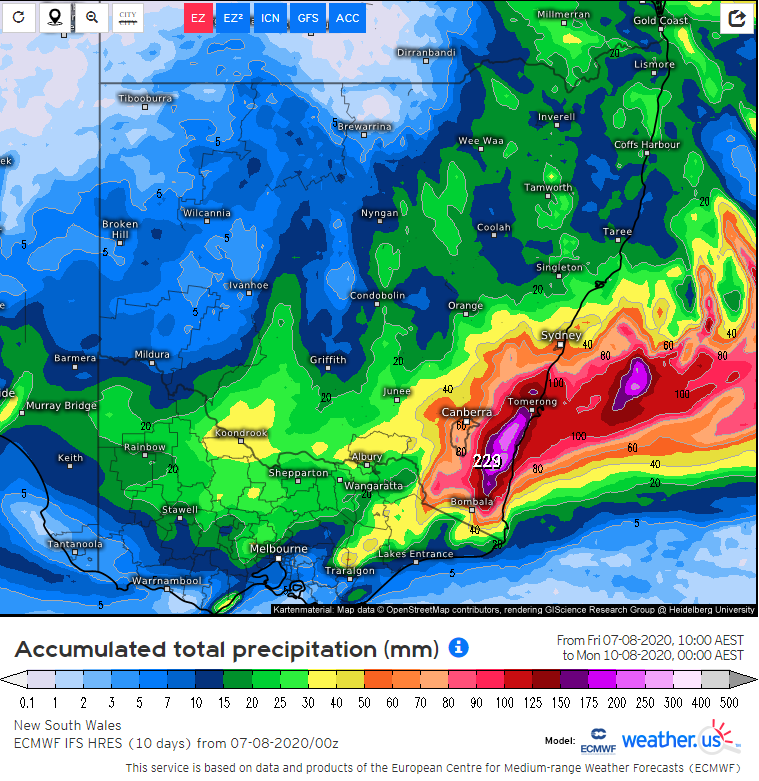 ---