Twitter

Instagram

Facebook | QLD | NSW | VIC | TAS | SA | WA | NT | NZ
---
Weekend Weather Wrap
Posted Monday 10th August 2020
It has been an extremely active last 7 days across Australia, with multiple low pressure systems providing widespread severe thunderstorms across parts of the NT/SA/QLD, before an East Coast Low developed off the NSW coast, producing flooding rains across parts of the Illawarra and South Coast.
Low level snow was recorded in the suburbs of Hobart, with flurries even falling on high rise buildings in the Melbourne CBD. During Sunday, snow was recorded across central and northern parts of NSW, with 7-day snow totals up to 40cm recorded across the ski fields.
A multi-centred ECL off the NSW coast produced widespread falls of 150-300mm over the last few days, leading to widespread flash flooding and multiple flood warnings across southern NSW, with major flooding continuing for the Shoalhaven River. In the 72 hours to 9am 10/08/2020, Nowra Boat shed (Shoalhaven River) has received 343.3mm, including 204mm in a 24hr period (9am to 9am) on Saturday the 8th of August, making it the single wettest day in the sites history, eclipsing the record set back in February 2020 however data only goes back to the year 2000.
Other notable 72 hours falls to 9am 10/08/2020 include Robertson 304.2mm, Broughton Creek 334.8mm, Nowra AWS 338mm, Porters Creek Dam 301.1mm and Mongarlowe 343mm.
This ECL didn?t just produce flooding rain, but damaging winds also developed across the weekend, with Bellambi recording a gust to 106km/h, Kiama 95km/h, Sydney AP 82km/h, Norah Head 96km/h and North Head 85km/h, with waves over to 5m leading to further beach erosion.
The action wasn?t just confined to southeastern Australia, with a powerful cold front sweeping across parts of Western Australia on Sunday, with a severe weather warning issued for damaging winds and heavy rain.
Cape Naturaliste recorded a gust to 109km/h, Mt Magnet Aerodrome 104km/h, Rottnest Island 102km/h, Ocean Reef 82km/h, Perth 78km/h, North Island 98km/h, Bickley 85km/h and Swanbourne 80km/h. Bickley also scored the highest rainfall total with 63mm with further widespread falls of 25-49mm, including Moascar 51.7mm, Perth Metro with 35.4mm, Busselton AP 25.4mm, Highbury East 30.4mm, Geraldton AP 49.6mm (new daily site record).
Across the Top End in the Northern Territory, fine and dry conditions continued with fire dangers steadily increasing. Whilst no watch and act fires are ongoing, high to very high conditions remained over the weekend and will continue this week. This is common for this time of year, as the build up to the wet season steadily begins.
Looking ahead, a large cold front and deep low responsible for severe weather across WA will continue to progress east today, with a band of showers and isolated storms possible across eastern parts of WA and into SA. As the week progresses, with system will continue to move in an east to southeasterly direction, with further showers and isolated storms once again developing across southern and eastern Australia. Another rain band looks likely to develop across western QLD and NSW late this week too, with another round of impressive back-up winter rain on the way.
Image 1: 72 hour rainfall totals to 9am 10/08/2020.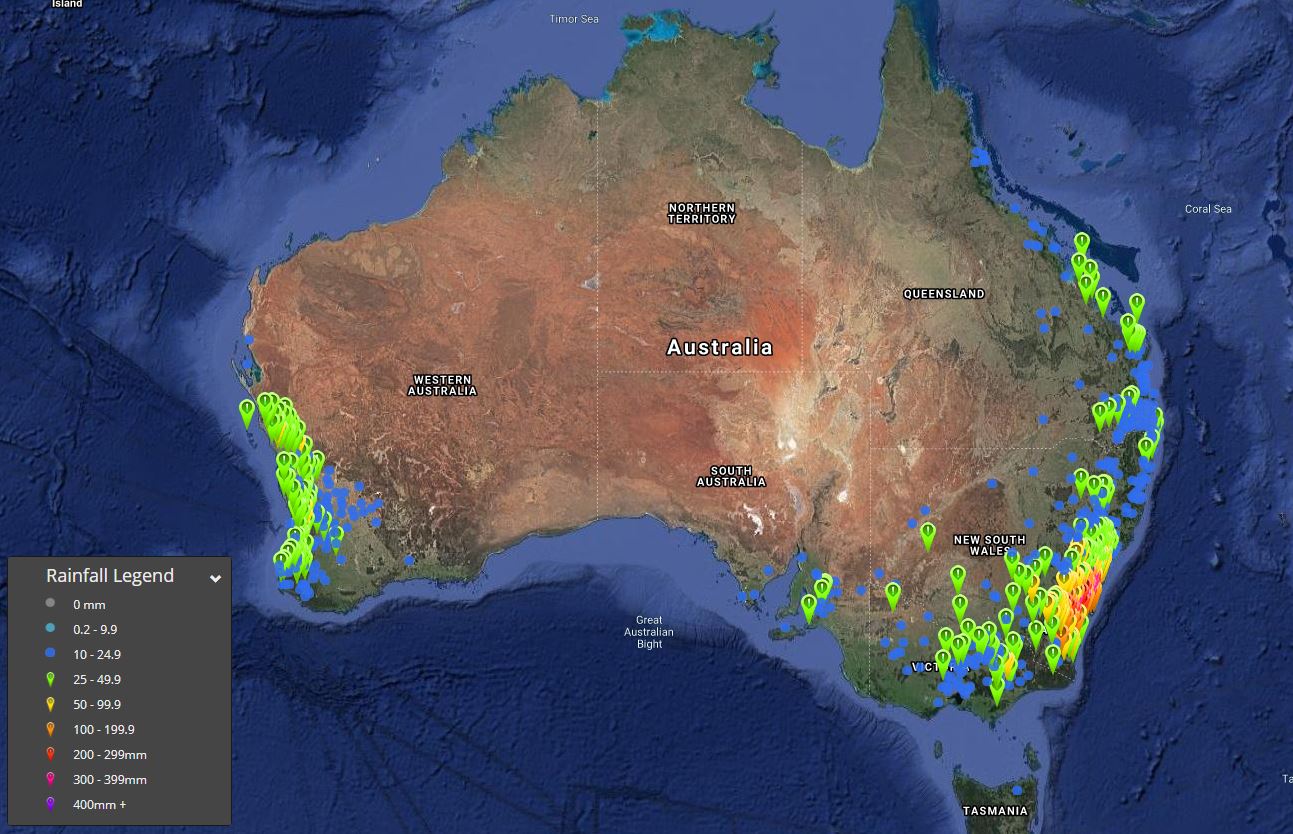 ---