Twitter

Instagram

Facebook | QLD | NSW | VIC | TAS | SA | WA | NT | NZ
---
Rain and thunderstorms to spread across NSW and QLD
Tuesday 11th August 2020
Rain and thunderstorms are set to sweep across New South Wales and southern Queensland on Friday and Saturday, bringing some fantastic follow up falls on the back of recent rains the last few weeks.
Frequent rain bearing systems have been commonplace recently, with large parts of eastern, western and southern Australia receiving healthy totals after a very dry June and July across large parts of the country.
Image 1: Rainfall totals across Australia across the past week to Tuesday 11th August, 2020
Another rain bearing low pressure trough will cross the region on Friday and Saturday and will bring more widespread totals, with the heaviest totals likely to fall across parts of the southern NSW Slopes & coast, central NSW slopes and inland as well as the northern NSW ranges/slopes and QLD Darling Downs & Granite Belt.
Many areas across NSW and QLD will record at least 5-15mm, however across the previously mentioned areas totals of 30-50mm are likely. This is especially true for those areas that receive thunderstorms, which will be isolated to scattered across the region due to strong lifting created by a warm airmass ahead of the trough and an associated sharp upper level trough.
Thunderstorms overall are not expected to be severe for most areas, although in central and southern NSW storms may contain small hail due to the associated cold upper level airmass and will generally be slow moving due to weak wind shear.
Across northeast NSW and southeast QLD (including Brisbane), the combination of a warm and humid airmass and stronger wind shear makes the chances of severe thunderstorms more favourable. However, the most likely scenario for the region will be a line of rain and thunderstorms to move through the region during the afternoon and evening. Within this line, localised strong winds and flash flooding are possible.
The trough will move rapidly offshore on Sunday, clearing rain and thunderstorms and leaving a much drier airmass in its wake. A westerly pattern is likely across the next week, confining showers to southern and central NSW, with northern NSW and QLD likely to remain dry.
Image 2: Forecast accumulated rainfall totals across the next 5 days from the GFS Model (Source: Weatherwatch Metcentre)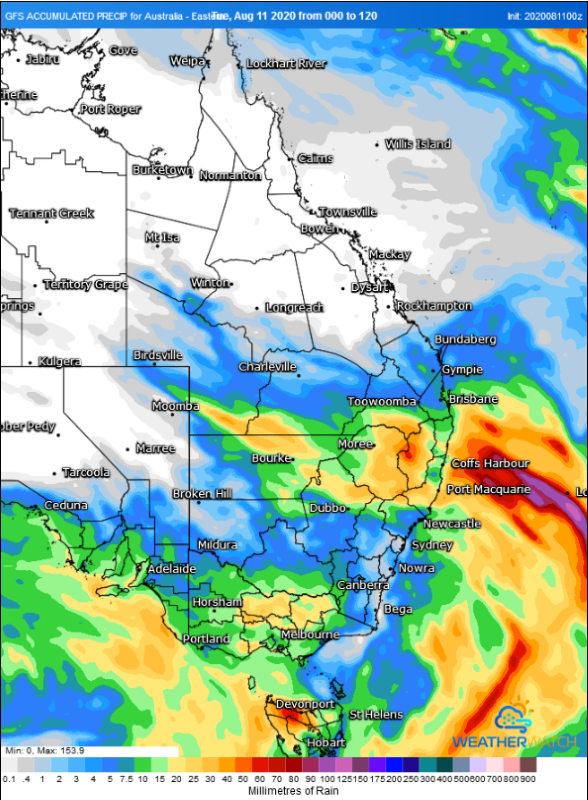 Image 3: Forecast accumulated rainfall totals across the next 5 days from the ECMWF Model (Source: Windy.com)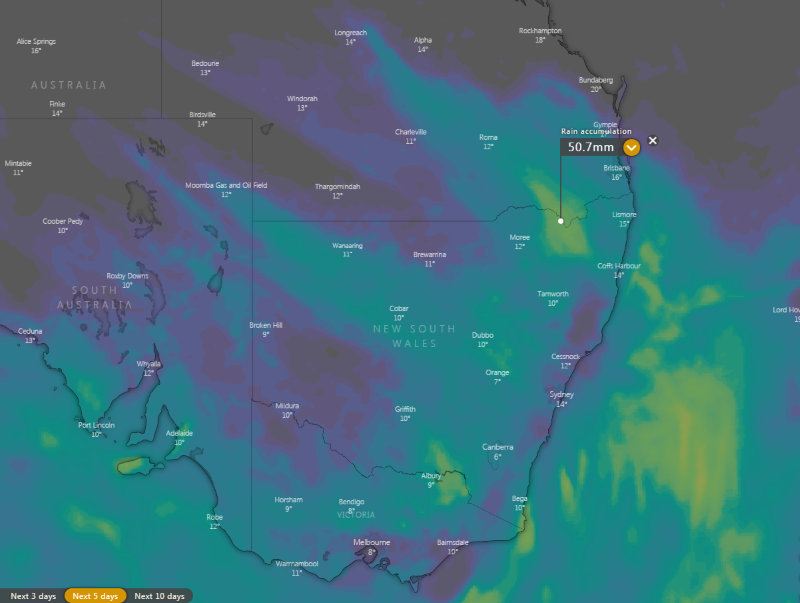 Image 4: Thunderstorm and rain prediction from the ECMWF Model at 10pm AEST Saturday 15th August, 2020 (Source: Windy.com)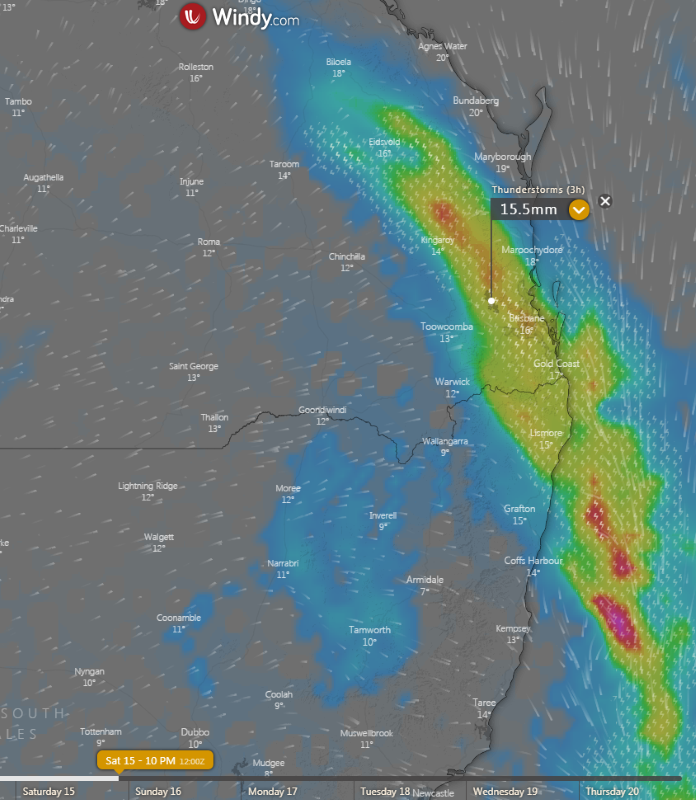 ---