Twitter

Instagram

Facebook | QLD | NSW | VIC | TAS | SA | WA | NT | NZ
---
Heavy rain for Tasmania, Victoria and South Australia
Wednesday 12th August 2020
It's going to be a wet end to the week for southeastern Australia, with a large low pressure system and series of troughs to sweep across parts of South Australia, Victoria and Tasmania.
During Wednesday, scattered showers, rain periods and isolated thunderstorms are possible across central and eastern SA, VIC and northern TAS, with 5-15mm possible throughout the day.
Showery conditions will continue into Thursday, as moisture wraps around the large low in the Bight, with a further 5-15mm possible for coastal parts of SA and VIC. Rain across northwestern TAS may become a little heavier late Thursday and into Friday as a series of troughs moves across this region. Localised falls of 15-30mm will be possible, with isolated falls to 50mm which may lead to localised flash flooding and minor river rises.
Shower activity will slowly decrease across parts of SA and VIC late Friday, as onshore winds ease as a high pressure system moves through central Australia.
Rainy conditions will continue for northern TAS throughout Friday and into Saturday, with further moderate to locally heavy falls which may lead to areas of flash flooding and minor riverine flooding. These conditions will gradually shift towards eastern TAS as a low pressure system develops off the eastern Victoria coast during the weekend.
The forecast becomes a little murky after this, as rainfall amounts and potential for damaging winds gusts will be highly dependent on where this low develops, and its movement. At this stage, it is forecast to drift in a southerly direction towards TAS, which would see showers increase across eastern TAS once again and the potential for winds to reach 80-100km/h late Sunday.
Image 1: BoM PME rainfall over the next 8 days.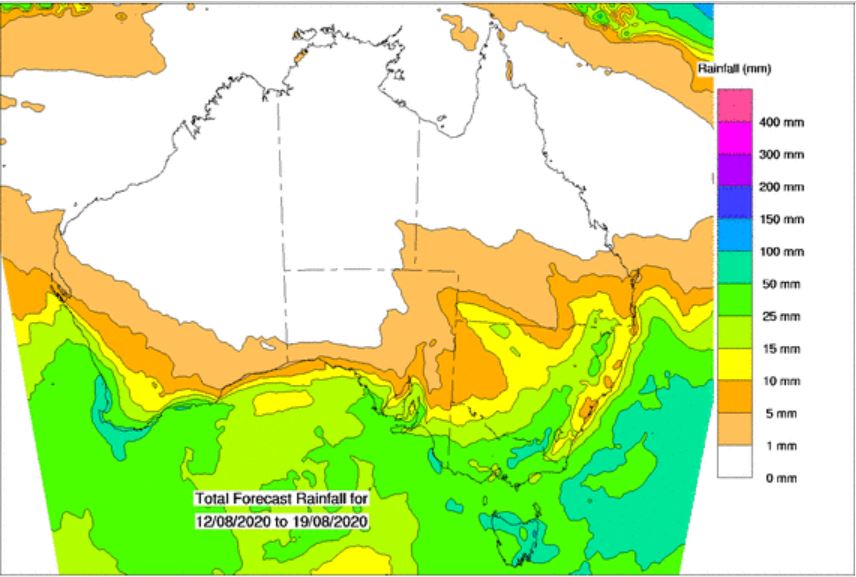 ---