Twitter

Instagram

Facebook | QLD | NSW | VIC | TAS | SA | WA | NT | NZ
---
Cold front set to bring rain, thunderstorms and chilly conditions to southwest WA
Friday, 14th August 2020
A cold front is set to sweep across southwest WA on Saturday and into Sunday, bringing widespread rain, possibly severe thunderstorms and chilly conditions in its wake.
The weekend will begin balmy across the region as the mercury rises several degrees above average on Saturday (into the low-to-mid 20s in many areas) before the front arrives. The front will affect the southwest capes during the morning, before reaching the Perth region during the late afternoon/evening and spreading east into the evening and on Sunday.
Widespread rain and showers are likely as far north as Shark Bay, east into the Goldfields and across WA's south coast, although for many areas these falls will be light (less than 5mm). The heaviest totals are likely along coastal areas from around Jurien Bay to Albany, where widespread totals of 15 to 30mm are likely with isolated falls up to around 50mm.
Thunderstorms are also likely to accompany the front in some areas, with strong wind shear associated with the system bringing the risk of localised damaging wind gusts in any thunderstorms, most likely during the evening. However, in the wake of the front on Sunday there is also the risk of isolated cold air thunderstorms in coastal areas, bringing the chance of localised small hail.
Outside of thunderstorms and showers, damaging wind gusts above 90km/h are not expected to be one of the main features with this front. Gusts may approach this strength on the southwest capes on Saturday & Sunday, and in the South East Coastal and southern Goldfields on Sunday, however widespread strong winds are not expected.
As a high moves in early to mid next week, days will clear up however cold nights will develop by mid next week.
Image 1: Forecast rainfall across the next 72 hours from the ACCESS G Model (Source: Weatherwatch Metcentre)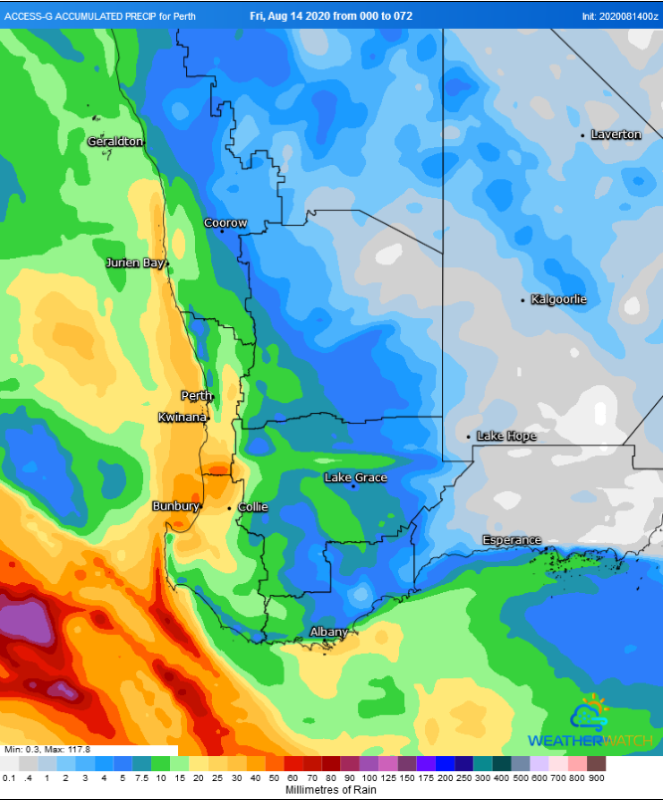 Image 2: 850 temperatures showing the cold front over southwest WA over this weekend (Source: Weatherwatch Metcentre)
Image 3: Thunderstorm forecast from the ECMWF Model For Saturday 15th evening/Sunday 16th morning (Source: Windy)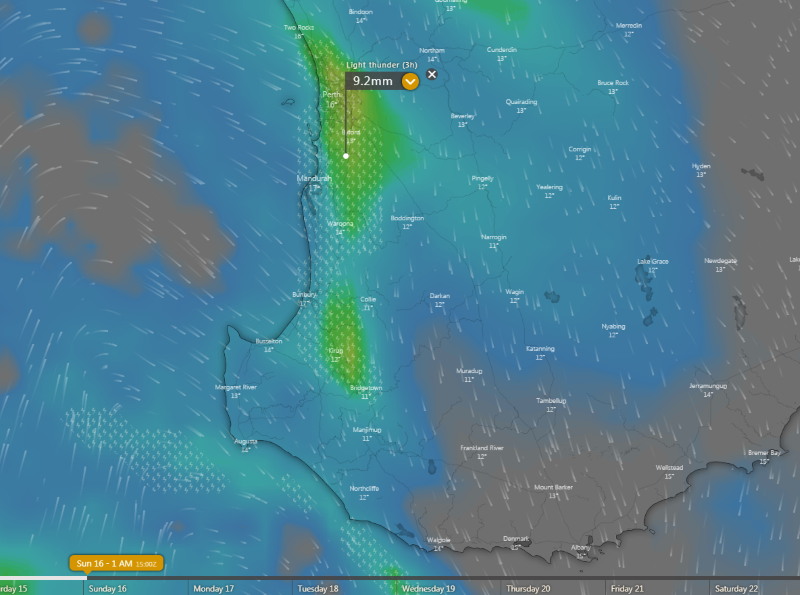 ---