Twitter

Instagram

Facebook | QLD | NSW | VIC | TAS | SA | WA | NT | NZ
---
Thunderstorms rumble through parts of Southeastern Queensland
Saturday, 15th August 2020
A few lines of shower and thunderstorm activity are actively sweeping through southeastern Queensland and also parts of the eastern Darling Downs and parts of the Wide Bay and Burnett district. This activity is due to a cold front lying over the southeastern interior of the state and moving towards the east, with more settled conditions expected behind the front leading into tomorrow.
Earlier today, showers and thunderstorms produced localised strong to damaging winds, along with hail with reports of hail occurrences to pea sized including the areas of Bundamba in Brisbane's west, Parkinson and also at Alexandra Hills near the bayside.
Only modest rainfalls have occurred with isolated thunderstorm activity, with moderate rainfall rates producing rainfall over 10mm in some cases. Parts of the Scenic Rim have received rainfall up to 15mm and southern inland parts of the Gold Coast since 9am this morning. Wind gusts are the primary threat today and already there have been gusts over 70km/h recorded for a few locations including 78km/h at Dalby at 4:16pm and 72km/h wind gusts recorded at both Archerfield at 12:25pm and Cape Moreton respectively at 3:22pm.
New Severe Thunderstorm Warnings for Damaging Winds have been issued a short time ago, which includes the Darling Downs and Granite Belt, Southeast Coast and Wide Bay and Burnett regions for thunderstorm activity that may produce localised strong to damaging winds. These are forecast to affect such areas as Mt Mowbullan, Cooyar, Crows Nest, Linville, Yarraman, Hervey Bay, Fraser Island, Maryborough, Childers, Biggenden, Tiaro and Rainbow Beach over the next few hours.
If you have observed any significant weather at your location, including wind gusts, hail and/or heavy rainfall, then feel free to share your observations with us via our Early Warning Network social platforms on both Facebook and Twitter.
Image 1: Isolated thunderstorms affecting Southeast Queensland as viewed from Windsor by Early Warning Network's very own Cameron Hayes.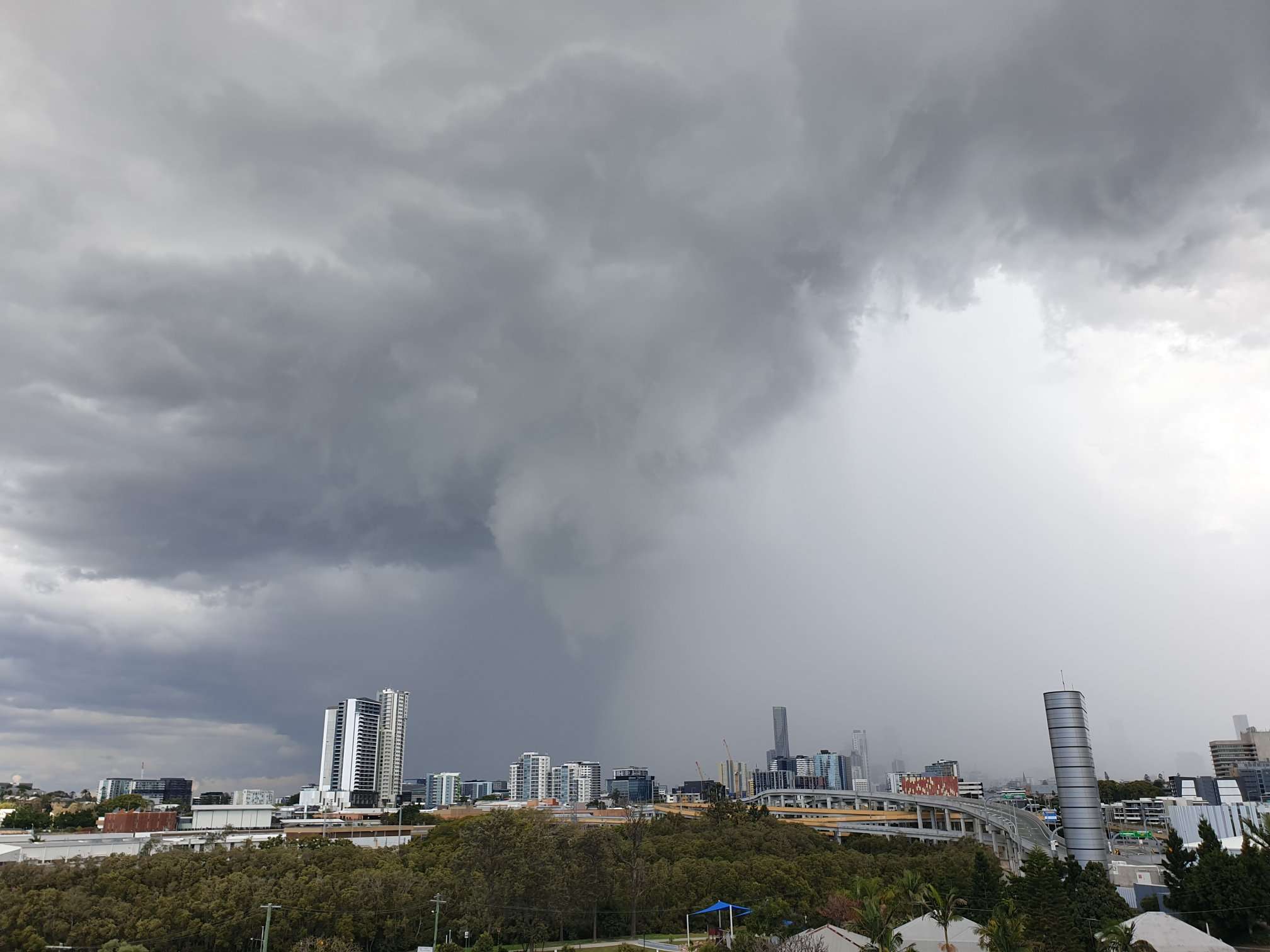 ---