Twitter

Instagram

Facebook | QLD | NSW | VIC | TAS | SA | WA | NT | NZ
---
Wild winds set to lash southeast Australia as another cold blast hits the region
Monday 17th August 2020
Wild weather is on the way to parts of southeast Australia over the coming days as a series of cold fronts hits the region, with wind gusts in excess of 100km/h, showers, thunderstorms, small hail and snow all possible.
Conditions will begin to deteriorate across South Australia, Victoria and Tasmania tomorrow as the first of these fronts approaches. Cloud and showers will increase across all three states, whilst isolated thunderstorms are also expected across eastern SA and Victoria during the daytime, which bring the risk of small hail and localised gusty winds.
The strongest impacts will be felt across South Australia from Tuesday evening and into Wednesday morning, with widespread wind gusts of 60-80km/h developing about the state's southern half. For the West Coast, Lower Eyre Peninsula, Eastern Eyre Peninsula, parts of the Mid North, Flinders Ranges and Mount Lofty Ranges, wind gusts may reach up to 100-110km/h, whilst in the Adelaide area itself gusts up to 90km/h are likely. These winds bring significant damage potential, including bringing down trees and powerlines and causing power outages.
Image 1: Wind gusts expected across South Australia on Tuesday evening/Wednesday morning from the EMCWF Model (Source: Windy)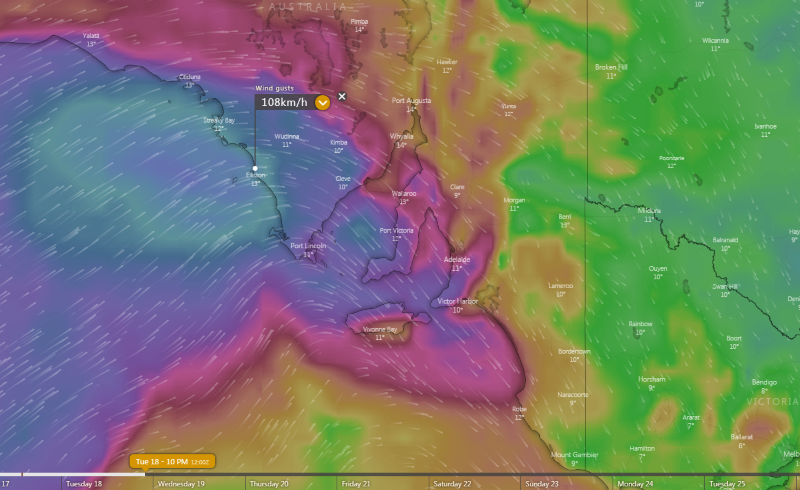 On Wednesday, these winds will shift into New South Wales, with large parts of the state also seeing gusts reaching 60-80km/h. Over parts of the inland, much of the Great Dividing Range and Slopes and some central coastal areas, widespread gusts of 80-100km/h are likely. As the cold airmass makes its way north, blizzard conditions and heavy snow are likely over the ski fields, with some of the heaviest falls of the season likely on Wednesday and over the following days.
Image 2: Wind gusts expected across NSW on Wednesday from the EMCWF Model (Source: Windy)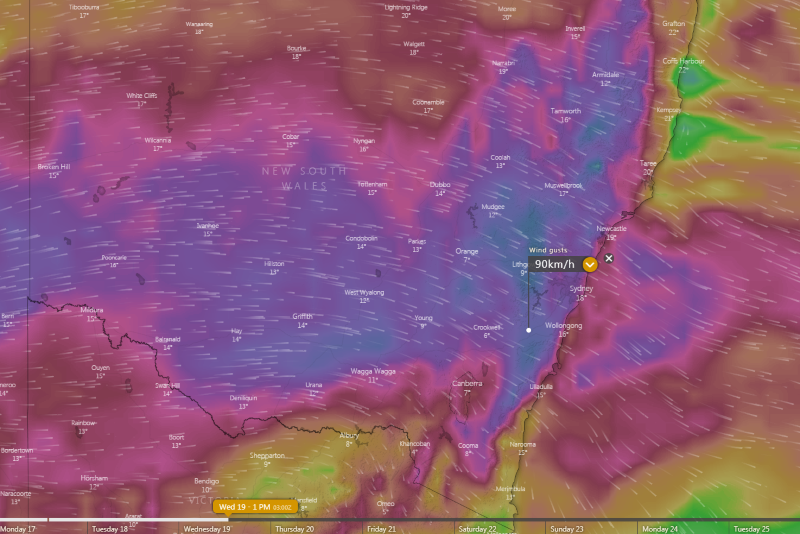 For Queensland, this means a sustained run of dry weather and westerly winds traditionally known as the 'Ekka winds'. These dry and gusty winds will develop from Wednesday and cause increased fire danger across the state, however due to recent rains the bushfire danger is not expected to be anywhere near as high as seen as this time last year. Towards the end of the week and into the weekend, winds may approach 80-90km/h across the southeast as another cold front pushes significantly further north than the first.
Snow is likely to extend from TAS up to the NSW Northern Tablelands with this system and possibly even the QLD Granite Belt on late Friday/Saturday, whilst another burst of wind is likely across the southern states as well. This system is still several days away, however we at EWN will give more details of this second system in coming days as it unfolds and model data becomes clearer.
Image 3: Rain accumulation across southeastern Australia over the next 120 hours from the GFS Model (Source: Weatherwatch Metcentre)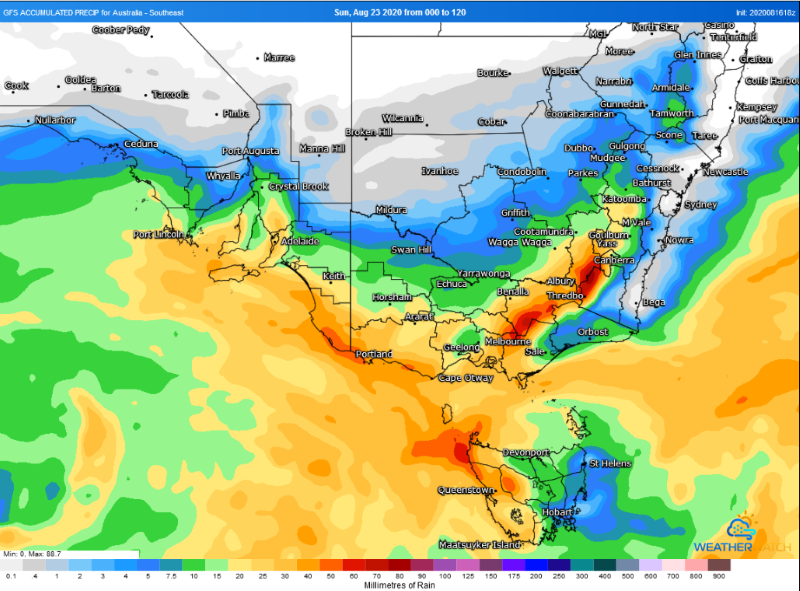 Image 4: Snow accumulation across the next five days over southeastern Australia (Source: Windy)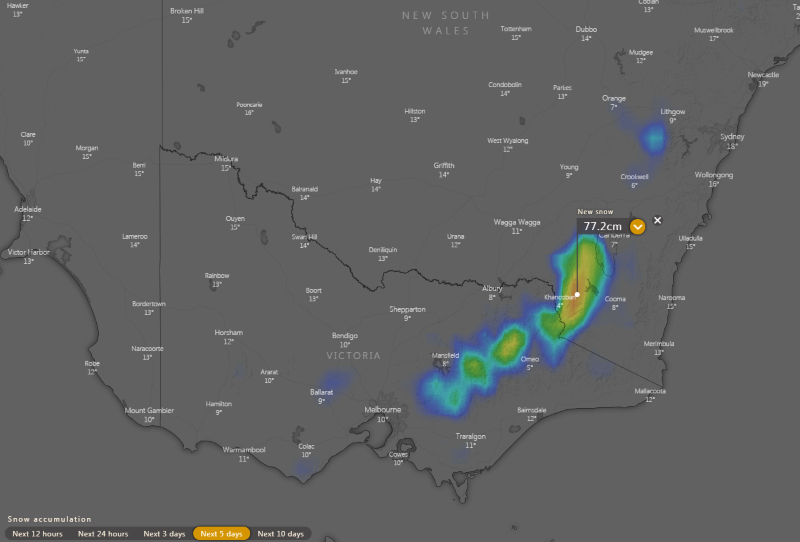 Image 5: Cold air extending into southeast Queensland later this week and into the weekend (Source: Weatherwatch Metcentre)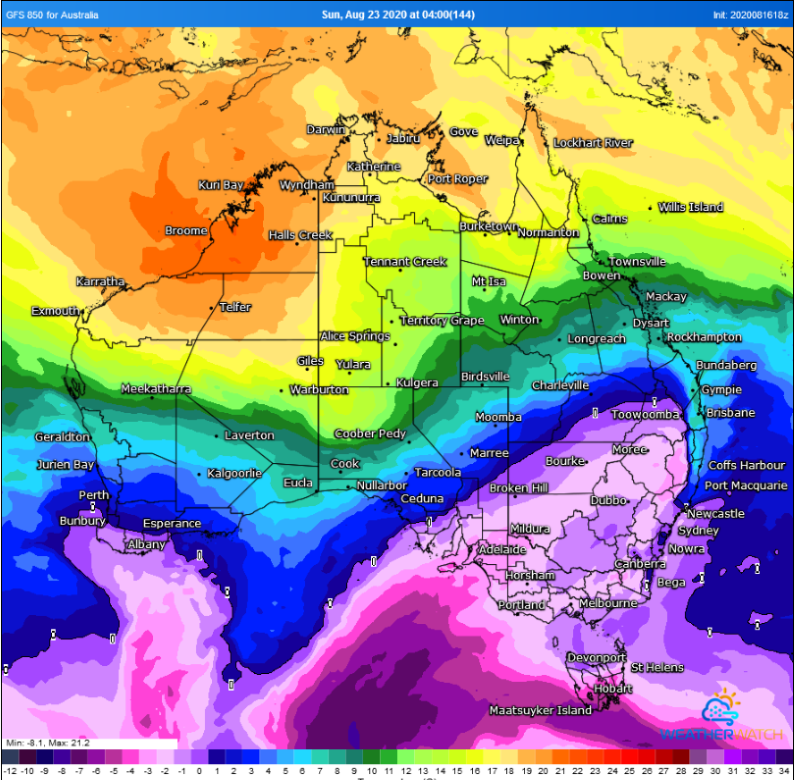 ---