Twitter

Instagram

Facebook | QLD | NSW | VIC | TAS | SA | WA | NT | NZ
---
Strong cold front to send another burst of showers, strong winds and low-level snow across Australia's southeast
Thursday 20th August 2020
An even stronger cold front is set to bring another burst of damaging wind gusts and showers to large parts of Australia's southeast over the next few days, however a colder airmass with the system is set to see snow fall to low levels and possibly reach close to the Queensland border.
The nation's southeast was lashed on Tuesday night and on Wednesday by a cold front, which caused widespread wind gusts of 60-90km/h, heavy snow and blizzards in alpine areas, a tornado in Adelaide's south, a few bushfires as well as a duststorm that has stretched from eastern South Australia into southeast Queensland and northeast New South Wales.
Image 1: A bushfire burns out of control near Cabarita Beach in northern NSW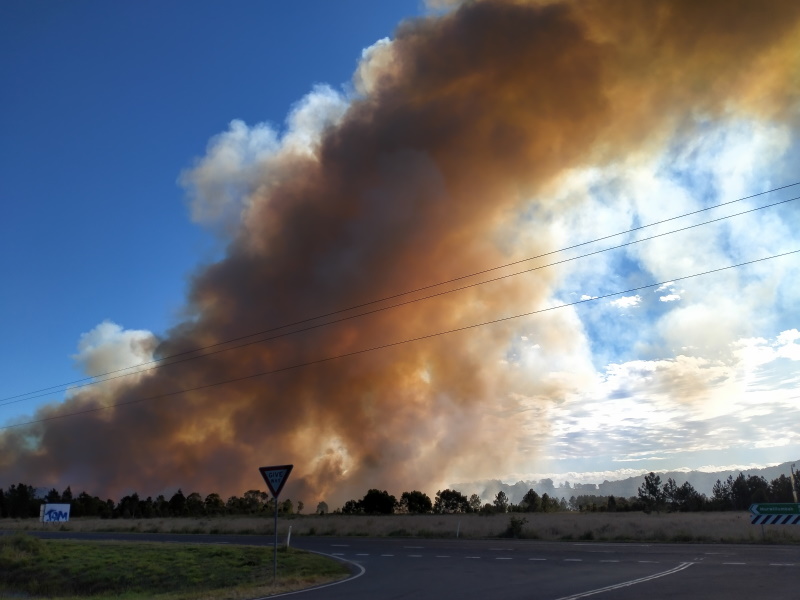 Another front is currently making its way across Tasmania, Victoria and southeast South Australia, bringing showers, highland snow and causing westerly winds to increase again. Wind gusts aren't expected to be as strong as the previous system in SA, however widespread gusts of 60-80km/h and localised gusts to 90km/h are likely (mainly in any showers or isolated thunderstorms) across SA, VIC and parts of TAS.
Image 2: Visible satellite image of 'speckled' cloud spreading across TAS, VIC and SA, demonstrating the cold airmass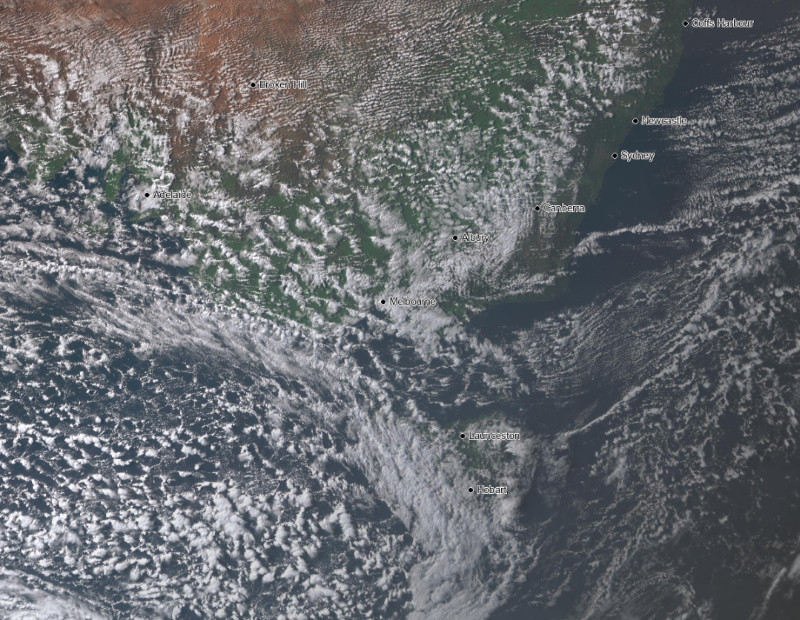 This front will push into NSW tomorrow and reach southern QLD on Saturday, with the cold air expected to reach north into central QLD. Strong wind gusts of 60-80km/h, reaching 100km/h in more exposed areas (>120km/h in alpine areas) will spread up the NSW ranges, and push into southern QLD on Saturday, with Saturday likely to be the windiest day across NSW and QLD. The winds are likely to whip up more dust, raise bushfire potential (and increase spread of fires if they begin) and bring the risk of fallen trees and powerlines.
Image 3: Strong wind gusts are expected to affect large parts of eastern NSW and southeast QLD on Saturday (Source: Windy)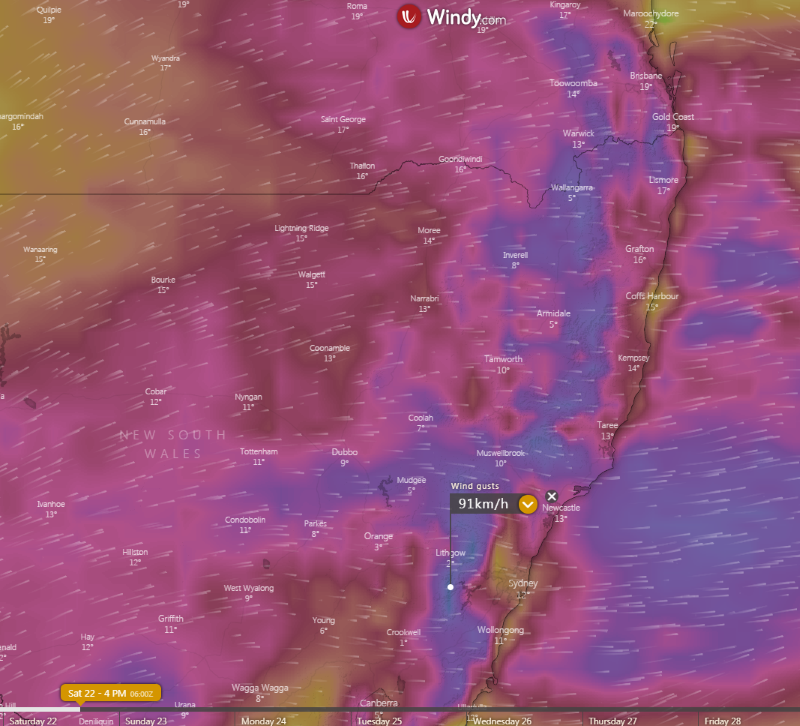 One of the features of the system will be low level snow which is expected to reach up to the northern NSW ranges, with even the chance of a few brief flurries on higher parts of the NSW/QLD border region. Snow is expected to fall above 400 metres in TAS, 500 metres in VIC, 600 metres in southern NSW and 900 metres in northern NSW. Alpine areas will see a further 50cm or more of fresh snow, while parts of the central NSW Tablelands could see more than 20cm of fresh snow, which would be one of the more significant snowfalls in recent years for the region. In northern NSW, 5-10cm of fresh snow is likely in some areas.
Image 4: Snow is expected to fall to low levels across southeast Australia, with moderate snowfalls possible on the central NSW Tablelands (Source: Windy)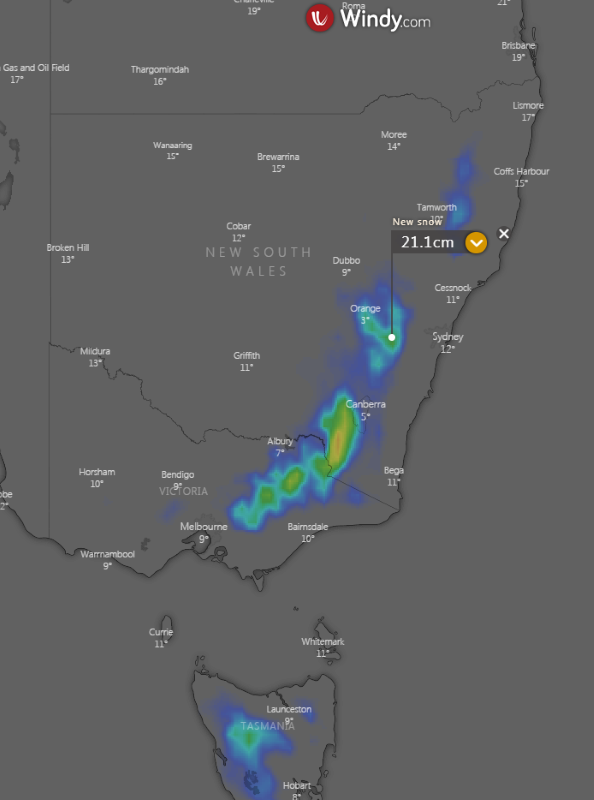 Rain totals will be light to moderate, with the heaviest falls confined to the NSW/VIC alpine areas (30-60mm), coastal SA (15-30mm), western TAS (20-40mm), southern VIC (25-50mm) and the southern and central NSW Slopes/Ranges (20-50mm), with some of this falling as snow.
Strong winds are likely to persist over far east VIC, eastern NSW and far southeast QLD on Sunday, before easing from Monday.
Image 5: Rainfall accumulation across southeast Australia across the next 5 days from the GFS Model (Source: Weathwatch Metcentre)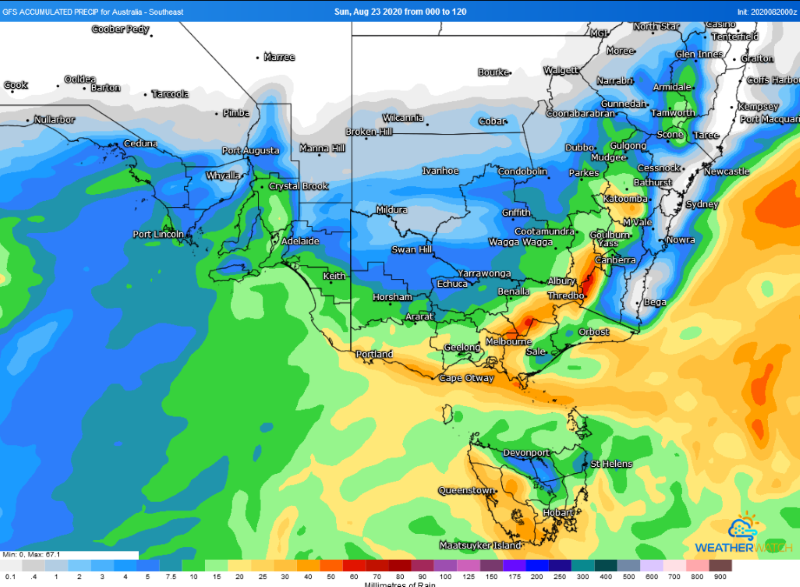 Image 6: Cold air reaching into central QLD (Source: Weatherwatch Metcentre)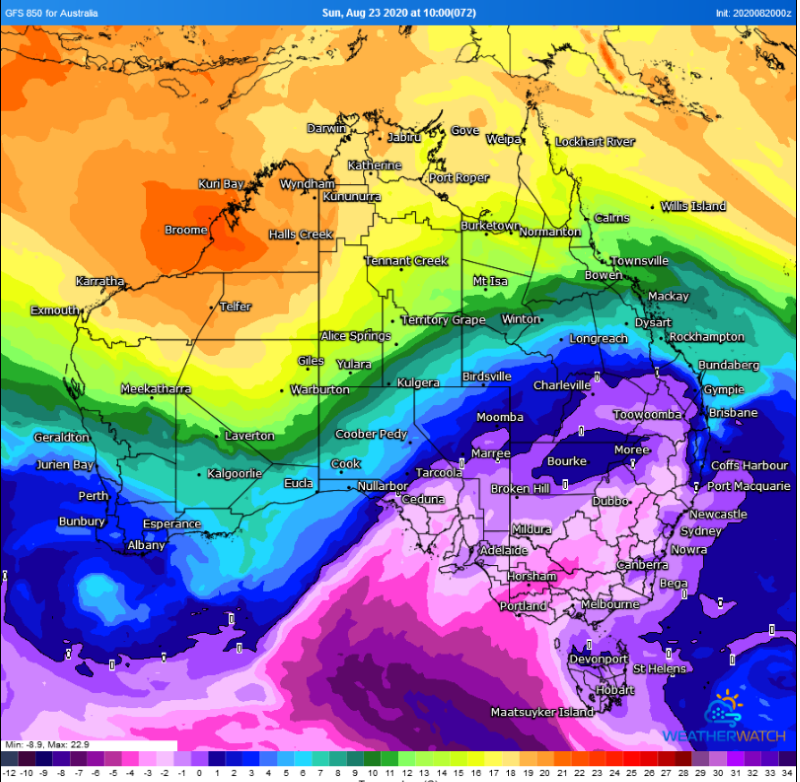 ---