Twitter

Instagram

Facebook | QLD | NSW | VIC | TAS | SA | WA | NT | NZ
---
Windy weekend for southern Queensland
Friday 21st August 2020
Southern regions of Queensland have experienced a windy week however the worst is yet to come.
A series of fronts and associated low pressure system continues to sweep across southern Australia, with gusty to strong west to southwesterly winds. During Saturday, these winds will strengthen to storm force as a strong pressure gradient develops between the low in the Tasman Sea and a high across southern Western Australia.
Widespread gusts of 40-70km/h is expected on Saturday, with isolated gusts potentially reaching 80km/h during the early afternoon, particularly across The Great Dividing Range and exposed locations. Maximum temperatures will be kept in the early 20's across the coastal fringe, with locations on the Darling Downs expected to struggle into the mid-teens, with gusty winds also making the 'feels like' temperatures 5-10 degrees cooler.
Image 1: EC potential wind gusts for Saturday afternoon. Image via windy.com
Dry and gusty winds will also increase the fire danger across the state, with very high fire danger likely for numerous location, including the Darling Downs and South East Coast however conditions are not as favourable for severe bushfires in comparison to this time last year due to recent rainfall.
Image 2: Very high fire danger across southern and eastern QLD, Saturday 22/08/2020. Image via Queensland Rural Fire Service.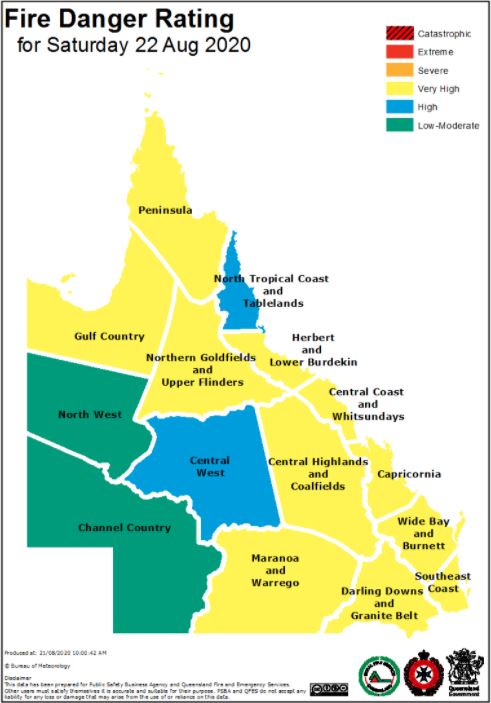 During Sunday, windy conditions will persist, albeit easing slightly as the low in the Tasman Sea moves towards New Zealand. The easing trend will continue into Monday and Tuesday, with minimum temperatures dropping to single digits across southern QLD, with the potential for frosts to develop.
Southeasterly winds are likely to redevelop mid next week, with the potential for an isolated coastal shower or two developing in the onshore flow.
---