Twitter

Instagram

Facebook | QLD | NSW | VIC | TAS | SA | WA | NT | NZ
---
Extreme fire danger over northern Australia, heat set to spread south
Tuesday 25th August 2020
As August records continue to fall over the nation's north, fire danger is set to surge over the next few days as fresh and gusty east-southeasterly winds affect the region.
Unseasonably hot conditions have been affecting the north of the country over the last several days, as temperatures soar up to ten degrees above average. Over the weekend, the Australian August record of 40.0 degrees set in 1970 was broken twice, with West Roebuck claiming the new hottest August day of 41.2 degrees on Sunday. Monday brought similarly hot conditions, with stations such as Telfer (36.4 degrees), Pardoo (38.1 degrees) and Marble Bar (38.9 degrees) all setting new August records.
Image 1: Temperature anomalies across northern Australia on Monday 24 August, 2020 Image via BoM.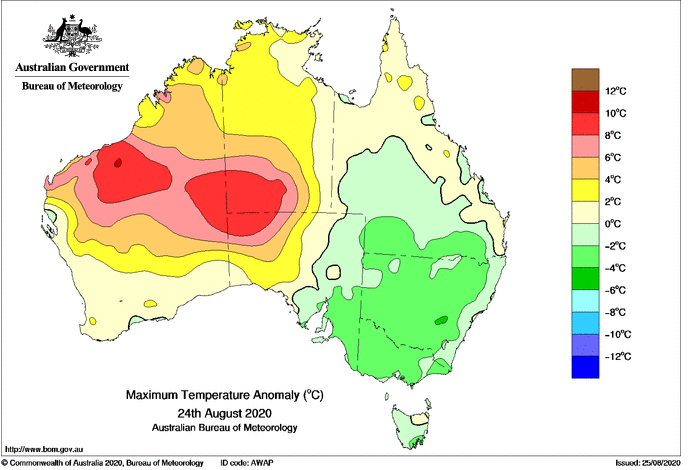 Fire danger has been reaching severe levels over the Northern Territory across the last week and has been gradually increasing, and will spread into northern Western Australia tomorrow as east-southeasterly winds strengthen. Across the NT, fire dangers are likely to reach extreme from tomorrow about the Darwin and Adelaide River fire forecast area. Whilst this is typically northern Australia's fire season, the fire threat will be enhanced due to the drier than average wet season and unusually hot conditions, with any fires that start likely to spread fast and be unpredictable.
Over southern Australia, it is beginning to warm up again after a widespread cold snap. As a cold front and trough approach southern WA later this week (Friday), record challenging heat is expected to be dragged south into parts of WA, with Kalgoorlie forecast to reach 31 degrees on Friday (record 32.0 degrees).
This warmth will push into southeast Australia over the weekend, albeit not as hot. Adelaide and Melbourne will reach the low 20s on Saturday, whilst Sydney will reach into the mid 20s on Sunday.
Image 2: Temperature anomaly forecast for Friday 25 August, 2020 Image via WXCharts.com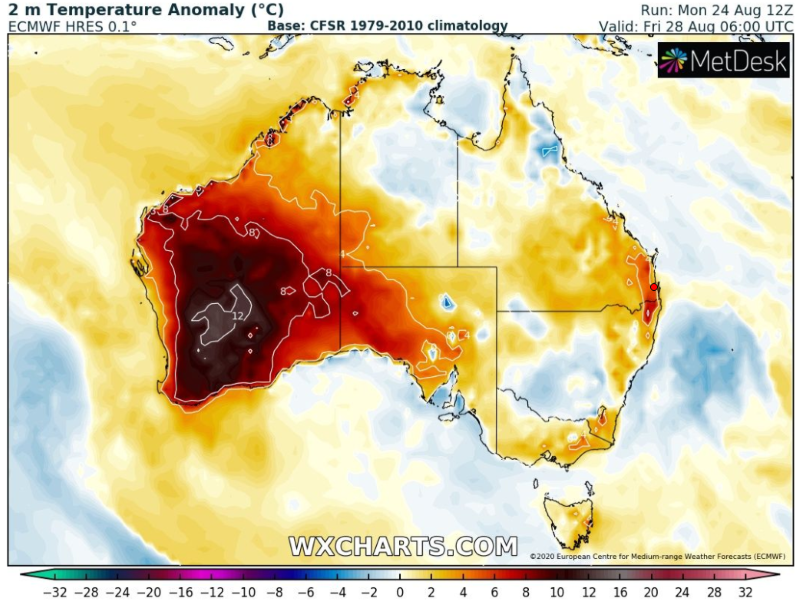 ---